Fujifilm Introduces INSTAX MINI 12 & INSTAX UP! App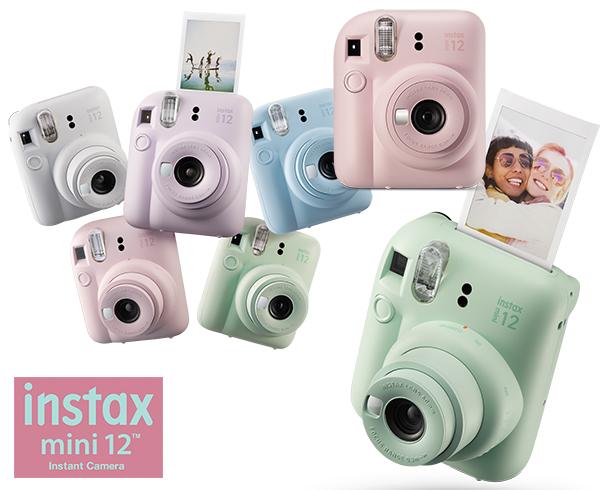 Fujifilm just announced the introduction of the INSTAX MINI 12, worthy successor to the well-liked MINI 11, and Shutterbug was allowed to run a sample through its paces several days prior to the launch. Consistent with instant photography's shoot-and-share mindset, the MINI 12 is a fun, easy-to-use camera that we expect to be well received.
While maintaining the core features of the INSTAX MINI 11, the MINI 12, priced at MSRP $79.95, adds useful new features including parallax correction capabilities that enhance composition accuracy when shooting closeups, automatic flash control and a convenient multi-function twist lens.
Fujifilm's INSTAX website boldly reads, "don't just take, give." Their brand philosophy suggests that INSTAX photos are something of a mucilage that bonds humans together. Who can argue against that? Fujifilm sells millions and millions of INSTAX cameras annually worldwide. And they say it's "Because we know an INSTAX photo isn't something you take, it's something you give."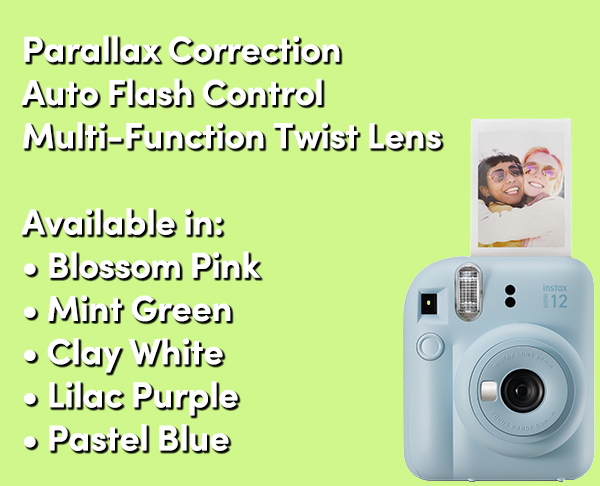 Still, in a world where digital photography is practically free after the initial camera purchase and seemingly everyone has a smartphone capable of mimicking a digital camera, instant cameras that require the ongoing purchase of consumable film packs and produce comparatively small images are something of a head-scratcher. That said, there's no arguing with success. Fujifilm created a market niche by thoroughly understanding the primary audience for this product line and building attractive merchandise ideally suited to capture it.
INSTAX UP! Smartphone App
Perhaps of greater long-term significance, Fujifilm collaterally announced the launch of its free INSTAX UP! smartphone app. Aiming, perhaps, for the best of both the analog and digital worlds, INSTAX UP! empowers users to scan, import, organize and share digitized images of the hardcopy prints produced by any INSTAX camera or printer. It also allows users to import photos from earlier INSTAX apps, including INSTAX MINI LINK and the INSTAX LINK WIDE apps.

INSTAX MINI 12: Who is it for?
Want to be the life of the party or spread instant joy among a group of your friends? Snap candid INSTAX shots and bring smiles to some faces as you share the prints. While we have no hard data to back our speculation, our intuition informs us that INSTAX cameras are aimed toward younger users who appreciate the immediate—and tangible—gratification that a digital camera cannot deliver.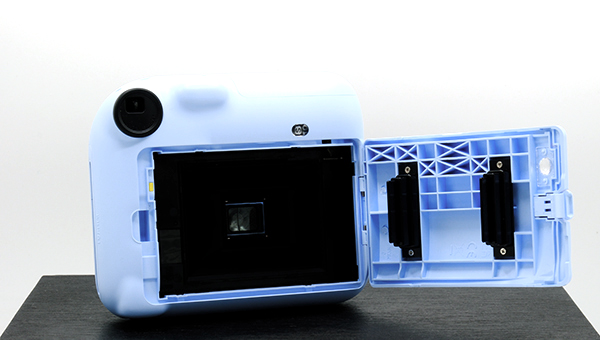 Camera Build & Handling
Although modestly priced and primarily plastic, the Fujifilm INSTAX MINI 12 is sturdy and appears to be quite durable. Shaped to enforce vertical portrait orientation, the MINI 12 features a forward-facing selfie mirror and an easy-to-reach shutter release button.
It's a bit too large, perhaps, for the hands of a six-year-old, but its dimensions are suitable for most users.
Camera Features & Performance
Twist the lens, turn it on. Point and shoot, and hear the quite motor magically fabricate your image. Twist a bit further and enter the Closeup Mode. There's a center aiming circle that aids with composition, and a built-in flash for dim situations or secondary fill.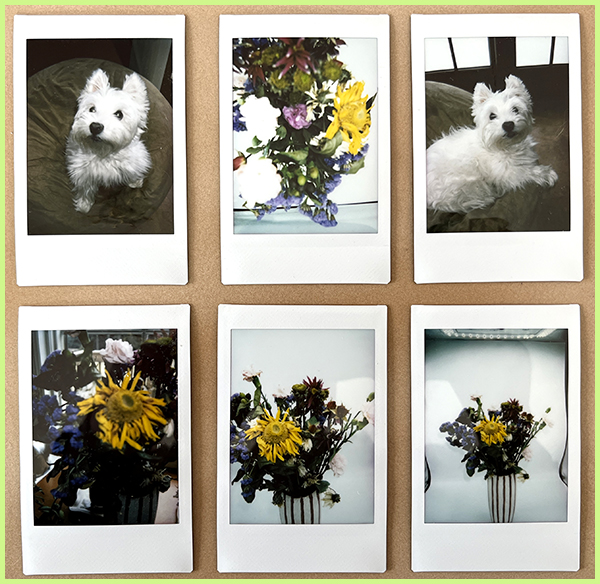 Image Quality
For veteran (and most novice) digital camera users, the prints shade toward being under-saturated and a bit low in contrast. But up against comparable instant print cameras, the quality is in line.
Conclusion
The Fujifilm INSTAX 12 is a fun little camera. There is a clear sense of anticipation when the motor whirrs and the print is ejected, and even more while waiting for it to reach full development.
Cost per print could be an issue. We found 100 exposure bulk packs of INSTAX MINI film at Walmart for $62. That was a better price than we found on Amazon, where typical cost averaged around $40 for 50 shots. According to our admittedly limited research, cost-per-shot is between 62¢ and 80¢ depending on how and where you buy supplies.
The images are small (it's a MINI after all) and not tack-sharp. You would not be happy using this camera to memorialize your child's high school graduation. But then again, that's not its purpose. It is a shoot-and-share camera, and in that role it absolutely rocks.
Scorecard:
Pros
• Great design and color variations
• Easy to use for people of all ages
• Attractive features for a very modest price
• INSTAX UP! smartphone app is exciting addition
Cons
• Cost per shot is high
• Images are not tack-sharp and lack color saturation
Pricing and Availability
The Fujifilm INSTAX MINI 12 instant camera will be available in Blossom Pink, Mint Green, Clay White, Lilac Purple, and Pastel Blue. Expect to see them all at retail around mid-March 2023. MSRP is $79.95.
For more information and some cool videos, check out Fujifilm's INSTAX website.
—Jon Sienkiewicz

FEATURED VIDEO