Fujifilm's FinePix S100FS; Capturing A "Digital Film" Look
Fuji's FinePix S100FS (Film Simulation) is an electronic viewfinder digicam that's designed to produce film-like images at the point of capture. How it does it is not all that different than a D-SLR set on Picture Styles or similar, but the S100FS does this with menu items with such magical names as Provia and Velvia, Fujifilm's renowned slide emulsions. Overlooked in all this film simulation hoopla is the fact that the S100FS is a state-of-the-art digital camera that wraps up a lot of technology into a relatively affordable and easy-to-use package.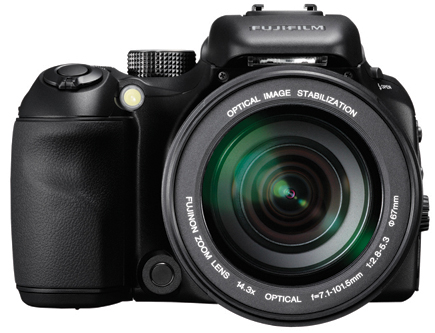 Did He Say "Film Simulation"?
The FinePix S100FS is equipped with a 28-400mm (equivalent) Fujinon lens, 11-megapixel Super CCD sensor, 2.5" tiltable LCD, and ISO capabilities up to 6400 (at 6 megapixels) and an incredible 10,000 (at 3 megapixels). The camera also has Dual Image Stabilization, combining Optical Image and Picture Stabilization; Fujifilm's Face Detection 2.0 technology; and automatic redeye removal. Four built-in Film Simulation modes let you select the most appropriate "Film" mode for the scene and are optimized for people (Portrait), low-contrast (Soft), vibrant colors (Velvia), or general use (Provia). If you're not sure which is best, turn the camera's Mode dial to FSB (Film Simulation Bracketing) and one touch on the shutter fires off three images in Provia, Velvia, and Soft modes while displaying thumbnails of all three on the rear-mounted LCD screen. Why not a fourth shot for Portrait?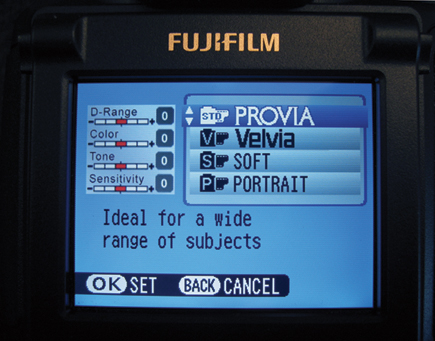 The Film Simulation menu that's available in the first tab of the S100FS' shooting menu tells the tale: You can shoot an image using any of the four choices shown or by using the Film Simulation Bracket mode shoot just the first four.
Fuji claims that the FinePix S100FS sensor produces image files that have an extended dynamic range that's similar to negative film and is designed to prevent overexposure and underexposure, regardless of the subject. That's why in addition to Film Simulation Bracketing and the expected autoexposure bracketing, the S100FS offers Dynamic Range Bracketing so you can capture three image files at 100, 200, and 400 percent that can be later assembled into a single High Dynamic Range (HDR) image using Adobe's Photoshop or your favorite HDR software. You can also use the camera's Movie mode to capture images and sound at 30 frames per second (fps) in VGA quality, and the S100FS even lets you zoom while in Movie mode. Video quality is surprisingly high.
Raw mode is selected from the Setup mode. Fujifilm provides Mac OS and Windows versions of its FinePix Viewer software that you can use to convert raw format files into something more portable, but the latest version of Adobe Camera Raw easily reads .RAF files from the S100FS.
2008, Joe Farace, All Rights Reserved
Fujifilm's Face Detection 2.0 can detect up to 10 human faces in a scene, correcting focus, exposure, and white balance automatically in as fast as 0.05 seconds to ensure that photographs of human faces (sorry my simian friends) are clear and properly exposed, no matter where they're located within the frame. I tried shooting the gang of skateboarders who roll up and down my street and I guess it worked, but to tell the truth, I never had trouble getting faces in focus and this is just the first of several indications pointing at the S100FS' point-and-shoot roots. Automatic redeye removal automatically corrects redeye after the shot is taken and saves both the original image and the corrected file, which is kind of nice.

The camera has a High-Speed Shooting mode that lets you capture a maximum of 50 continuous shots at 7 fps at 3 megapixels. Are you picking up on a theme? You can capture JPEG files in lots of different sizes, including a 3:2 ratio image that will not be at the camera's highest resolution but at least adds to the S100FS' "film" orientation. You can also capture images using the .RAF raw file format that's compatible with Photoshop's current Adobe Camera Raw plug-in as well as the Mac OS and Windows software that Fuji bundles with the camera.
Mary photographed this bronze eagle using an exposure of 1/320 sec at f/8 and ISO 200. Even when in Aperture-Priority mode, the S100FS offers an f/11 as the smallest aperture but is still much better than the f/8 limitation found in similar cameras. (Below): When Gene Autry sang "Springtime In Rockies" this is not what he had in mind but this photograph was, in fact, made on a spring day in Colorado at a park near my home. Exposure was 1/450 sec at f/8 and ISO 200 with a +1/3-stop exposure compensation to make the snow whiter. The image was captured in the Black and White Color mode that also offers High, Mid, and Low color choices.
© 2008, Mary Farace, All Rights Reserved
The FinePix S100FS has an xD/SD compatible memory card slot that accepts not only the mostly unloved, except by Fuji and Olympus, xD-Picture Card but also Secure Digital (SD) and Secure Digital High Capacity (SDHC) cards. It even has built-in memory, another point-and-shoot trait, that lets you shoot the camera without having a card in the slot. For my tests, I used a 2GB Kingston (www.kingston.com) SD Ultimate card with speeds up to 120x and it performed perfectly.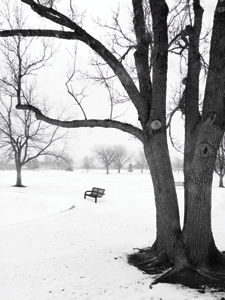 © 2008, Joe Farace, All Rights Reserved
In The Field And In The Studio
While testing the camera, I went on several shoots with my wife, Mary, and we would switch cameras from time to time. She enjoyed shooting the S100FS in part because of the camera's compact size and excellent ergonomics, but mostly because of the focal length range, which she called "incredible," and the amazingly crisp optical performance that produced images of far higher quality than the price point would indicate. We both liked the tiltable 2.5" LCD that makes it easy to frame shots from a variety of shooting positions and I often used it as a digital waist-level finder. Sure, it's not the kind of articulated screen Olympus uses on the E-3, but the S100FS costs a lot less.

When I made the snowy photograph in the park the temperature was an indicated 30° F but the wind chill factor was 17°, so I was more than chilly and so was the S100FS. The electronics or LED displays in digital cameras can fail when it's too cold. If that happens you may have to remove batteries from the camera and then replace them again to reset the electronics. The wind and snow were blowing hard and from time to time the electronic viewfinder would fail and the display would "get fuzzy" as in Darby Conley's comic strip of the same name. I tried the EVF/LCD button to switch to the preview screen and that didn't work, but turning the camera off and on again rebooted the camera and allowed me to make photographs until I got too cold. Tip: If you're going out into the cold, keep the camera inside your parka until you need it.
(Top): Alien Skin Software's Exposure 2 Photoshop compatible plug-in offers emulation of specific Fuji films (and other film brands, too), including simulations of Velvia 50, 100, and 100F, and lets you have a choice of applying grain or not. (Middle): The camera's Velvia mode carries on Fuji's tradition of vivid color and intense saturation that have been around since the introduction of the original Velvia slide film and would have been a great choice in more colorful locations than a playground. (Above): The S100FS' Provia simulation mode appears to mimic Provia 100F, producing photographs that have mid-range color saturation and contrast, and was the Film mode I used most of the time.
© 2008, Joe Farace, All Rights Reserved

FEATURED VIDEO