Fuji Unveils Snazzy Graphite Silver Edition of Weather-Resistant X-T1 Mirrorless Camera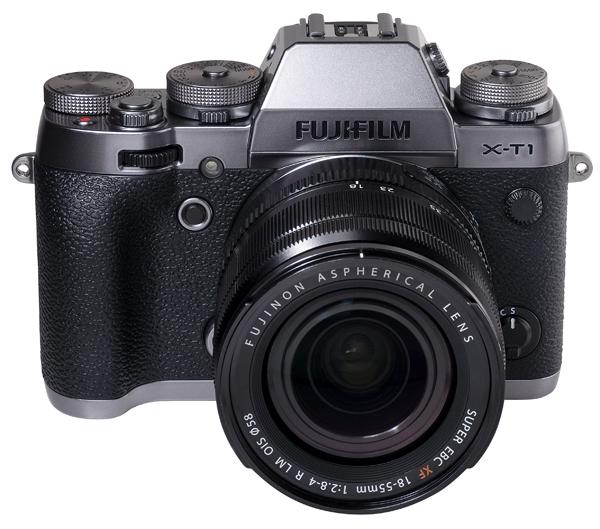 Fujifilm unveiled a new version of its X-T1 mirrorless, compact system camera this morning with a snazzy exterior finish the company is calling "Graphite Silver." Otherwise, this weather-resistant interchangeable lens camera is similar to the original version, and features a 16.3-megapixel, APS-C X-Trans CMOS II sensor and reported, class-leading autofocus speed of 0.08 seconds.
The X-T1 also has a large, OLED electronic viewfinder (EVF), a new Natural Live View mode and an electronic shutter with an increased speed of 1/3200 second.
The main addition to this new X-T1 model though is the eye-catching new finish. Here's how Fuji describes it in a press announcement:
"The new Fujifilm X-T1 Graphite Silver edition uses a triple layer coating to give it a unique and durable fit and finish. Following an antioxidant treatment on the magnesium body, a matte black undercoat (primer) is applied to the X-T1 as a first coat. The black undercoat tightens the colors of the shadowed areas and makes the highlighted areas stand out. Then, the X-T1 body is rotated at a high speed while thin coats of ultra-fine paint particles are layered using a computer controlled "Thin-film Multilayer Coating Technology" for a smooth and luxurious Graphite Silver finish. Finally, the X-T1 is given a clear coat for extra durability and a deep gloss finish that subtly changes its appearance depending on how it is struck by the light."
The X-T1 Graphite Silver also features Fujifilm's new "Classic Chrome" film simulation mode that produces muted tones and deep color to create dramatic images.
The Fujifilm X-T1 Graphite Silver edition body will be go on sale in late November 2014 for $1499.95.
Check out a video preview of the new Fujifilm X-T1 Graphite Silver edition below.

FEATURED VIDEO