Flashpoint "Q" Series Light Modifiers
Adorama is proud to introduce the "Q" series of innovative new Flashpoint light modifiers for portable flash. The Flashpoint "Q" flash accessories transform a shoe mount flash into a studio-like strobe.
Lightweight and portable; the "Q" is great for on-location photography or work in a small studio. They are easy to attach and are secured in place with a band and Velcro strap. Flashpoint "Q" light modifiers are available in a kit that consists of a beauty dish reflector, snoot, diffuser dome and an accessory pack for the beauty dish reflector. The price of a kit is $149.95. Components may also be purchased separately.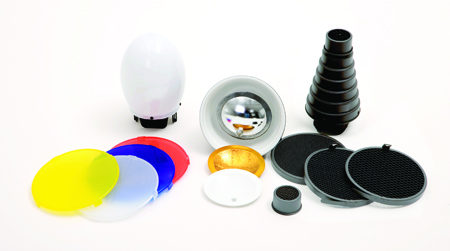 Beauty Dish Reflector - measures 6" in diameter and comes with a silver deflector panel. This redirects the bounced, rectangular output of a standard flash into a more diffused, flattering circular pattern of light. Light emitted using the beauty dish reflector is soft and shadowless. Just like the name implies the result is similar to using a studio beauty dish reflector. $59.95
Accessory Pack - Consists of 2 deflectors for softer (white) and warmer (gold) light, honeycombs, 3 colored filters and an extra diffuser. The variety of possible lighting results from the different combinations makes the accessory kit a must-have addition to the beauty dish. $39.95
Snoot – Narrows a light beam for hair highlighting or to concentrate light in a small area. $39.95
Diffuser Dome – Gives an all-around even light glow, similar to the effect of a bare-bulb flash. $39.95
Flashpoint "Q" flash accessories come in two sizes to fit Nikon and Canon Speedlites, as well as most other brands of flashes.

LATEST VIDEO