Film & Digital B&W "Hybrid"; How To Get The Best Of Both Worlds Page 3
B&W Scanning Possibilities From Color Negatives
As long as I had this project going I dug into the color negative section of my files, looking for images that may as well have been shot on black and white film to see what I could reproduce with the scanner in a gray scale file. Fortunately, SilverFast provides this output option when you select gray scale as the output, plus offers a Selective Color dialog adjustment, with which you can make slider adjustments to darken or lighten any one of six bands of color separately; it's like Photoshop Channel Mixing and the Convert to Grayscale control in Adobe's Camera Raw.
Like the C-41 process black and white films, the gray scale images from color negatives were better than what I would expect in analog color prints. Sharpness, detail, and internal contrast were quite comparable in the scanned image to the current C-41 film negatives I'd made at the beginning of this project. And, the ability to lighten or darken color areas in the image in terms of their relative densities in the gray scale output file is actually more flexible and controllable than using color lens filters when shooting with a panchromatic black and white film. The reason for this is that the software allows you to adjust two or more color channels to balance the areas of light and dark in the gray scale output, while when shooting you can only use one color filter in front of your lens. For instance, you can both darken a blue sky (like you would using an orange or red filter) and lighten the green foliage of a forest (the result of having a green filter over the lens) by adjusting both of those channels at the same time in opposite directions. This would clearly not be the case if you mounted a green and orange filter over your shooting lens, which would just yield an ND (Neutral Density) effect.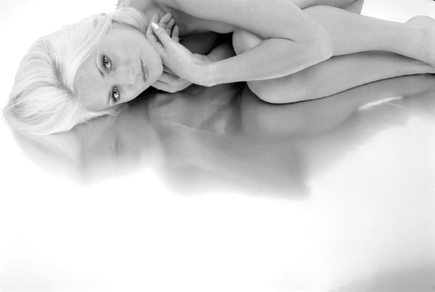 More than anything else I photographed what is most plentiful in Hollywood--young models, actors, dancers, and singers for publicity and promotional prints that until recently were traditionally black and white. For some of these shoots I chose 35mm to encourage more spontaneity in a faster moving photographic session. But there is nothing worse than excessive graininess to distract from a smooth complexion, so I have not scanned many of these images until 35mm scanners finally got past the 4000dpi optical resolution barrier. Now I can achieve a scan file that matches the print image quality I was used to when I still had a wet darkroom.
Another Obvious Option And Comparison Control
To keep myself honest I dug into another part of my files for 35mm silver-based black and white negatives. Using the same Plustek 7200i, but this time without the help cleaning dirt and scratches with iSRD, but the manual SRD utility, I made a series of scans of distinctly different landscapes and studio shots. I deliberately selected images I had tried to scan some time before with less than satisfying results. In some cases my previously poor results were due to a lower resolution scanner's proclivity to produce a scan with exaggerated graininess; in other instances the software adjustment of the range of values resulted in a characteristic curve with sharp cutoffs in shadows and inadequate shadow detail.

From this test I concluded that the scans would yield the same image graininess you would obtain in a same-size analog print with a top grade enlarging lens. This is a hardware and software solution--the latest version of SilverFast Ai 6.5 provides much more refined film interpretation curves. All in all, I would say that, overall, traditional (silver-based) films are still a bit crisper, edgier in the way they define detail, but you have to look very closely to find any disadvantage in using the latest C-41 chromogenic black and white films. Scanning with the Plustek 7200i seems to bring these newer dye image films closer to what we expect from an ideal black and white image.
In the past I had shot many rolls of film using Agfa and Ilford chromogenic emulsions. This studio portrait was used to evaluate the effect of making sepia prints from chromogenic film onto color paper. I never used this shot because the analog enlarger prints were not all that crisp. But after scanning this negative with the Plustek OpticFilm 7200i I could see almost every individual hair in the fur of the jacket. Part of this difference, I am sure, is due to the fact a part of the scanning process involves software sharpening of the image. This, however, does not explain why C-41 chromogenic black and white films acquired a reputation for not being all that sharp compared to a silver film negative print.
What's The Prognosis For 35mm To Digital B&W?
Obviously, as with any subjective test, the conclusions are my personal opinion and speak to what I seek in a monochrome image. But from my testing I can firmly say that my Canon EOS A2 will now stay out of the closet with a fresh battery and that it and some rolls of C-41 process black and white film will stay in my camera bag. It's been kind of resurrection for me, for someone who did black and white more than color for a long photographic career, to have a contemporary way to shoot and reproduce black and white that's easy and affordable. Although I really didn't need to be convinced, I got out a box of my favorite watercolor paper and fired up the Canon imagePROGRAF iPF5000 printer and printed almost every file I had scanned to make a very nice set of 13x19 prints. Anyone who follows even just some of my footsteps will find reason to be pleased to shoot, scan, and print black and white images that are just as satisfying as that process has ever been.

Does everyone have to use exactly the same gear and methods? Not necessarily. Many may already be committed to a another scanner, like an Epson Perfection V700 or like me, a Minolta DiMAGE Scan Elite 5400. I have scanned a couple of frames from my test shoot with my scanner and I believe I will be satisfied with the results. Nor do you have to be limited to 35mm; both Kodak and Ilford make their C-41 chromogenic black and white films in 120mm format as well.
Another really challenging image to print was this one of one of my favorite models in a white lace dress. By traditional, conventional means the necessary paper contrast would bring out the detail of the lace, but the complexion, facial, and hair values would be too harsh. But scanned with the Plustek OpticFilm 7200i I was able to reproduce the detail with precise sharpness and balance the tonal values ideally.
So--Viva black and white!

Viva film!

And, of course, long live this hybrid of digital and black and white film!

LATEST VIDEO

SPONSORED VIDEO