Film, Chemistry, Paper, And Darkroom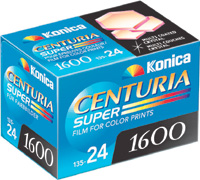 A story I heard at this PMA should reassure all darkroom aficionados and quiet some of the doomsayers. A high school with a strong photography course decided that digital was the wave of the future: the wet darkroom was a thing of the past. They therefore closed the wet darkroom and offered only a digital course. The students voted with their feet. No one enrolled for the course. At all. The school reopened the darkroom and the students came back...

Stories like this keep surfacing. The enlarger company that keeps hearing customers say, "Thank goodness you are still here. I got rid of all my darkroom equipment to go digital, but my business has fallen off. I need a new enlarger to set up my darkroom again." And young photographers buying whole darkrooms so they can do something "real." They say, "I use a computer all day: I don't want to use it for my hobbies, too."

So another year has passed, and silver halide is still here, and it is still important. The last few years have seen a lot of improvements and introductions in films. Although this trend is continuing, there were not as many changes to report this year as last. But then, it's a photokina year so there should be more in September.
Film Introductions
The significant introductions at PMA both came from well-established companies beginning with a K: Konica (the oldest photographic manufacturer extant, founded in the 1870s) and an upstart called Kodak, founded about a decade later.

Konica updated their whole Centuria line and introduced a new ISO 1600 film. The updated films, called Centuria Super, include ISO 100, 200, 400, and 800. Changes in the core technology give finer grain, as well as improved color reproduction and stability. Konica calls the improvements Super Multi-Coated Crystal (MCC) technology and Ultra-Consistent Crystal (UCC) technology. A change in the yellow filter dye has made it more efficient in filtering out blue light. More consistent-sized crystals translate into finer grain. They also resist heat and natural radiation better, so the film keeps better. New stabilizers contribute to the stability of these films.
Kodak has been tweaking their Royal Gold and Advantix (APS) ISO 200 and 400 films. Both have finer grain than before: Royal Gold ISO 400 film claims the finest grain in its speed category. Changes in spectral sensitivity (in what Kodak calls the "short red") have improved color rendition, particularly flesh tones. These new changes are even being incorporated into 110 format films. Remember 110?

Other changes from Kodak include new, simplified packaging for black and white and reversal films. Thanks to chromogenic, which can be processed by any minilab, black and white photography is a growing interest among snapshooters and hobbyists. Black and white images have been incorporated into the new packaging, both to suggest subjects and to stimulate interest in the "timeless look." Images which suggest applications for specific films will also be featured on the reversal materials, for example flower pictures on Elite Chrome 100 packages and landscapes on Kodachrome.
The biggest news from Kodak, at least as far I am concerned, is that their professional black and white films will now be coated in a new, state of the art coating facility. Users of Tri-X, Plus-X, and T-Max will see new packaging, new catalog numbers, and new notch codes on sheet film. Do not be alarmed. Characteristic curves will not appreciably change. The look of the films will stay the same. What will change slightly is the development regime. New hardeners are being used in the films, which will affect diffusion rates and consequently development times. All of the pertinent information is posted on the web.
A side benefit to the new coating and new hardeners is that the films will be cleaner and will not attract dust as readily as the original films, as well as being less susceptible to reticulation, which has been something of an Achilles' heel with Tri-X in particular. All films will appear on the market on a stock turnover basis. By the time you read this, some of the new films should be available; by late fall, most of the original films should have been replaced. And new packaging for specialty films, High-Speed Infrared and Technical Pan, shows Kodak's commitment to these products and quashes the persistent rumors that they will disappear.


Agfa said, "This has been a repositioning year for us." There have been some changes in emphasis, with the company concentrating more on the core business: silver-halide film, paper, chemistry, and lab equipment. Their foray into electronics has been discontinued. After the introduction of their Eye-Vision technology in their consumer films, though, I would have expected to see this introduced into their professional line-up. Again, photokina perhaps?

Nor were there any new films from Fuji this PMA, but after reporting on films for quite a few years, I expect this is just temporary. All of the major film companies are constantly improving and tweaking their emulsions, and these improvements are generally introduced on a rolling basis with no particular fanfare.
Tweaking and improving was the news from Ferrania. More people are using faster films, and, as I understand it, faster films leave more silver behind in processing. Ferrania has been looking into this and changing their emulsions to help make silver recovery more efficient. They, like all their competitors, are constantly working to improve color rendition.

Sadly for those of us who love silver-halide photography, Ilford was so concentrated on digital products at this PMA that a newcomer might assume that they had completely abandoned traditional photography. Other than a few black and white prints there was nothing to show that Ilford is anything more than a producer of digital printing media. The tragedy is that their black and white films--which are among the finest in the world--are being treated as no more than a cash cow to pay for all this digital expansion. If they don't pay a bit more attention to their black and white customers, they may find the cow drying up. Kodak emphasized their commitment to black and white at PMA: perhaps it is time for Ilford to do the same. I look forward to photokina.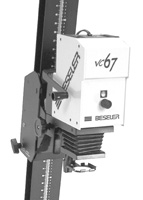 Mitsubishi announced a new bulk pack of ME-100 color print film--not much use for the casual shooter, but very useful for high-volume shooting. The bulk pack consists of 300 rolls of 36-exposure ME-100 films in plain opaque canisters.

Polaroid's new I-Zone films (the one with the tiny 24x36mm pictures) now have "fortune cookie" messages which fade as the picture develops. There are 150 different messages with no repeats in any single package of film.

Other changes from Polaroid were to cameras rather than film, or to camera-film packages. The 600 series had two modified cameras, one to shoot night shots and one to shoot double exposures. Although these cameras use the same 600 series films they allow you to do more with it. The Nightcam has a tripod socket, cable release, time exposure control switch, automatic focus, and electronic flash. The Double Exposure has a tripod mount, autofocus, and electronic flash, but it also has a toggle switch to switch between double and single exposures, and a mask which fits over half of the lens. The new Mio camera takes 2x3.5" pack film, a completely new size, not the same as either Captiva or Joycam. This camera features push button focusing and automatic flash.
Chemistry Report
Tura had no new films, but they did report a substantial growth in black and white sales: a growth so substantial that it surprised even them. The big news from them is that they have allied themselves with CPAC/Trebla who will now be producing chemistry for Tura under the Tura name.

CPAC/Trebla are very well-known in the field of lab chemistry, but their products have not been readily available to those of us who have our own smaller darkrooms. Now they are producing a black and white kit comprising separate chemicals for film and prints: the film developer is similar to D-76. Each chemical will make 5 liters of working solution.

Paterson introduced FX 50, a new film developer which can be used as single bath or two bath. It contains no metol or hydroquinone, and has a very long shelf life. The developer is made up of two concentrates, which can be mixed together with water to make a single, one-shot solution. They can also be used separately for two-bath development. This developer is said to combine the fine grain and tonality of Aculux with the definition of FX 39. Five hundred ml will yield 3.75 liters of working solution to develop 12 films.

Omega/Satter have become distributors for Lauder chemicals. Lauder is a small Californian company which specializes in black and white chemistry. The line-up consists of three film developers, two paper developers, a stop bath, and two rapid fixers--one with hardener, one without. Lauder's emphasis, they say, is on purity and precision in all of their chemistry. Formerly Lauder chemicals were hard to find outside of California, but now they have national distribution.

BKA (Brandess-Kalt-Aetna) has taken over Edwal products from Falcon Safety Products. Edwal has been producing chemistry for over half a century and their line includes film and paper developers, fixers, hypo-eliminators, toners, and specialty darkroom products. BKA also has exclusive distribution of Dust-Off and Century Duster Products to the photographic industry.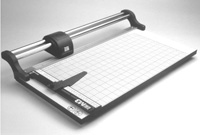 In recent years both E-6 and RA-4 printing have become easier and easier, as a result of improvements first developed for labs. Mono baths were a great improvement over the old mixed chemicals, and then came Tetenal's dry chemistry in the form of Photo-tabs and Photo Pearls.

To keep the darkroom fresh there was a new product from Mohr called Nox Out pellets. These little pellets absorb odors, and the smallest size, which retails for about $35, is just right for the home darkroom.

One of the interesting things about photo shows is crossover products. Archival Mist, distributed by Cornerstone Frame products, is a buffer spray which neutralizes the acids in any paper. This does not give quite the same effects as an archival, acid-free paper but it is a step in the right direction. It is not meant to be sprayed directly on photographic prints, but it can be used on mounting boards, mattes, and photo album pages. It can also be used on newspaper clippings, drawings, cards, letters, even stamp collections. It is a non-CFC, non-toxic, non-flammable spray, which was developed in conjunction with research libraries.
Lacquer-Mat had two new products: Water-Mat Brush Texture and Water-Mat Aerosol. Both are water-based lacquers. Brush Texture retains the pattern of application, whether you use a brush, palette knife, or even your fingers. The new Aerosol is a high-gloss, "Clear Egg Shell" lacquer.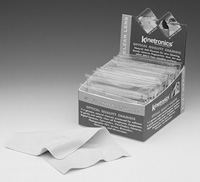 Printing Papers
Two new warm-tone papers were introduced this PMA. Paterson introduced their warm-tone, resin-coated, variable contrast paper. It is coated on a medium weight paper, and it is only available in a semimatte (pearl) surface texture.

Oriental also had a new warm-tone paper: variable contrast and fiber based with a satin finish, too glossy to be called semimatte, but not a high gloss. There was not a lot of information about the new paper, but if you are a fan of Oriental papers, you now have another string to your bow. I am looking forward to trying this paper for lith printing, too.

Bergger's Fine Art Portrait paper (formerly called Silver Supreme) is now available with cream or white base in sizes up to 20x24. Bergger also announced that the new Bromoil paper is "on the boat." Although the Bromoil paper has been promised at other shows, there have been some problems getting it to the American market. By the time you get this the paper should be readily available.

Even though my assignment was conventional photographic papers, I could not help but notice the new papers for digital output. Marshall's Oils introduced "Ink-Credible" Art Film, a transparent medium which can be printed with a scanned image (line drawings, clip art, or photograph), and then be stamped, embossed, or handcolored. The press release suggests using peel and stick adhesive to adhere the film on various surfaces.

There was also a proliferation of fine art digital printing papers that were hard to ignore, especially after handcoloring Marshall's Ink Jet Canvas. Which of these will receive handcoloring media? I am researching this. I am told that some papers merely need to cure for a couple of days, while others need a fixative spray. If my research is fruitful I will do an article about them in a few months.

Some of the digital fine art papers which looked promising were the Watercolor and Arches papers from Bergger; Dot Works fine art papers, Tetenal Canvas and Aquarell; WorldWin fine art papers; Hahnemuhle creative papers; and StoneHinge Adamant paper from Stone Editions. StoneHinge paper has the added feature of an optional integral hinge for binding prints into albums. They sell a system which includes papers, cover sets, translucent interleaves, and archival storage boxes.
Handcoloring
As well as the new film for handcoloring, Marshall's had a new handcoloring tool, two ended with a fine brush at one end for detailing and a bigger brush at the other for blending.
Worth mentioning is a web site described as "dedicated to the art of handcoloring" at www.handcolor.com. You can purchase both handcoloring supplies and handcolored prints. Features include a discussion forum, gallery, workshop listings, contests, and a professional's directory.
Darkroom Equipment
A new enlarger from Tiffen, the Saunders/LPL VC6700, looks like an excellent choice for school or college use. The variable contrast head has dichroic filtration for Grades 0-5 and improved technology to maintain constant exposure time when you change contrast. The construction of the chassis is robust. The height adjustment is a squeeze lock, much faster than a knob wind. The enlarger comes factory aligned and should need no adjustment--which is just as well, as no adjustment is provided. It can be used for formats up to 6x7cm (21/4x23/4"), although I suspect that the 6x7cm mask is not the full 56x72mm of my Linhof 6x7 back. The light source is compatible with other Saunders 6000 series enlargers and can be bought separately.

A new variable contrast light source from Beseler comes in three different external colors, so you can update your Beseler enlarger and add a bit of color to your darkroom at the same time. The head is designed to fit the Printmaker and 67 series enlargers, although one could probably adapt it to fit other chassis. The additive filter system (Grades 0-5), and a "computer designed speed control device" (neutral density filter?) should provide constant exposure times as you change grades. An internal transformer means you can plug in directly to standard power outlets. This is aimed at the younger market and should be ideal for schools and colleges.
The Daylab Copy Boy is an interesting device for anyone who wants to do Polaroid image or emulsion transfers from prints. It is basically a little copier which copies any print directly onto Polaroid materials. It will be available in May.

The Fujimoto CP32 from Jobo is a dry-to-wet paper processor with an optional dryer for dry to dry. This new unit is an update of the CP31 with a number of changes and improvements. All baths plus dryer temperature are controlled from the control panel on the main body. With the CP31, temperature of only the first bath was controllable and the dryer had a separate control. An optional feature is a connector which will allow you to connect the new CP32 processor to an existing CP31 Wash Dry. More details are available from Jobo.
There were a number of new rotary trimmers this year. Bogen introduced a 17" Carl trimmer with interchangeable blades. Tiffen added a trimmer to their line of Kodak Gear with features such as a registration notch so you can see where the cut will be. Kaiser's (from HP Marketing) offering was the "hobby cut 1" with interchangeable cutting heads and markings in inches, centimeters, and A sizes, plus angle cuts. The interchangeable heads include deckle, perforation, and zigzag cuts. New to PMA were Susis who had a whole range of German-made trimmers from 7" up to 39". Susis are distributed by Ramco.

A new sink from Texas Sink (from Climax) also attracted my attention. It has an insert which in effect gives you a small sink inside the bigger sink and still allows free drainage.

Dot Line showed a new digital thermometer (DL 0559) with a 27" probe which looked very useful and robust. The thermometer range is 58-302ÞF with an accuracy of 0.1ÞF. It has an LCD read-out and runs on a PX79 (D389) battery.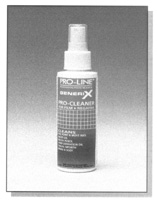 Cleaning
There are usually a few new cleaning products and this year is no exception. As mentioned earlier Falcon Safety's Dust-Off will be distributed by BKA. The same company will also be distributing Kinetronics. New products include an optical quality chamois and a set including a microfiber cloth with Precision Lens Cleaning Solution. The new distribution should make Kinetronics products easier to find in your neighborhood camera store.

Argraph had two new cleaning cloths called BanDust. Both are microfiber cloths. One has antistatic fibers, the other doesn't. The idea is that you can wipe away smudges and fingerprints with the plain cloth, and wipe away dust and lint with the antistatic cloth.

Although Chem-Kwik from Seneca-tec is not new, I heard of a new application. If you spill developer on your lab coat or other clothing, wet the spot and spray it with Chem-Kwik before putting it through the washing machine. Any time you use Chem-Kwik, for best results, wet the area to be cleaned first. It is apparently quite effective for cleaning up the bottom of cast-iron frying pans, too, though it should not be used on aluminum!
Filmguard Corporation had three new cleaning products: Pro-Cleaner for films and negatives, Pro-Pads (cleaning pads safe for emulsions, scanners, lenses, and CDs), and Pro-Duster (a compressed air duster).

I seldom report on silver recovery systems and recycling systems as they are mostly aimed at big, commercial labs. One caught my eye, mostly because of its unique design. It is about 3 ft high, a soft silvery-bronze color with a computer screen on the top. The beta test results proved it to be cost-saving, too. The problem is that such a handsome unit deserves a better name than Photochemical Recycling Systems. Even though such a thing is well outside my budget, what interested me was that the company manufacturing it has talked to at least one state government about setting up recycling centers where small labs or individuals could take their chemistry for recycling.
Magnifiers
BKA/Visual Pursuits had a new range of 22 magnifiers which includes hands-free magnifiers, dual-power magnifiers, loupes, magnifying rulers and keychains. All lenses are made of acrylic so they are knock-resistant and easy to clean. Carson had a new magnifier which can be used handheld or hands free. It has a battery operated light. The battery case forms the handle, which slots into a footed stand. A goose neck between the magnifier and the battery case makes positioning easy. Also new from Carson is the Connectables, which I hope to test. A choice of three magnifiers clip onto tweezers, pens (SpotPens?), nail clippers, eyebrow pencils, pliers, or even medical instruments.
Storage
Digital photography has had an influence on storage systems this year. Print File has CD pages which fit into a three-ring binder and take four CDs, two on each side. Beseler introduced their new 5000 series Ink Jet Page Protectors in sizes from 4x5" up to 20x24". Film -guard's Digital Output sleeving is available in a variety of sizes from 31/2x5" to 13x19", including A4 and A3. For large format negative storage, Climax had polysine sleeves. This is an alternative to glassine, which looked and felt very good. It has the added benefit of being waterproof.

Keepsafe Archival Storage System (distributed by Leeco Industries) is aimed at the snapshooter, but appealed to me because I use the enprints from my chromogenic and color print films as refs when I am printing. I have been looking for a neat, protective, and efficient storage system, and I think I have now found it. The system consists of plastic sleeves which can hold 72 4x6 prints. These then go into a case holding 12 sleeves (864 pictures). Sleeves are also available for 2x7" negatives, 4x7" prints, 4x7" APS cartridges, and 4x12" panoramic prints.

More conventional storage was shown by Lineco, who are hoping to pick up wider retail distribution. They sell archival storage boxes, acid-free tissue paper, and archival document cases. These are much needed products which are quite hard to find.
Miscellaneous
Those things which don't fit into any other category are always fun to find. Un-du is invaluable for removing photographs from old magnetic photo albums: it now has a new, bigger size remover tool and a kit which includes a Photocare Solution (for removing fingerprints and smudges), a microfiber cloth, a Photosponge, and a Deluxe Remover tool in a storage case. Un-du advertise themselves as "The Scrapper's Solution."

Protective gloves are important in the darkroom. BaseLine had Nitrile gloves which are stronger and more chemical-resistant than latex. Trim USA has a new pneumatic blade pusher for their framing machine, allowing the machine to be aligned to the right or to the left. If you aren't familiar with them, they sell ultra-thin framing materials, and the machine for cutting them.
Xyron seem to have new laminators and sticker makers every year. They have now been picked up for distribution by BKA. The laminators are simple to use and require no heat. One of my favorite finds of the show was the Cable Clamp. This is a reusable plastic clamp to organize wires and cables, in my case, in the darkroom. It is not new, just new to PMA, but the response was phenomenal.

Finally, a thought which occurred to me while walking around the show is that many retail camera stores have become frightened of carrying small items that you need in the darkroom. It is hard to get latex gloves (especially in small sizes), finger stalls (small condom-like protectors for your fingers), cleaners, or even archival storage bags for larger negatives. If you are having trouble, check with the big lab supply companies. I talked to BaseLine, Loon Photographic, Crown Photo Systems, Mini Lab Supply Store, and Liberty Photo Products at the show, and all are quite happy to take small orders paid by credit card.

List of Manufacturers/Distributors

FEATURED VIDEO