Film At 11; Emulsion Emotion
"Photography as a fad is well-nigh on its last legs, thanks principally to the bicycle craze."—Alfred Stieglitz (1897)
In Brian Auer's "10 Things I Hate About Film" (http://blog.epicedits.com/2008/07/15/10-things-i-hate-about-film) he states, "Film is a four-letter-word. It's a hideous part of our photographic past, and we'll be better off once it's been eliminated from society. I'm ashamed to admit that I tried film once, but I quickly learned just how disgusting it really is… Just take my word for it — FILM IS BAD." While Auer admits his satiric rant was really aimed at the shortcomings of digital photography, it's still a funny read and leads into this month's theme of professional photographers who are happily shooting film and want to tell the world about it.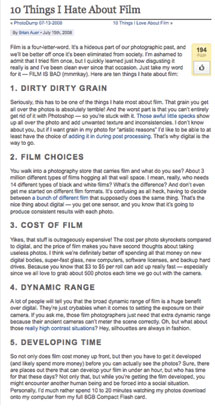 www.lisaberryphotography.com
Indiana's Lisa Berry studied fine art photography at the Rhode Island School of Design and photographs weddings using medium format Contax and Hasselblad film cameras because "skin tones come out beautifully and consistently without needing corrections. Faces feel solid and three-dimensional instead of flat." You can read more about her reasons for using film via a link in the "About" section of this understated website. The "Portfolio" section is arranged by location and features wedding images made in City, Garden, Seaside, and Coastal environments, as well as based on the media used, as in B&W, Color, and Engaged. OK, that last one doesn't fit any of those categories. In City, a wonderfully stylish yet spontaneous quality emerges in both her monochrome and color images. There's a something old, new, borrowed, and not-so-blue quality about Berry's photographs that honor tradition but are as modern as today.

In Garden, the monochrome images steal the show, especially those showing off the bride's veil. Some of the color images in the Seaside collection transcend the genre and would be just as appropriate for an art gallery as a wedding album. Image eight, especially, has a Vermeer feel that maybe—just maybe—could only have been captured with traditional media such as film. Engagement portraits reflect Berry's prodigious talent and sensitivity and are as good as it gets. Ironically, she offers her clients a disc of scanned images from these sessions. Don't miss her fine art portfolio at www.lisaberry.net to see a delightfully nostalgic collection of images with a distinct Bill Owens (Suburbia) feel.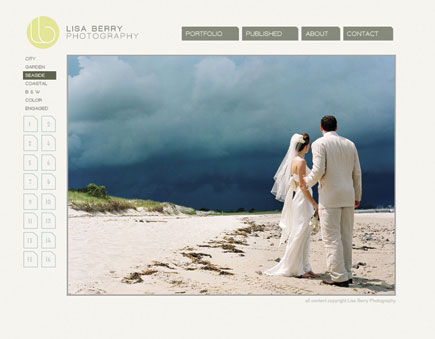 © 2010, Lisa Berry Photography, All Rights Reserved
www.erichegwer.com
Eric Hegwer is an Austin-based wedding photographer who creates images using digital capture but also loves to shoot film. He blogs that "I love the smell of those chemicals when I first open the little can that contains a roll of 35mm, I love holding and shuffling through a stack of 4x6 photos, and I love to organize and categorize scanned negatives." His site is a cornucopia of information about his photography and has a blog-like structure, making it fun to browse through its 37 different categories. I started with real wedding photography tips and discovered that "the biggest wedding trend for 2010 is having your dog in your wedding." This year, he photographed several events where pooches were either in the wedding, at the wedding, or the bride wanted portraits with her dog. Hegwer then shows examples of doggies at different weddings. His best tip? Be sure to have a dedicated wedding pooper-scooper.

Some of the site's categories relate to locations, such as Moon River Ranch, where, even through he was not the primary shooter, Hegwer ended up creating evocative color and monochrome images capturing the charm of a Texas-style country wedding. One of Austin's most popular wedding venues is Mercury Hall and Hegwer's unposed, naturalistic style seems well suited to shooting weddings in this setting. There's more than just wedding photography here and pleasant diversions are found in the Personal, Stuff, and travel photography sections. I especially enjoyed his Old World Paris images shot in 2009 using Ilford's HP5 film that have a timeless quality about them and could have just as easily been made 50 years ago. Maybe this nostalgia is what shooting film is all about and, if so, Hegwer is one of the medium's finest emissaries.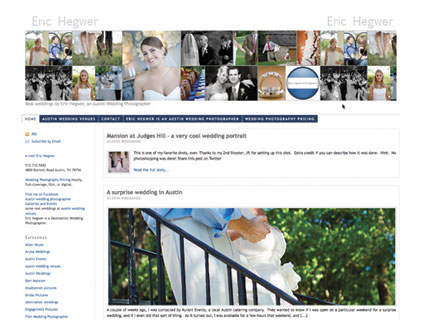 © 2010, Eric Hegwer, www.erichegwer.com, All Rights Reserved

LATEST VIDEO

SPONSORED VIDEO
Testing Tamron's SP 150-60mm G2 lens while capturing birds and alligators in Apalachicola, Florida.