Film At 11; Emulsion Emotion Page 2
www.hurwitzphotography.com
Harrison Hurwitz is an Arizona photographer who loves film and says, "Although I like using my digital cameras for advertising photography or PR shoots that need quick turnaround, for weddings and personal work I prefer film for its painterly nature." This classy-looking site showcases his wedding, portrait, and fine art work with a design that is as wide as it is deep. While seemingly everything is found in four portfolios—"Love Stories," "Family Heirlooms," "People," and "Arts"—each category has different collections of images highlighting Hurwitz's penetrating vision.

"People" has subcollections showcasing photographs of Big People and Little People that will surprise and delight you with images ranging from what look like snapshots to others with a more traditional look. The photographs in Little People are mostly about fun, while in Big People the images retain their whimsy with dramatic looks that vary from fashion to photojournalism. If you try to pigeonhole Hurwitz, forget it.

"Family Heirlooms" contains what looks like wedding album pages from four separate events and features images that are at once contemporary yet firmly rooted in tradition. "Arts" features photographs of Music and Dance, including the full breadth of the discipline from native dance to jitterbug to ballet, featuring stunning images with Degas-like beauty. Nine "Love Story" collections are organized from engagement to wedding reception and feature the most naturalistic wedding images I've ever seen. In most of the images it appears the couples seem totally unaware of the photographer's presence, allowing him to create the kind of real images seldom seen in this genre. Hurwitz is truly a photographic artist and if film is the tool he uses to express his vision, let's hope it doesn't go away anytime soon.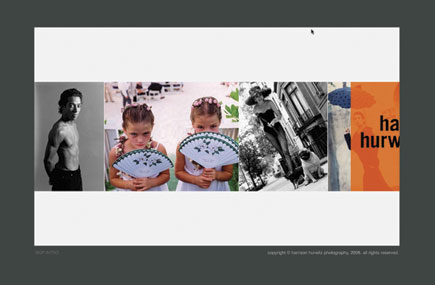 © 2010, Harrison Hurwitz, All Rights Reserved
www.paulfgero.com
California's Paul F. Gero is a former photojournalist turned wedding and portrait photographer who uses both film and digital capture in his current work. While you would think this background would influence his wedding work, and it does, especially his black-and-white photography, his color images explode with a dynamism that is uniquely his own. There are two portfolios on this elegantly designed site, but each one contains several collections. The eight collections in "Weddings" break down the wedding into its component events from the prep to the party. Don't miss his blog that contains some amazing wedding and portrait images, all done in that unmistakable Gero style.

The final entry in the "Wedding" portfolio is called the vault, and lest you think that's a cynical reference to life after marriage, this collection contains images from previous newspaper assignments that show a different side of Gero's work and sparkle with life and vitality. It's in "Portraits" where you get to see hints from the best of his assignment photographs. Here are strong images of kids—even babies—that brim with wit, style, and intensity. Oh yeah, there's a cuteness factor that raises its head from time to time and will make moms go "ahhhh," but most of the images treat the kids as individuals and Gero photographs them using the same approach as he would for adults, all the while recognizing that these are all children with all the unlimited potential that implies.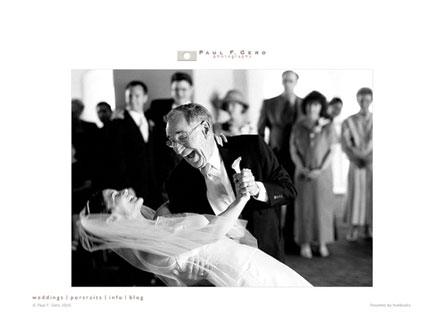 © 2010, Paul F. Gero, All Rights Reserved