EZDigiMagic Portable DVD Burner
EZPnP announces the addition of direct camera-download capability to its line of EZDigiMagic portable digital backup products. The EZDigiMagic DM220- U08 has the added convenience of a USB host function. In addition to the traditional memory card-to-DVD/CD backup, users now have the ability to download pictures and video directly from their cameras to a DVD or CD. And just like all previous EZDigiMagic products, no computer is needed.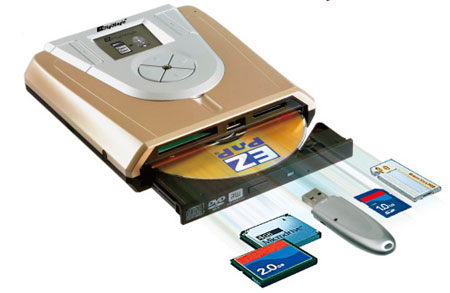 Besides providing a direct camera interface, the USB host feature will allow DM220-U08 users to share files between USB storage devices (i.e. USB flash drives, or external hard drives) and a DVD or CD disc. Files can be transferred in either direction: from flash drive to CD/DVD, or vice versa.
The EZDigiMagic DM220-U08 weighs less than two pounds, and can be powered by four rechargeable Ni-MH batteries. It can also be powered by a convenient car-kit (optional) or an AC adapter. Through a USB 2.0 cable, the DM220-U08 can be used as an external DVD burner or a player for your PC or Mac. The DM220-U08 will be available by June 1, 2008 and has a suggested retail price of $359.00.

FEATURED VIDEO