Eye Candy: How Jackie Tran Composes His Gorgeous Landscape Photos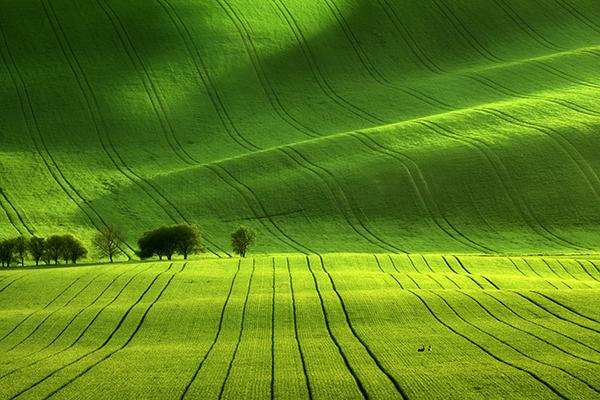 Spend even a short time looking at Jackie Tran's spectacular landscape and cityscape photos and it won't come as a surprise to learn he's a graphic designer as well as a photographer. His years of design experience are apparent in the way his compositions use lines, shapes, and colors to draw viewers into and around his images.
"Design is very similar, and of course very connected to photography," he says, "and I think that's why I fell in love with landscape photography."
Although there is a similarity in how he deals with the elements of a photograph and the elements he uses in his design efforts for websites and smartphone and mobile apps, there's an obvious difference: the elements he finds in nature don't lend themselves to the kind of graphic manipulation his design work affords. And yet, as evidenced by his images, he's found a formula for dealing with that difference.
But first, let's talk about the fish.
Starting Points
Tran's original subjects were his colorful and invitingly photogenic Discus aquarium fish. "I started photographing them two years ago," he says, and in fact they were the reason for his interest in photography. When he sold them he was faced with a decision. "I still wanted to stay with photography, and I was thinking maybe macro or landscape."
He soon realized he liked landscape photography more. It seemed to offer more photo possibilities and opportunities, and there was also the obvious appeal of traveling to photograph compelling landscapes, and cityscapes as well.
His landscape photography starts with research, not only to learn a bit about places he's never been, but also to see what others have done and get an idea of the possibilities. "I do want to see other work, but what I really want to do is make pictures that express my feelings for the location. I want people to see my impression of a place."
Once he's in the area, he'll visit the location, scout around, and consider his choices for framing, composition, and focal lengths. He's able to quickly decide what he wants to photograph and how he wants to do it, and he's eminently aware of the role design will play in the images. Those lines, loops, and circles in his images aren't there by chance.
Dual Exposure
Once Tran decides on his vantage point and sets up his camera—and most often it's set up at sunrise and sunset, his two favorite times of day for photography—he doesn't move it. With his framing locked in, his photographs now depend on what the light is going to give him.
But there's something else at work here—and it's a big something. Tran carries two cameras and two tripods, and if he sees that there's another promising composition or angle available, he'll set the second camera in place to get it. "The main camera stays in the original position," he says. "I have a feel for the composition from the first camera position. I find it, and I know it's the right angle for what I want, and I rarely move that main camera."
Tran prefers sunrise for landscape photographs, sunset for cityscapes, and for the latter he generally takes a different approach.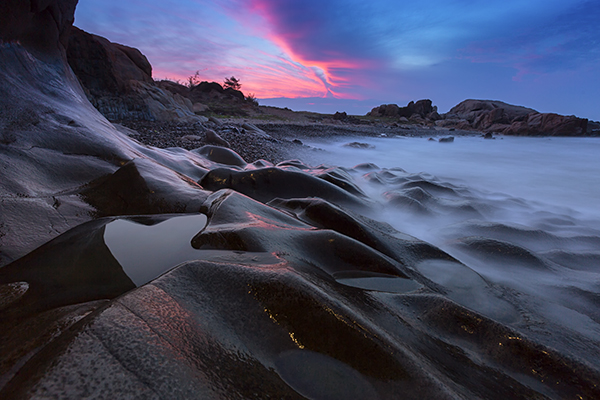 "My city photos are more complex than the nature ones," he says. "I'll take one photo of the city early on toward sunset. Then, not moving the camera, I'll take another one several hours later at the blue hour, and one more even later to get the lights of the city. Once I'm back home I'll layer the three into one photo that has the light elements of all three, so I'm giving people a look at something they can't see even if they were standing there the whole time."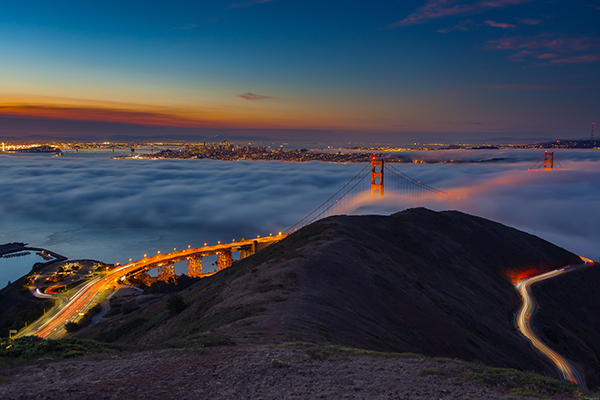 The final step is to provide a look at his photographs via his website, at Instagram, and through fine art prints. When you travel to pursue images and get up early and stay late to capture variations of light in the relatively short time they present themselves to the camera, sharing the results of your effort and vision is surely part of the overall design.
A collection of Jackie Tran's photography can be viewed at his website, jackietrananh.com; at 500px, 500px.com/tat_jackietrananh; and in his Instagram posts at instagram.com/jackietrananh. At his website click on the Underwater section for a look at photographs of the Discus fish that got him started in photography.
What's in Tran's Gear Bag
Jackie Tran's main camera, the one that stays in the prime shooting position he's staked out, is a Canon EOS 5D Mark IV; the secondary camera is an EOS 6D. His lenses are three Canons—an EF 16-35mm f/2.8L II USM, an EF 24-105mm f/4L IS USM, and an EF 70-200mm f/2.8L IS II USM—and two Samyang primes, a 14mm f/2.8 and a 24mm f/1.4. His tripods are the Manfrotto MT055CXPRO4 and the MT055CXPRO3, and with them he uses Really Right Stuff BH-55 and Benro KB0 ball heads. He also has a GoPro HERO4 action cam and a DJI Phantom 4 drone.

FEATURED VIDEO