Extreme Photography: An Interview With Tim Kemple
I recently received a copy of the University of New Hampshire Magazine and was immediately struck by the cover image of a rock climber dangling from a cliff over water. I not only noticed the storytelling aspects of the image but, as a photographer, that this guy hanging from his fingertips was somehow lit from some unseen light source. My first reaction: how did he do that?
That led to me meeting and talking with Tim Kemple, who, as it turned out, is both an excellent photographer and an expert rock climber. Kemple is someone who is not afraid to venture way outside of what most people would consider their comfort zone to get the image he's after. Suspend from a wire 60 feet above a waterfall? No problem. Hang out of a helicopter door over Denali at 50 below zero? Why not? Let's find out more about this photographer and his work.
Shutterbug: What first sparked your interest in photography?
Tim Kemple: As a young kid we used to take family vacations every year—we drove a lot! I grew up in the Northeast so we would drive across country to Utah or Colorado to go skiing, drive out to Yosemite to go hiking. By the time I was in high school I think we had traveled to all of the states except Alaska. So when I finally got a car of my own, going on road trips just felt like the right thing to do, and eventually I started bringing a camera along so that I could share the stories of the places I traveled with my friends. So I guess my photography started as a natural way of storytelling about high school adventures.
SB: I was intrigued by some of your images that I saw in the magazine. They were some of the wildest photos of extreme sports I've ever seen. What made you decide to go in that direction and do you have any background in extreme sports yourself?
TK: Absolutely. My love for climbing, skiing, and adventure in general defines me as a person. I'm a big believer in capturing images of people and places that you are passionate about, so much of my work lives in the action and extreme sports world.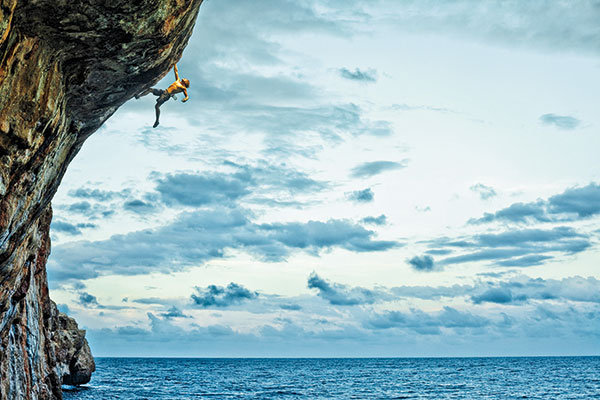 SB: What is your market? Where do you sell your images and how do you market yourself?
TK: The world is a content-hungry place these days and if you are a brand that is creating content rather than just sharing someone else's, people (potential clients) take notice. There are the obvious clients like The North Face, Eastern Mountain Sports, etc., that make products for the outdoor world that I love working for, but then there are also other brands that use the idea of adventure, the wild, the untamed to tell stories about their brands. For example, I shot for Range Rover earlier this year purely to capture social media content around a new vehicle launch. Earlier in the year I did a series of images for a high-end Swiss watchmaker that wanted to show how durable their new watches were. So I guess I do work for brands that love to tell good stories about life outside the walls of the studio.
SB: Can you tell us about one of your favorite images and what went into creating it? I'm talking about research and background information that you may have done to ensure you'd get the image you were looking for.
TK: You mentioned the UNH Magazine article, and actually the image on the cover is one of my favorites. It's an image of my good friend James Pearson climbing with no rope on a sea cliff in Mallorca, Spain. Somehow James and some other athletes from The North Face convinced the company that they needed to sponsor an "expedition" to the island of Mallorca. We rented a big house right near the water and for a few weeks lived a simple life of waking up, going to the seaside cliffs, climbing, swimming, and dancing (that's what they do there!).
Probably because of that pure simplicity the trip had great creative energy and I started brainstorming creative ideas with the athletes—and that's when we got the idea to have my assistant actually put a large strobe in a backpack, rappel off a cliff, and light a climber from directly overhead. That way I could capture the climber from the side (also on a rope) while my assistant lit the athletes from above. It created a look I'd never seen before and we experimented with it quite a bit throughout the trip.
SB: Specifically, what are your favorite subjects to photograph?
TK: I really love shooting professional athletes and artists. Their dedication to a single passion forces me to be better at what I do and to tell their stories in unique ways.
SB: Tell us about your gear choices, such as camera system, favorite lenses, flashes, tripods, and any specialized equipment that helps you get the shot.
TK: Honestly, if it has a sensor these days I've probably shot it. I love playing with cameras and using technology to stay one step ahead. That experience alone has helped me figure out what I really need as a photographer. So I really have two kits.
One I like to call the "commercial" kit, which I use on bigger commercial jobs. It's a medium format Phase One IQ2 system with their lineup of leaf shutter lenses. Shooting medium format digital is like driving a super car. It's designed with one focus in mind and with no expenses spared. My clients love being able to review images on the iPad and crop in on a product when needed, and I love the high-speed flash syncs (you can sync at 1/1600) for stopping action and the wide dynamic range that brings my landscapes to life.
My second kit is my travel camera(s). This is the kit I bring on all of my adventures. It consists of the Sony NEX-7 and, more recently, the Alpha 7R. It's light, unassuming, and produces world-class images. I love the look and feel of the Sony sensors and there is a surprising amount of dynamic range in there as well.
I've also played a ton with lighting over the years. I started out with speedlights, then moved on to AlienBees, then to Elinchrom Rangers, and more recently to Profoto lighting. I switched to Profoto because their "Air" system lets me adjust all of my lighting from the transmitter itself, and the receiver is built into the pack. So I can be at the bottom of a half-pipe, for example, and adjust the power of the light that's mounted a 100 feet away, probably in a place that's impossible to get to. They also have the new B1, which I think is going to revolutionize the type of location work I do. I had a chance to shoot with it recently and I couldn't believe how simple and portable the package was. It consists of a 500 watt second battery, strobe, and receiver, all in one.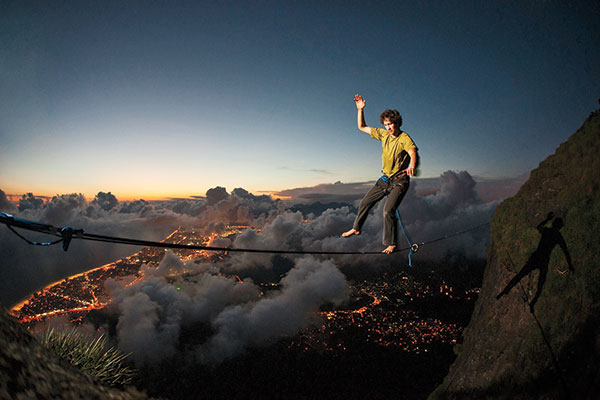 SB: What advice would you give to others who are interested in pursuing the type of work that you do?
TK: My biggest piece of advice is to shoot subject matter that you are truly passionate about. I don't shoot something simply because I think it's going to sell. I shoot pictures and tell stories of people and places that I'm passionate about. I believe the days of taking a single picture and making a career off that image are gone. People remember stories and if it's something you love then I guarantee that there are at least a million other people in the world who will love it, too. You just need to get the work out there so they can share in it as well.
SB: Do you use an agent or do you market on your own or online?
TK: I market my own work. Clients see me on the web, through social media and the editorial work I do.
SB: Now tell me how you got that crazy waterfall photo!
TK: Ah, the crazy waterfall. Well, I'm always looking for ways to get unique shots and often that finds me putting my rope skills to work. For the waterfall, I set up a static rope about 10 feet in front of the waterfall, then I used a simple pulley and climbing harness to go out on the line and capture the kayakers as they paddled over the drop. In retrospect, we ended up with perfect conditions: enough water so the kayakers could run the drop (usually the more water the better for them) while still being clear enough that you could see the bottom of the drop. It was one of those cases when the stars aligned and we got great shots!
To see more of Tim Kemple's images, visit his website, http://kemplemedia.com. You can also Google him to see a wide range of resources and outlets.

FEATURED VIDEO