Epson Stylus Photo R2400 and Epson UltraChrome K3 Inks
Epson America Inc. has introduced the Epson Stylus Photo R2400 and Epson UltraChrome K3 inks. The Epson UltraChrome K3 pigment ink set is said to ensures both a wider color gamut and superior black and white output with enhanced print permanence ratings. With three levels of black and advanced driver controls, the Epson Stylus Photo R2400 replaces the Epson Stylus Photo 2200.
The Epson UltraChrome K3 ink set is a unique eight-color system that uses higher density pigments to widen the color gamut. In addition to cyan, magenta, yellow, light cyan and light magenta, UltraChrome K3 features a special three-level black ink system that simultaneously uses black, light black and light-light black to create professional neutral and toned black and white prints from a single ink set.
Epson UltraChrome K3 inks also boast output without color crossover or color casts. In addition to professional-quality black and white output, Epson UltraChrome K3 is said to produce higher degrees of color fidelity and stable colors superior to that of other ink technologies on the market. By using high-gloss Microcrystal Encapsulation technology, Epson delivers improved pigment and resin chemistry to provide better scratch resistance and glossier prints.
The Epson Stylus Photo R2400 is said to produce unparalleled black and white prints and gives the user the choice of two interchangeable cartridges-Photo Black or Matte Black. This feature optimizes the black ink density for various media types, which produces richer blacks and higher contrast output. Professional results can be achieved with the Photo Black Mode on a variety of glossy media, and in Matte Black Mode on matte and fine art media such as Epson's Velvet Fine Art, Enhanced Matte and UltraSmooth Fine Art. Both Photo and Matte Black cartridges are included with the Epson Stylus Photo R2400.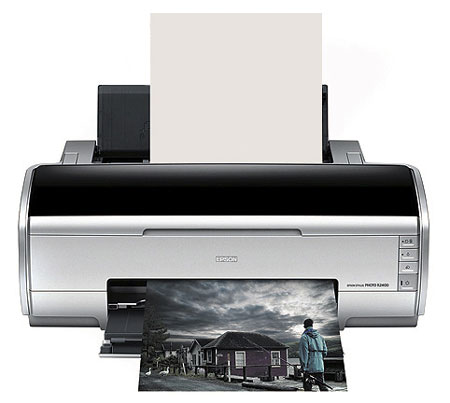 The Epson Stylus Photo R2400 driver is enhanced to provide users with unprecedented black and white image control. The driver settings offer quick toning presets, separate controls for shadow and highlight tonality control, maximum optical density control, reduced gloss differential, and custom tone control. Furthermore, Epson's proprietary driver and screening technology offers users a unique method for converting color digital images into professional quality black and white prints.

FEATURED VIDEO