The Epson Perfection 4870 Pro; Scan Film, Prints, And 3D Objects To The Max
Epson Perfection 4870 Pro Quick Look
Scans a variety of films, prints and objects
Fits on any desktop
Fast scan time
$599 (4870 Pro), $449 (4870 Photo)
Further Information
EPSON PERFECTION 4870 PRO
http://www.epson.com
If you need to scan prints, film in small to medium format, or three-dimensional (3D) objects to make extreme enlargements, here's a new scanner with superior performance and professional level specifications at a reasonable price point. Boasting an extreme hardware resolution of 9600x4800dpi with a dynamic range of 3.8 and a maximum 48-bit color depth, Epson's new Perfection 4870 flat-bed scanner replaces the previous 3200 model and ships with a transparency unit cover, which will handle positive and negative film up to 6x9". While its resolution surpasses that of many dedicated film scanners, the 4870 Pro also includes top-notch software that, if purchased separately, could cost as much as the entire bundle with the scanner.

For prints and other reflective art or 3D objects, the scan area measures 8.5x11.7". The included 6x9" transparency adapter with a moving carriage and lamp optimized for film scans will accommodate eight 35mm mounted slides, four 35mm film strips (up to 24 frames), three to six medium format (120/220mm, 2 1/4", 6x12cm) frames or two 4x5" frames.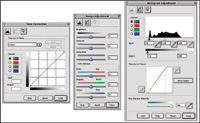 With Epson scan software in the Full Auto and Home modes, picture wizards guide you while the scanner does the work. In the Professional mode, shown here, you have the option to take full control with many adjustment options including these dialog boxes for tone correction (curves), image adjustment, and histogram adjustment.
Bundled Software
Are some of your prints or film faded and scratched? Epson Scan software can help revive and restore them with Digital ICE image correction and enhancement technology built into the hardware and software. While this feature can increase scan times considerably, it may be well worth the wait considering the time you'd have to spend fixing these problems manually in your image-editing program. Easy Photo Fix is another included digital tonic to restore faded color, remove dust, and reduce grain. While Easy Photo Fix works with all films and prints, Digital ICE works with all except conventional black and white negative film and Kodachrome.

The rest of the software that ships with both the standard 4870 and 4870 Pro includes Adobe Photoshop Elements 2.0 image-editing software, which incorporates many of the features of its professional older sibling, Photoshop CS. For anyone who needs to scan text (from a report, book or newspaper, for example) and then use it in a word processor, Epson includes ABBYY Fine Reader Sprint 5.0 OCR, an optical character recognition program. While Epson's own scanning software works extremely well, for those who want to dig deeper, LaserSoft SilverFast SE 6 scanning software ships with the standard 4870.

The 4870 Pro includes all the software above and upgrades the LaserSoft SilverFast to Version Ai 6, a program that offers pre-scan control over highlights, shadows, tonal range, color, descreening, and scaling. For superior control of your color and tone, the Pro version adds Monaco EZcolor 2.5 color management software. With its included reflective print and 4x5" transparency IT8 targets, you'll be assured that the true colors of what you scan appear both on-screen and in the prints that you make. When you go for the Pro, Epson also gives you three programs from ArcSoft: PhotoStudio image editor, PhotoBase media manager, and Panorama Maker to stitch together two or more photos. The 4870 scanner and all software work with both Windows and Mac, including OS 9 and X. To connect to your computer, you can choose from USB 2.0 or 1.1, or FireWire (IEEE 1394).
Setup And Controls
It took me less than an hour to get the 4870 up and running, a good portion of that time spent in unpacking all the carefully wrapped components. The software installed rapidly on my Mac, and when I connected the scanner via FireWire and opened Photoshop, "Epson Perfection 4870" appeared as one of the choices under File>Import. I decided to try the default Full Auto mode on a color print. The software immediately detected the subject, adjusted the color and exposure and scanned it at 300dpi for the best quality output on an ink jet printer. I was very impressed with the exposure and color, although the latter was a bit saturated--not unpleasant but punchier than the original. Most people would probably prefer this. If you need to tone it down, just add a Hue/saturation adjustment layer in Elements or Photoshop and nudge down the saturation, or adjust the saturation in the scanning software. Both the Full Auto and Home modes display pictures to guide you through the scanning process.

Next, I tried the Professional mode, where you have the option to take full control with many adjustments. First, you click a button to do a Preview scan, then use a crop tool to select just the area you want to scan. Next, you can choose the Autoexposure button, or click on icons to open dialog boxes for histogram adjustment, tone correction, and image adjustment. My first scan, with no adjustments, was very close to the original. Scan times were fast, less than a minute for an 8x10" original at 300dpi.
Correction Tools
In the histogram dialog, you can view the composite RGB or the individual red, green, and blue channel histograms and adjust them. Here you'll also find a tone curve viewer and gray balance intensity tools, used to remove color casts. In the large preview in a separate window, any changes or adjustments you make are applied to the preview scan image in real time. At the bottom of this preview window are displayed the pixel dimensions and file size of the final scan.

The tone correction box is like the curves dialog in Photoshop, but with some preset options in a drop-down menu, pre-defined curves for linear, lighten, darken, flat contrast, high contrast, or open shadow. It's both fun and illuminating to cycle through these choices and see what might improve your scan. Again, you can select the composite RGB channel or individual color channels. Finally, the last dialog is image adjustment, which has sliders for brightness, contrast, saturation, and three-color balance sliders for cyan-red, magenta-green, and yellow-blue. Using these dialogs and the preview you can really fine-tune your image to get it just the way you want, all before you do the final scan. Descreen, Color Restoration, Dust Removal, Grain Reduction, and Digital ICE controls are located on the lower section of the Professional mode interface.
Scanning "Real" Objects (In 3D)
Now it was time to try what I had envisioned when I first read Epson's announcement of this extremely high-res machine. I love to scan 3D objects--leaves, stones, seashells, jewelry, flowers, coins, found objects--using the scanner like a camera. With the 4870, I can now blow up a flower scan, for example, to a 4x6 ft digital print with very high quality and tonal range.

For other 3D scanning fans, here are some suggestions and a word of warning. To keep your scanner's glass pristine and free from scratches, put a thin piece of clear plastic over it and then lay the object on the plastic before scanning. This will keep dust, dirt, hairs, fibers, etc. from your scanner's bed. Try the clear plastic cover of a CD jewel case, or a sheet of clear acetate from an art supply shop. For backgrounds for 3D objects, try white, black, or gray cloth, colorful and/or patterned fabrics, and art and wrapping papers.

Be sure that your scanner glass, the subject, and the clear plastic you place on it are all very clean. Especially with small objects, any dust, hairs, or threads become enormous in your final print. Use a cleaning cloth and/or canned air to tidy them up before scanning. It's easy to completely remove the scanner's cover, so you have plenty of room to work in arranging both your object on the scanner's bed, the cloth, or other material you're using as a background. If you use no background material with the cover off, the background of your scan will be black. When you're scanning 3D objects, try placing them at different angles on the scanner to see how the lighting will vary.
With the 4870, it's easy to scan 3D objects like this seashell, then make huge prints. At the highest (non-interpolated) resolution of 4800dpi, scan time was under five minutes for an area 2.4x2.9". The scan then opened in Photoshop at 4800dpi with a whopping 450MB file size. That's 38x46" at 300dpi or 47x57" at 240dpi, almost 4x5 feet at a resolution appropriate for an ink jet printer. Forget fast food--this is my kind of supersize.
Photos © 2004, Howard Millard, All Rights Reserved
Sea Shell Test
For my first 3D trial, I selected a highly patterned seashell only 2 3/4" long. I placed it on a protective clear plastic sheet and did a preview scan. Next, I used the crop tool to select only the shell and a bit of elbowroom around it. Then, wondering how long the scan might take, I selected the highest (non-interpolated) resolution of 4800dpi from the drop-down menu. The 4870 whirred into action. I was delighted to see the moving light bar slide quickly over the unoccupied space on the scanner glass and then slow down as it approached the shell. A progress bar on-screen appeared and estimated that it would take 11 minutes to complete the scan. This estimate was quickly reduced, and the final time was under five minutes for an area 2.4x2.9". The scan then opened in Photoshop at 4800dpi with a whopping 450MB file size. That's 38x46" at 300dpi or 4x57" at 240dpi, almost 4x5 feet at a resolution appropriate for an ink jet printer. Forget fast food--this is my kind of super size!
The Time Test
What's the price of high resolution in terms of scan speed? Pretty reasonable with the 4870, in my view. Times as tested by Epson are as follows: for a color 4x6" print scanned at 300dpi, the preview time is 7 seconds and the scan time is 10 seconds. For an 8x10" color print at 300dpi, the preview time is the same while scan time only increases to 18 seconds. To scan a 35mm color slide at 3200dpi takes 67 seconds. That increases to 88 seconds if you scan at 4800dpi. Got color negatives? You can scan a 35mm neg at 2400dpi in 48 seconds, while 4800dpi requires 153 seconds. Tests were done on a Pentium III 1 GHz machine running Windows XP Home Edition, with a FireWire connection.
An important feature of the Epson 4870 is its ability to make high-resolution scans from film up to 6x9". For this 35mm slide, I used the crop tool in Epson scan software to select only the area of the eye to be scanned.
For my final test, I scanned a 35mm color slide. After cleaning the transparency and the scanner's glass, I laid Epson's plastic frame for 35mm slides on the glass. I placed one mounted slide in slot number 1 with the base side down and closed the cover. In Photoshop, I chose File>Import>Epson 4870. In Epson scan, I chose the Professional mode, Document type: film; Film type: positive film and a resolution of 600dpi to capture a small image of the slide. I then clicked the preview button to scan the page of up to eight slides, which took under two minutes.

After selecting all of my slide's image area with the crop tool, I clicked the scan button, which then completed the operation in less than a minute. While the scan was sharp and had good tonal detail, it was rather red. Before doing any color correction, I added a Levels adjustment layer and lightened the image by sliding the
mid-tone slider to the left. This corrected the red color cast completely. I saved the file and chose File>Import>Epson 4870 again.

This time, I wanted to test the maximum hardware resolution of the unit. Using the crop tool, I selected only the eye, then changed the resolution to 4800dpi. The tiny area of the slide I cropped measured only 0.27x0.17". Again, the scan was completed in less than a minute. The quality and tonal range was impressive, easily rivaling scans from dedicated 4000 and 5000dpi film scanners I've tested which cost twice as much as the 4870 and can't scan prints. I made the same levels adjustment as before and debated whether to sharpen the image or not.
Using the crop tool as shown, the tiny eye area of the slide I selected measured only 0.27x0.17". At 4800dpi, the scan was completed in less than a minute with quality easily rivaling that of dedicated 4000 and 5000dpi film scanners. I made one levels adjustment to correct color and sharpened the image slightly, as described in the text. If I'd scanned the entire slide at 4800dpi, I could have printed it 16x24" at 300dpi.
Sharpening Tip
Most scans (from any scanner--film or flat-bed) can benefit from slight sharpening. This scan was quite good, it hardly needed any, but as magazine reproduction can soften the image as well, I decided to sharpen. I chose Filter>Sharpen>Unsharp mask with settings of Amount: 150; Radius: 1.5; Threshold: 3. Converted to a resolution of 300dpi (with no interpolation) for magazine reproduction, the size became 2.5x4.25". If I'd scanned the entire slide at 4800dpi, I could have printed it 16x24" at 300dpi!
Cleanup
Now, how can the 4870 help eliminate scratches, tears, cracks and dust? Digital ICE for prints uses a two-lamp scan to examine your photo for defects on the surface. Digital ICE for film uses an infrared channel along with the usual red, blue and green channels to detect dust, scratches and fingerprints on the film surface. Once the defects have been detected and mapped out, software in the driver repairs them in the final image data. Since Digital ICE requires multiple passes and processing, it increases scan times considerably. Note, too, that you may still have to do some retouching after ICE. It all depends on the size and extent of the flaws in the original. Digital ICE for prints cannot detect tape, fingerprints, pen or maker ink as these usually appear as part of the image, not surface defects.
Size And Price
The scanner fits easily on a desktop, measuring 12x18.7x5.3", and weighs 14.8 lbs. Estimated price for the Epson Perfection 4870 Photo is $449 while the 4870 Pro goes for $599. While this is not cheap, the many features and powerful software provide professional level quality with the option of automatic scanning for the beginner, or advanced control for the more experienced user. Furthermore, if you have a collection of negatives or slides to scan, the quality of the 4870 rivals that of many models dedicated exclusively to film.
Contact
Epson America, Inc.
(800) 463-7766
www.epson.com

LATEST VIDEO

SPONSORED VIDEO