Epson's PowerLite 1715c Projector; A Portable Multimedia Sharing Device Page 2

Getting Images Onto The Screen
If you have a folder already set up for your images simply transfer them to a USB drive, plug it in, and, in the PC-free mode, just hit enter and play and off you go. You use the remote to go back and forth manually or set up an interval for changes and even basic transitions. You can do the same by connecting your digital camera and then use the pointer to open the DCIM folder structure. Same goes for an external drive, like those pocket-size, massive gigabyte hard drives.
There's one more feature that I'll highlight--creating what Epson calls a "Scenario." You first load the source files onto a USB drive and plug it in. For example, say your images are in a PowerPoint presentation. You drag it onto the Epson EMP Slidemaker2 icon on the desktop, which you load from the supplied software. The software then creates the Scenario, which you load onto your USB drive. You can also create a Scenario file from various sources using the same software.
At the same time I received the projector Epson sent along a Duet Ultra Portable screen ($249) for test. This clever device sets up with ease in either standard or widescreen format, and comes with a stand. It's just about the easiest projection screen I've ever used.
Having taught my share of classes and made my share of picture demos I can attest to the myriad systems I've had to contend with, most of which were a struggle to get decent color with or even set up. I was always hesitant to purchase a projector because quite frankly I didn't want to schlep it around. The Epson 1715c gets rid of that excuse, and becomes an integral part of the presentation in the bargain. If you're on the lecture circuit, often show your work for presentations or client review, or have a group who has switched to digital photography and does shows and critiques, then the 1715c is certainly worthy of consideration.
Accolade Duet Projection Screen
As part of our test of the new Epson PowerLite 1715c we got to work with their new "Duet" projection screen. The two-piece kit is composed of a stand with bracket with a form-fitting slot molded to the back of the screen, making for easy setup and breakdown. The Duet moniker refers to its horizontal expansion capability that allows you to work in either 4:3 or 16:9 aspect ratio. The full size when expanded equals 80"; when down to carry size it measures 42" in length. The back handle and strap make it easy to bring from place to place, and set up takes a few seconds. You open the screen by pulling on two handles on the backside of the screen itself. Priced at about $249 (list) it is one of the handiest and most portable screens around, perfect for both client presentations on location and at home for various projection needs.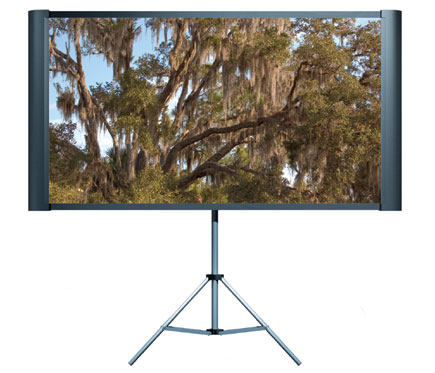 Image on screen © 2006 Grace Schaub, All Rights Reserved
Epson's 3LCD Projector Family
While we did get to test the PowerLite 1715c there are three other projectors available in this family. The chief differences are brightness and the ability to set up wireless projection. With the 1705c and the 1715c you can wirelessly project full-screen, full-motion MPEG2 video with audio. In addition, the wireless "Quick Connection Mode" is a wizard to set up a fast connection (up to 54MB per second) between computer and projector. These two also have an optional Ethernet (wired LAN) module plus a standard USB 2.0 port for direct connection to a computer as well as USB memory devices.

Here's a summary of the differences. To learn more visit www.epson.com.
| | | | |
| --- | --- | --- | --- |
| PowerLite Projector | Brightness | Wireless | Price |
| 1700c | 2200 A.L.* | No | $1299 |
| 1705c | 2200 A.L. | Yes | $1499 |
| 1710c | 2700 A.L. | No | $1799 |
| 1715c | 2700 A.L. | Yes | $1999 |
*ANSI Lumens: A standardized measure of brightness. Above 2000 means a high-performance unit that can be used in room with some to fairly bright ambient light and suitable for classrooms and large conference rooms. This level of brightness can offer quality projection on a fairly large screen without much loss of quality.
For more information, contact Epson America, Inc., 3840 Kilroy Airport Way, Long Beach, CA 90806; (800) 463-7766, (562) 981-3840; www.epson.com.
For a full list of Technical Specifications, visit the Instant Links section of our website at: www.shutterbug.com/currentissuelinks/.

LATEST VIDEO

SPONSORED VIDEO