Edge Lighting Effects: A Three-Light Setup, With Modifiers
There I was, 20 years old behind the sideline barricade of an arena football game clutching to my now outdated Canon EOS 20D with a 200mm lens slapped on it. I raced back and forth behind the separating wall with a cluster of other photographers—feverishly snapping off images as the players sprinted up and down the field and crashed into one another and off the barriers. It was my first sporting photo assignment.
Looking back at it a decade later, that night of creative energy was the impetus for my launch as a photographer into the athletic and health industry. Over the years I've worked to develop a wide range of clients and an extensive portfolio. I've had the opportunity to photograph NBA players, ballerinas, MLB players, body builders, pole vaulters, NFL players, CrossFit competitors, marathon runners, swimmers, NHL players, and even fencers.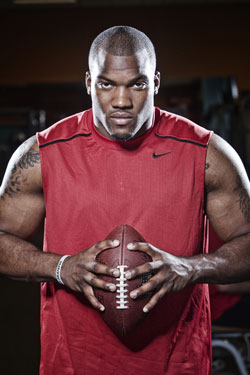 Depending on the assignment, my team and I have used a variety of lighting styles for our fitness- and sports-based portrait work. When it comes to achieving a dramatic, moody, and gritty effect we often use a three-light setup that I'd like to share with you.
My advice: experiment with different light modifiers and positioning of the lights to achieve the look and feel that resonates with you for the images you want to achieve.
The Setup
The principle behind this setup is to create a rim of light, or edge light, that is brighter than the main light. There are a plethora of options when it comes to shaping, directing, and modifying the light, all based purely on your taste and what you feel works for the scene.
My team and I often use AlienBees, Einstein, and Paul C.
Buff lighting equipment; however, the same results can be achieved with just about any monolight or strobe with similar modifiers.
Beginning with the main light (we use either an AlienBees B800 or an Einstein light), we set it up on a C-stand or a light stand with a boom arm at least 5 feet from the subject, pointing down at them at a 45-degree angle. You can modify the light several ways based on the look you want to achieve. For crisp light you can use a silver beauty dish; for softer light with a smoother falloff you can use a large octabox. A middle ground between the two could be achieved by placing a diffusion sock over the beauty dish.
We then position the two backlights (AlienBees B800 monolights) about 45 degrees behind the subject and several feet back. As with the main light, we have a lot of options for light modification. (We tend to go with a 7" reflector to focus the light a little toward the subject.) To focus the beam of light even more, you can snap in honeycomb grids. If we want a much softer and more controlled spread we use two strip boxes. For even more control of light spread, we use a grid in the strip boxes. Our decision depends on the effect we want to achieve; the point is there are many, many options.
Most of my lighting is done by feel or how it looks when we fire off a test shot. From there we make on-the-spot adjustments. However, we typically have the backlights powered up about one to up to two stops higher than the main light. This creates that rim of light along the edge of the subject, accenting muscle tone and definition and allowing the light to wrap around the sides of the subject's face and body.
Author Bio
James Patrick, ACS, ALB is a commercial and editorial photographer based in Arizona. His clients have included Max Sports & Fitness Magazine, Scottsdale Health Magazine, Physique Magazine, Troon Golf, Fitness Magazine (South Africa), Muscle Milk, So Tru, and more.
Patrick also plays an active role in numerous professional associations, including being a Past President of Ad2 Tucson (a division of the American Advertising Federation), the Founding President of a Tucson-based Toastmasters International group, and is a past board member of the American Society of Media Photographers Tucson Chapter. He has also worked as a marketing professional, website strategist, journalist, and a public speaker covering a variety of topics, including photography, marketing, and business development. He is a past recipient of the Inside Tucson Business as an Up & Comer of the Year award and has received six ADDY Awards from the American Advertising Federation Tucson Chapter for his work in color photography. His work is available to be seen at jamespatrick.com and he is the host of the podcast "The Pro Exposure" available at theproexposure.com.

FEATURED VIDEO