DSLRs Strike Back: Why The Mirror Box Isn't Going the Way of the Dodo Bird (Yet)
(Editor's note: This is the second of two articles offering different takes on today's digital cameras. In this piece by Shutterbug.com contributor Jason Schneider, Schneider takes a look at the recent flood of new digital SLRs in the camera market and why it's evidence that DSLRs are far from dead yet. Here's an alternate opinion from photographer Steve Meltzer on why he prefers using smaller cameras than bulky DSLRs.)
Advanced mirrorless cameras are posing a serious challenge to traditional DSLRs, but the latest members of the mirror-box-brigade are fighting back—offering new cutting-edge features, awesome performance, and a wider lens selection.
The recent advances in electronic viewfinders and hybrid on-sensor AF systems have definitely tilted the playing field, and some have predicted that traditional DSLRs with optical viewfinders and flipping reflex mirrors will eventually be supplanted as the cameras of choice for serious enthusiasts and pros. In the long run they may be right, but at the moment it's significant that every single one of the top-tier professional models from Nikon, Canon, and Pentax have mirror boxes and pentaprism viewfinders.
Performance Advantages
In terms of overall real-world picture-taking performance the latest DSLRs provide attractive alternatives to their mirrorless interchangeable-lens rivals, plus the advantage of a "real feel" direct optical viewfinder and the ability to use an incredible array of legacy lenses and exciting new ones. Indeed, while new lenses for mirrorless cameras, including pro-aimed premium optics, are now being developed at a faster rate, DSLRs still retain a tremendous numerical advantage over their mirrorless counterparts in addition to preserving your present optical investment.
In short, an installed user base of satisfied users is one of the major reasons DSLRs still dominate, comprising about 80% of the interchangeable-lens camera market. And that explains why most DSLR manufacturers, and many users, would rather fight than switch.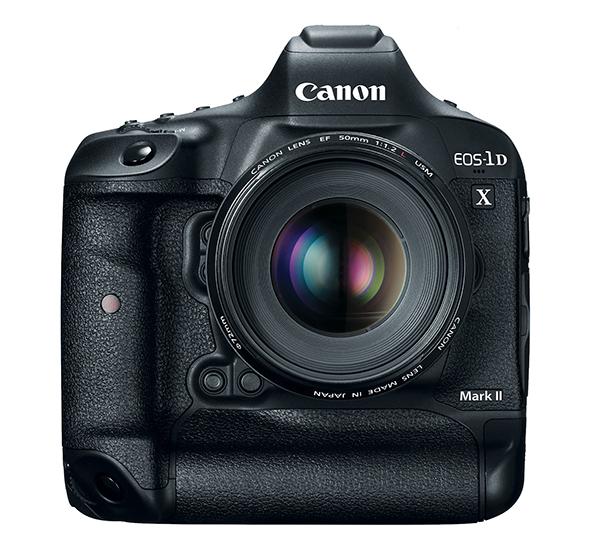 Technically a DSLR is a through-the-lens-viewing camera in which an angled mirror behind the lens reflects the image formed by the lens up into an optical viewfinder (OVF) for viewing, and moves out of the light path at the instant of exposure so the light can reach the sensor. Therefore, strictly speaking cameras that use an electronic viewfinder (EVF) that takes a live feed off the sensor instead of a separate optical viewfinder (OVF) are not really SLRs or DSLRs—even if they provide DSLR functionality and a DSLR-like form factor as many mirrorless cameras do. Bear that distinction in mind when users and even some writers refer to such mirrorless models as "DSLRs."
Advanced New Features
One of the most important operational upgrades of the newest high-end DSLRs is 4K UHD video capture, a feature built into in three of the six models detailed below. Both the full-frame top-of-the-line FX-format Nikon F5 and the impressive DX-format Nikon D500 can shoot UHD 4K 3840 x 2160p video at 30, 25, and 24 fps. The flagship Canon EOS-1D X Mark II can even capture DCI 4K 4096 x 2160p video at 60, 30, and 24 fps as well as 8.8MP still frame grabs.
Three out of the six also incorporate hi-res sensors in the 20+ MP class except that the new Pentax top model K-1 incorporates a 36.4MP CMOS sensor (but does not offer 4K video capability) and the new consumer-aimed Canon Rebel T6 has an 18MP APS-C CMOS sensor.
Full-res burst rates are another key area where the latest DSLRs are going head-to-head with mirrorless cameras. The Nikon D5 can shoot up to 200 RAW frames at a blistering 12 fps, and the D500 is not far behind at 10 fps. The DSLR firepower champ is clearly the Canon EOS-1D X Mark II, which can shoot continuously at up to 14 fps and 16 fps in Live View, a class-leading performance. The new APS-C-format 24.2MP mid-range Canon EOS 80D can shoot at a respectable 7 fps for 25 frames in RAW and up to 110 frames in JPEG capture
The Pentax K-1 does a commendable job, capturing full-res 36.4MP frames at a maximum rate of 4.5 fps. And not unexpectedly the enticingly priced entry-level Canon Rebel T6 brings up the rear at 3 fps, which is perfectly adequate for its intended use.
On-Sensor AF Arrays
From an overall performance standpoint, the most important feature in all four high-end cameras in this illustrious group is a dense array of on-sensor AF points that combine large numbers of phase-detect and contrast-detect sensors, many of the superior cross-field type. These impressive on-sensor AF arrays are integrated with state-of-the-art image-processing systems, delivering very rapid, decisive AF performance, very short lag times, and excellent identification and tracking of moving subjects—all significant advances in real world performance.
Examples: The Nikon F5 Multi-CAM 20K 153-pointd AF system incorporates 99 cross-type sensors and the Canon EOS-1D X Mark II's 61-point phase-detect High Density Reticular AF II system incorporates 41 cross-type zones. While none of these brilliant DSLR systems can provide AF before, during, and after exposure as a mirrorless camera can—a significant advantage when shooting video and high-speed action—they can and do perform to a professional standard.
Other common features in the latest crop of DSLRs include incredibly high maximum ISO settings (an astonishing ISO 3,280,000 in the case of the Nikon D5) large hi-res tilting LCD monitors, some with Touchscreen capability, a robust body build with magnesium alloy chassis and superior weather sealing, and, in the case of the Pentax K-1, 5-axis sensor shift image stabilization built into the body.
Take a close look at the specs and analysis of the six hot new DSLRs below and you'll appreciate why DSLRs are still the most popular choice among the majority of serious shooters.
Nikon D5: This long-awaited and rumored Nikon D5 full-frame that debuted at CES uses a 20.8MP flagship that represents a substantial advance over the previous Nikon D4S. The feature everybody was talking about is its maximum ISO setting—a staggering ISO of 3,280,000 in the aptly named Hi-5 mode offering, according to Nikon, "near night-vision capability well beyond the visibility of the human eye."
New AF System
However, in a practical sense, its other impressive features may be more useful. They include: A new AF system with a dedicated Multi-CAM 20 AF sensor module with 153 AF points, 99 of which are cross-type, delivering "superior AF performance," a maximum full-res burst rate of 12 fps with AF, and 14 fps with AF on the first frame only, and a state-of-the-art EXPEED 5 image processor that delivers high-speed, low-noise performance and the power needed for in camera 4K UHD video at 30 fps.
It seems almost anticlimactic to note that the 5D also has a 3.2 inch 2359k-dot touchscreen LCD and includes a built-in 1000 Base-T 400MBps Ethernet connection said to be up to 1.5x faster than the D4S. The D5 will be available in two versions, one with dual XQD card slots, the other with dual CF card slots. Street price: $6496.95 body only.
Nikon D500: This robust 20.9MP DX-format DSLR aimed at pros and serious enthusiasts, is a key entry in the DSLR market because it provides many of the capabilities of the D5 at a more affordable price and is likely to sell in much higher quantities. Features include ISO settings up to "only" ISO 1,640.000, a maximum full-res burst rate of 10 fps with full AF and AE, a 153-point AF system, 3.2-inch 2359k-dot Tilting Touchscreen LCD, wireless connectivity that can use Bluetooth and Nikon SnapBridge, 4K UHD video capture at 30, 25, and 24 fps, and Full HD 1080p at a variety of framing rates.
The new Nikon D500 carries an SRP of $1,999.95 (body only), and $3,069.65 with AF-S DX Nikkor 16-80mm f/3.5-5.6 G ED VR lens. Perhaps the most important message the release of this camera delivers is that traditional DSLRs continue to be a dominant force among top-tier professional shooters and emerging and accomplished enthusiasts that demand a full measure of high-end performance and image quality, and compatibility with their present lenses. Street price: $1,996.95.
Superior AF Tracking
Canon EOS 80D: This brand new successor to the very successful and much admired D70 incorporates an upgraded 24.2MP APS-C-format CMOS sensor with a new 45-point, all cross-point, AF sensor coupled to an advanced DIGIC 6 image processor. It also includes Dual Pixel CMOS Autofocus (DAF) technology that delivers superior lock-in and tracking of moving subjects, especially important when shooting video or high-speed action in Live View. Other key features: Full HD 1080p video capture 60 and 30 fps, a maximum full-res burst rate of 7 fps, 3.0-inch 1.04m-dot swiveling variable-angle Clear View LCD II touch screen monitor, built-in Wi-Fi with NFC, and a sensitivity range of ISO 100-16000 expandable to ISO 25600.
For working with telephoto lenses and extenders 27 of the camera's AF points are capable of focusing down to f/8, and their dual cross-focus design offers enhanced precision at brighter aperture values. Like its predecessor, the 80D features a solid glass pentaprism to deliver a crisp, brilliant view and now incorporates a pro-grade shutter mechanism designed for up to 100,000 cycles, and a 7560-pixel RGB+IR metering sensor that enhances exposure metering and AF performance. Street price: $1,199.00 body only, $1,799.00 with the new Canon EF-S 18-135mm f/3.5-5.6 IS USM lens.
Enhanced Handheld Shooting
Pentax K-1: It is, at long last, Pentax's first full-frame DSLR, and it's a beauty with an ultra-hi-res 36.4 CMOS sensor coupled to an advanced Prime IV image processor that delivers sensitivity settings up to an impressive 204800 ISO. It omits the usual low-pass filter to enhance resolution and relies on an AA Filter simulator to reduce moire and aliasing. Its signature feature is an in-body 5-axis anti-shake system claimed to provide up to a 5-stop advantage in handheld shooting.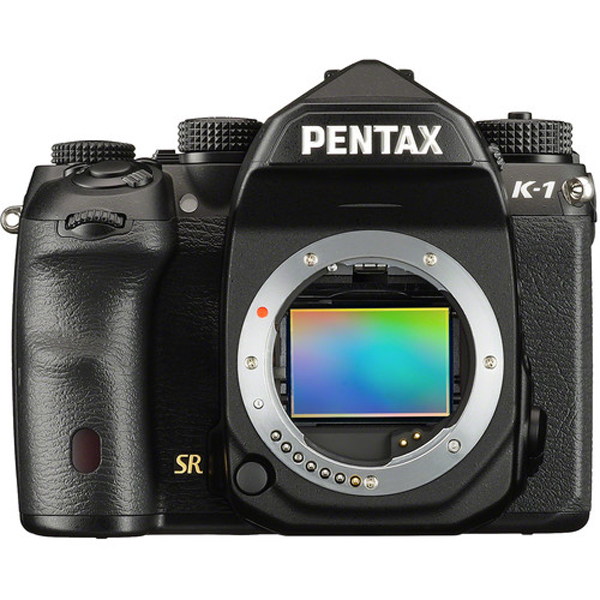 The K-1's SAFOX 12 AF sensor incorporates 33 AF points 25 of which are of the cross type, and 3 unique f/2.8 luminance sensors that can operate in extremely low light, down to EV minus 3. The K-1 can capture Full HD 1080p video at up to 30p or 60i, has a distinctive 3.2-inch cross-tilt monitor that tilts upward 90 degrees, downward 44 degrees or 35 degrees to the left or right to enhance shooting flexibility. Its robust body is weather sealed in 87 places and is built on a stainless steel chassis clad in magnesium alloy. Other features: Built in GPS, Wi-Fi connectivity, Diffraction Correction function, and focus peaking display in video. Streat price: $1,796.95, body only.
Canon EOS-1D X Mark II: Canon's latest full-frame flagship DSLR is a technological tour de force, with a 20.2 MP CMOS sensor mated to Dual DIGIC 6+ Image Processors to deliver awesome performance parameters, including a continuous full red burst rate of 14 fps with full-time AF and AF or 16 fps in Live View, ISOs from 50-409,600, and DCI 4K DCI 4K 4096 x 2160p video at 60, 30, and 24 fps as well as 8.8MP still frame grabs.
Robust Build Quality
It can also record Full HD 1080p at 120 fps, record to a CFast 2.0 memory card, or output uncompressed Full HD via its HDMI port. Its advanced 61-point AF system includes 41 cross-type zones and works when shooting stills or video. Its video performance is enhanced with Dual Pixel CMOS AF for capturing smooth, quick, predictable AF in Live View. A large 3.2-inch 1.62m-dot Clear View LCD facilitates composition and playback. Its pentaprism design ensures a bright, clear view and provides 100% coverage, and its robust magnesium alloy body is dust and weather sealed, and has a proprietary mirror mechanism to minimize mechanical vibrations. Other features: Built-in GPS, Digital Lens Optimizer and Picture Style Settings. Street price: $5,999.00 body only.
Canon EOS Rebel T6: Essentially it's an economy priced version of the 24.2MP T61, which sells for $200 more, but it still offers an impressive feature set for an entry-level model and it may well appeal to serious shooters seeking a competent second body. Main features include an 18MP APS-C CMOS sensor integrated with Canon's proven DIGIC 4+ Image processor, a penta-mirror viewfinder, and a non-articulated 3.0-inch 920k-dot LCD monitor.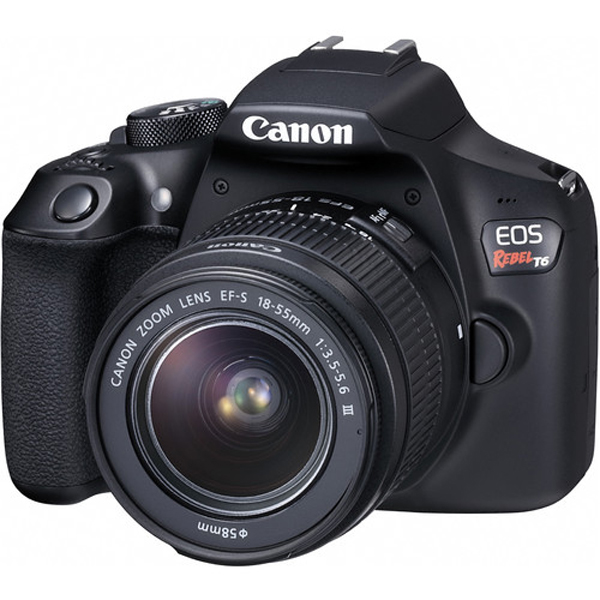 The T6 can capture Full HD 1080p video at 30 fps, provides sensitivity settings of ISO 100-6400, expandable to ISO 12800, has a 9-point AF system with one central cross-type sensor, and can shoot bursts at up to 3 fps. It has built-in Wi-Fi and NFC allowing you to pair the camera for direct image transfer with a smartphone or tablet, operate the camera remotely from a smart device, or connect it to Canon's optional Connect Station CS100 storage device. Street price: $549.00 with Canon EF-S 18-55mm f/3.5 IS II lens.

FEATURED VIDEO