Drone On: How Todd Kennedy Captured a Prize-Winning Aerial Shot with a DJI Drone & Great Timing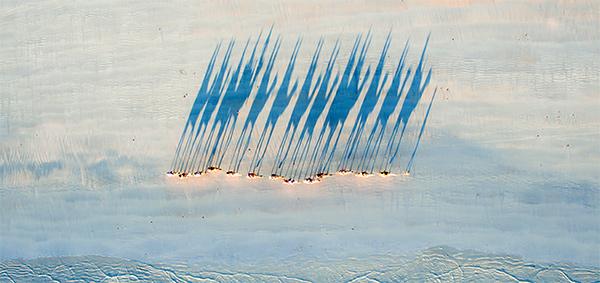 The amazing aerial photo above might not have got off the ground if it hadn't been for social media.
The social media site I first saw it on was Dronestagram, and the linked page presented "The 20 Best Drone Photos of 2016." It wasn't an easy decision to decide which one to feature in this column.
What you're looking at is a caravan of camels and their shadows in late afternoon light on Cable Beach in Western Australia.
"Cable Beach is a long way from anywhere," says the photographer, Todd Kennedy, "but it's a popular tourist attraction for people who like outback adventure trips." Kennedy, who is not a pro shooter—his day job is fund management—was there on his honeymoon, and this award-winning image is typical of his interests, efforts, and success stories.
He got into photography about three years ago, and won the first contest he entered with a photo taken in his swimming pool with a GoPro. "That was quite encouraging," he says, "as the photo was featured on the front page of the largest newspaper in Australia." From there he moved on to a DSLR, with which he took pictures for a year, entered competitions, and got good feedback. Soon he was shooting with drones.
"I really like the vertical, straight-down perspective," he says, "which is hard to get even in an aircraft—I have a private pilot's license—because usually the wings are in the way of wide shots."
He shot this photo with a drone capable of stills and video, and monitored the live image with an app on his smartphone cradled in the drone's remote control box. "I was just out of frame, waiting and watching them coming—I saw this picture happening."
Kennedy looks for images that are definitely out of the ordinary. He feels most people with drones go for classic landscape-style photos, while he chases something more imaginative from a perspective point of view. "I'm frankly looking to make art rather than photos, but I still consider myself to be learning, still plugging away, seeing what I can get out of these things. In fact, I just got a new drone at Christmas—a present from me to me—and I'm looking forward to some new shots, images that are a bit more abstract—that's the direction I'm headed."
Despite awards, exhibits, and other recognition for his photography—including a pickup of this image by the 20-best contest sponsor, National Geographic—he has no plans to give up his amateur status. "I can head in any direction as an amateur," he says of the freedom an amateur enjoys. His social media communication is selective—mostly friends, Instagram, Dronestagram, and SkyPixel—"to share, and give something back to these social media networks."
And, indirectly, to teach. I mean, am I the only one who didn't know there were camels in Australia?
Drone photography is only one category of Todd Kennedy's images at his website, toddkennedy.zenfolio.com. If you'd like to see the other 2016 Dronestagram contest winners, click on Contests at dronestagr.am.
Tech Talk: Todd Kennedy took the photo with a DJI Phantom 3 Professional drone with a 12.4-megapixel camera with a fixed 20mm f/2.8 lens. His settings were 1/100 second, ISO 142.

FEATURED VIDEO