DOWNLOAD NASA's FREE Telescope Images for Your Photo Projects (VIDEO)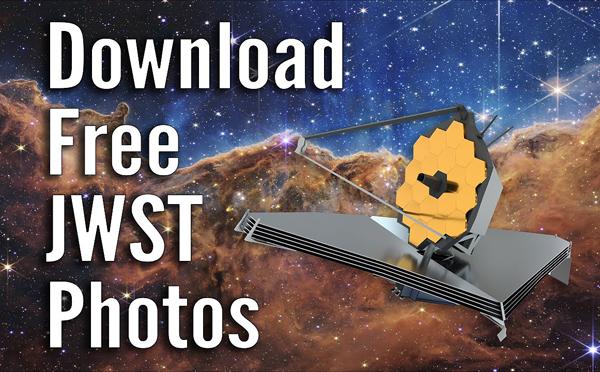 Unless you've been living in a cave recently the amazing images from NASA's James Webb Space Telescope (JWST) have likely blown your mind. But did you know they're available as a free download on a NASA website?
You may wonder why you'd want to take time downloading these epic photos when you can simply geek out by enjoying them online. The answer is simple: This otherworldly imagery exists in the public domain, meaning you can use them as replacement backgrounds for your images, as inspirational screensavers, and other photo projects that need some pizazz.
As you probably know, the JWST is the replacement for NASA's Hubbell Space Telescope that we've all been waiting for, and there are a number of remarkable differences. Six times more sensitive to light than its predecessor, the JWST can process images in 12 hours that would take the Hubbell 200 hours to handle.
Over the last several days NASA has released a number of these copyright-free images with more on the way. By going to the above link you can not only download these great shots, but also find images comparing the quality of those captured by the Hubbell with those from the JWST, and find a variety of other stunning NASA photos as well.
As photographer Anthony Morganti explains in this video, the images are accompanied by a wealth of fascinating information including the filters NASA used to make them more visible. And they can be downloaded as both TIFF and full-resolution PNG files. You can also download detailed descriptions of each photo, as well as low-res PNGs.
Morganti says he's super-excited about all this, and you will be too as soon as you click on this link.

FEATURED VIDEO