Don't Make These 10 Beginner BOUDOIR Photography Mistakes! (VIDEO)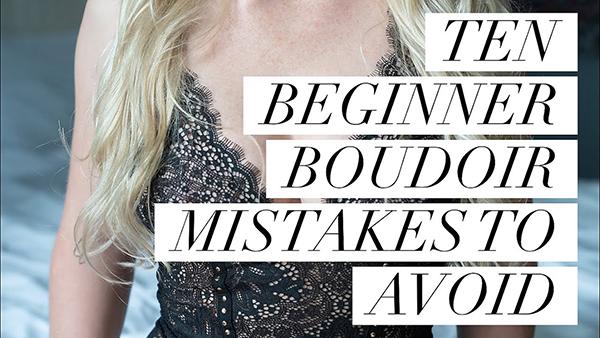 If you're looking for helpful beginner boudoir photography tutorials, professional photographer Critsey Rowe's channel is a great resource. In her latest video, Rowe explains ten beginner mistakes to avoid when you're just getting started in boudoir photography.
Along with listing these beginner boudoir photography mistakes, she explains how to approach your boudoir shoots properly so you can move quickly from being a newbie to a more advanced shooter. Rowe's advice will not only help you improve as a photographer, it might save you some potential embarrassment too.
Tip #1: Do Not Do Your First Boudoir Shoot with a Client
"Definitely practice first, ask friends, family members, whoever you can get in front of your camera to practice boudoir."
Tip #2: Don't Just Shoot Basic Posing
"I know everybody looks around at other boudoir photographers and everybody does the same poses over and over. Look for poses that are going to wow your clients."
Tip #3: Do Not Shoot from the Same Angle Over and Over Again
"Once you have a person in a pose, you want to shoot around them. This is called flow posing and it's really easy to do."
Tip #4: Do Not Shoot with the Wrong Lens
"For instance, you don't want to use a 200mm lens if you're shooting in a small space because all of your images are going to be super tight and look terrible."
Tip #5: Do Not Only Use Natural Light
"There are so many things you can use for your shoot aside from just natural light. Give your clients a variety of looks by giving them a mix of lighting situations."
Tip #6: Don't Go into Your Shoot without Having Some Poses in Mind
"Don't just go in and wing it. Definitely have a little shot list of things that you want to do."
Tip #7: Don't Expect Clients to Be Supermodels
"You are going to have to help them relax and be confident. You are going to have to direct them and show them."
Tip #8: Don't Got Nuts with the Depth of Field
"You don't want to blur out all the best bits and parts that you're trying to showcase in their photos."
Tip #9: Don't Ignore the Hands
"You really have to direct them on how to pose their hands. People don't know what to do with their hands, so you have to show them."
Tip #10: Don't Forget to Have a Solid Contract
"If anything goes wrong, you want to have everything written down, especially when it comes to money."
If you're looking for more boudoir help, check out this beginner tips video from Rowe as well after you watch the below tutorial.

FEATURED VIDEO