A Digital Trip To Paris
On The Road With Cameras, Batteries, Computer, Cords, And More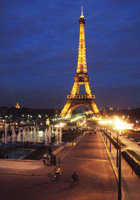 The terrace above the Trocadéro fountains has great views of the Eiffel Tower. Starting at about 7pm in March, my S2 was set to ISO 1600 with my 35-80mm Nikkor lens zoomed to about 50mm. With camera handheld and braced against the terrace wall I filled a 512MB CompactFlash card with 108 high-resolution JPEG exposures in about an hour. I metered off the sky as it darkened and bracketed with shutter speeds and apertures. This picture shot around 8pm was exposed at about 1/20 at f/4.5. "Noise"--an uneven dot pattern--can be a big problem on ISO 1600 digital shots. After downloading this image I used Photoshop 7's RGB mode, then the Gaussian Blur filter on the blue and red channels, and the Sharpen filter on the green channel to reduce the unpleasant spotted effect.
Photos © 2003 Susan McCartney, All Rights Reserved
Paris has always been one of my favorite destinations and I've shot many assignments there. My main objective on a recent trip was to update my Paris coverage for a new travel photography book, and importantly, to discover and iron out any possible problems that might arise during an all-digital overseas shoot.

I have been mostly photographing digitally for 18 months now, but I'm no computer maven. Until recently, I have been afraid of losing images if I made mistakes downloading and backing them up when under the sometimes stressful conditions of shooting on the road. But I learned how to add a digital card reader to my iBook G3 laptop equipped with disc burner and 512MB of RAM, and found this method safe, if rather slow.
Saving Images
I carried high-quality recordable CD-ROM discs (Fuji's my choice) and budgeted an hour each evening to downloading my day's take to the laptop, and burning back-up discs in JPEG format. I used a date system to identify my discs. For instance, 032303 is March 23, 2003, and I added an A, B, C, etc. if I made several discs in one day. For maximum disc life, I marked them with an alcohol-free Maxell Disc Marker pen (from an office supply store). If you are a computer expert, and if your camera and laptop have that capacity, the transfer of images from media cards to laptop by FireWire will save you time.
When I get home, I make a second set of back-up discs and store these in a safe place. Then I make TIFFs of selects, and burn discs for those, too.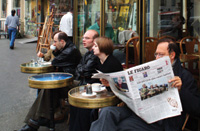 This was a single "grab" shot made opposite the Edgar Quinet Metro station in Montparnasse. The morning coffee drinkers and guy absorbed in his paper didn't notice me. I used a 35-80mm f/4-5.6 Nikkor lens fully extended. With the S2 set to ISO 800 on the heavily overcast morning, exposure was 1/60 at f/8. I later cropped slightly all round using Photoshop 7 to eliminate dead space. I also tweaked the color balance, adding a touch of red to warm the image slightly.
Packing And Planning
My current camera is a Fuji S2 6MB digital SLR, with my older 3MB Fuji S1 SLR as a back-up. Both take Nikon lenses, and I carried a 70-300mm zoom, a 35-80mm zoom, 20mm and 14mm lenses, and a TTL flash. (With Fuji S2 and S1 cameras, and many other interchangeable lens 35mm equivalent digital cameras, you must multiply lens focal lengths by 1.4. A 14mm lens becomes an effective 20mm.)

I carried plenty of "storage media"--four 512MB CompactFlash cards and three 1GB Microdrives as back-up. My cameras accept both. Also needed were a dozen rechargeable Ni-MH AA-size batteries for use in cameras and flash, and some small lithium CRT 123 batteries (expensive overseas) which are a requirement for my cameras. In addition, I took a rechargeable Lumedyne MiniCycler battery pack and two cords for connecting pack to camera. (With external battery packs you get hundreds of shots with power-hungry digital cameras, even if you frequently check exposures on the LCD screen.)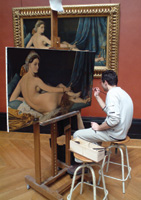 In the Louvre museum, Christophe Gauci gave me permission to photograph while he copied Ingres' "Grand Odalisque." I spent about 30 minutes making about 20 exposures. The gallery was lit by diffused daylight, and at ISO 400. Exposure was 1/60 at f/5.6 with Fuji S2 camera and 20mm f/2.8 Nikkor lens. A sign in English on the easel said "No Flash Please." This detracted from the image and I later removed the lettering with Photoshop 7's Healing Brush tool. No other tweaking was done.
Finally, I took a Ni-MH battery charger from Radio Shack and a small step-down transformer. (French household current output is rated at 220-240v, as is current in just about all of Europe.) I also took an adapter plug for France, which I already owned. Although 220-110v step-down transformers are available at good electronic stores in France, it will save precious time if you buy one here--mine is a Stancor (www.Stancor.com). US plug to French socket adapters are best bought in France. They are widely available at hardware, household, and electronic stores.

Caution: The inexpensive two-pin plug transformers and the plug adapters from inexpensive kits sold in the US don't fit most modern French household wall sockets--those are unique; recessed, round, with a built-in male pin, plus two holes that accept two more male pins!

To find a wheeled bag that met airline carryon luggage guidelines (9x14x22") took a bit of research. I settled on a sturdy Tamrac--the Big Wheels Rolling Strong Box-LP1 model (about $265). This holds a laptop in a front-zippered compartment that's easy to get at for airport screening requirements and it has moveable interior partitions. At the airport, I passed this bag through the handheld screening device that does not affect digital media. (My clothes and tripod went into a carryon size wheeled bag, which was checked in.)
A Digital Camera Workout
In Paris I gave the digital cameras a workout on subjects that are difficult to photograph on film without added lighting or heavy filtration. I shot in museums, the Metro, indoor markets, and stores. Of course I also worked outdoors in bright sunlight, when the sky was overcast, and at twilight. I used no filters or tripod, and made only a few flash shots. With my camera set to Auto White Balance most images required only minimal color adjustment later.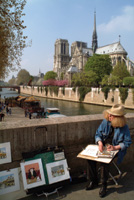 The Pont de l'Archêveché with classic views of Nôtre Dame is a great place for pictures. The absorbed artist did not notice as I made several shots in soft afternoon sunlight. My S2 was set at ISO 100 and exposure was 1/125 at f/16 for maximum depth of field with my 20mm f/2.8 Nikkor lens. I later touched out some paper scraps on the bridge with Photoshop 7's Healing Brush tool.
Night Shooting Noise
Night shooting can be a problem with digital imaging, because of "noise"--heavy spots that look like coarse, uneven film grain in dark, smooth areas. I dealt with noise quite successfully after shooting by downloading and "tweaking" the images on the computer--blurring or sharpening individual red, green, and blue image layers in the Channels mode of Adobe's Photoshop 7 program.
Some Post-Travel Thoughts
What finally counts on an overseas-- or any--shoot is not how convenient digital equipment is, or how hassle-free airport check-in is, or even that once you have made your initial investment you don't have to worry about film costs. The bottom line for professional and serious amateur photographers is and must always be the quality of the results. I am happy with these pictures and unless a client requests film, from now on I will be going places all digitally.
For much more on Susan McCartney's approach to travel, see her book "Travel Photography, Second Edition." You can preview this book at her publisher's website, www.Allworth.com.

LATEST VIDEO