On The Digital Road; Tips, Tools, & Techniques For The Traveling Photographer
"Best wide angle lens? Two steps backward. Look for the `ah-ha.'"--Ernst Haas

One of my favorite tools for capturing different-looking travel images is digital infrared photography and e-mails from Shutterbug readers show many of you are interested in IR capture, too. If that describes you, take a look at the League of Creative Infrared Photographers (www.irleague.com) that was founded by Rick Sammon and Deborah Sandidge. This non-profit organization was established this year to promote the joy, excitement, and creativity of infrared photography from in camera capture to enhancing images in the digital darkroom. By way of full disclosure, I'm the League's technical director and invite IR photographers from around the world to share their photographs with other creative image-makers.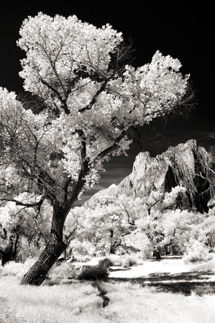 Plug-In Of The Month
TwistingPixels' (www.twistingpixels.com) ArtStudioPro Volume 2 includes an Oil Painting filter that automatically turns your photograph into painted brush strokes. After choosing an effect, you can give your image definition and dimension by enhancing it with one of the support filters. You can experiment by mixing different mediums for a customized style or choose Presets for instant results. The Oil Painting filter paints using different colors with strokes characterized by indistinct outlines and small brush strokes. The Oil Pastel filter offers two distinct looks: The "dry" form produces results similar to pastel chalks. By increasing the same sliders you'll get Oil Pastel's "wet" form, which mimics a heavy buildup of color smoothed with a moistened brush. Chalk produces a smooth, dry texture with bright, concentrated color and Charcoal offers a deep black hue, smooth marks, and uniform texture. Charcoal doesn't always have to be black; the color picker permits color changes to create the look of different media. Wanna have fun? Use the Finger Painting filter that creates the look of getting your hands into the paint and moving it around. This effect can be used on the entire image or as a tool for creating backgrounds.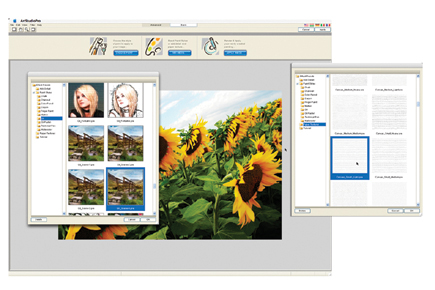 © 2005, Joe Farace, All Rights Reserved
Get Crucial
Lexar's (www.lexar.com) new line of Crucial Solid State Drives (SSDs) should appeal to professional photographers because they are more durable, require less power, and offer better performance than traditional hard disks. Crucial SSDs have no spin-up time, seek time, or rotational latency, resulting in faster system boot and load times. The lightweight (2.9 oz) drives are available in a 2.5" drive enclosure with an SATA interface in 32GB and 64GB capacities, which is kind of small capacity for even laptop applications, but resistance to high shock levels (1500G/0.5msec) and vibration (20-2000Hz) seem to make them a natural for that application. Lexar's Crucial SK01 External 2.5" Drive Storage Kit allows users to enjoy SSD technology in their desktop computer or as a portable storage device that can be connected via the ubiquitous USB port. The kit includes a 2.5" USB 2.0 external enclosure, 3.5" SATA 3GB/s hot-swappable drive bay, and a 5.25" drive bay bracket. The drives have a five-year limited warranty. Is this the future of hard drives? I think so.
Get Raw
SILKYPIX Developer Studio 3.0 (www.shortcutinc.com) is an all-round raw converter developed specifically for enthusiasts and professional photographers. The software offers professional color management, including ICC profiles alongside functions such as white balance, contrast, sharpness, saturation, lens correction, image perspective and cropping, output, and printing. Adobe's extended RGB color space is also supported. The program is compatible with raw formats from more than 120 cameras and runs on Mac OS and Windows computers and also works with JPEG and TIFF files from any source. New features in Developer Studio Version 3.0 include an improved development engine with high graduation sequencing for smooth highlight recovery and controls for noise and highlight. The color space settings have changed to include nonlinear processing components of output gamma and tonal curve levels. You can download a free trial version of SILKYPIX and give it a try.
© 2007, Joe Farace, All Rights Reserved
The Return Of The Jedi
As Adobe (www.adobe.com) Photoshop has grown into the digital imaging equivalent of Jabba the Hutt, Photoshop Elements has quietly been mastering the power of The Force and has turned into the best image-enhancement software available for the money. For less than $100 you get access to many of the most usable tools found in Photoshop, including compatible plug-ins. While the Windows version of Photoshop Elements 6 has been available for sometime, the Mac OS version is now available for those who think that Apple's iPhoto is nice but just want to do more.

Photoshop Elements 6 has a very Lightroom interface with clean, uncluttered screens and tabs providing access to the program's capabilities. Enhancements include an improved Conversion tool that converts color images into nuanced black and whites. Elements 6 includes new features based on Adobe's proprietary Photomerge technology that let you combine the best facial expressions and body language from a series of shots to create a single, perfect group shot.

The new Quick Selection tool reduces a time-consuming select-and-adjust task to a single click. The three Edit modes are geared toward users with different experience levels. A Guided Edit mode even walks you through the steps of improving a photo. Elements 6 offers customizable layouts, allowing you to produce scrapbook pages, photo books, greeting cards, and burn to CD/DVD. Sharing options include ordering prints, creating personal online albums for sharing photo creations on the web, printing photos into real US postage stamps, and showcasing on a CEIVA (www.ceiva.com) digital photo frame. Adobe's Photoshop Elements 6 runs on Leopard (Mac OS X 10.5), as well as previous versions of Mac OS X starting with 10.4.8.
© 2006, Mary Farace, All Rights Reserved

LATEST VIDEO

SPONSORED VIDEO
Testing Tamron's SP 150-60mm G2 lens while capturing birds and alligators in Apalachicola, Florida.