Digital Photo Frames; The Modern Display Option Page 2
Reflecting HP's forward thinking in a day of wireless technology, and to my mind this company's most impressive offering this year, is the 8" Smart Wi-Fi Display, a full-featured wireless digital picture frame that facilitates communications between you and the frame, the Internet, a home server (for streaming video), or PC—and receive photos directly from a cellular phone. It lets you enjoy and share photos from online photo-sharing sites, access popular social-networking sites, listen to Internet radio, and get headline news and weather forecasts, as well as podcasts. The frame of course supports slide shows in a variety of file formats (but not raw), video, and music. It comes with a remote control and features an 8" display, 4:3 aspect ratio, 800x600 resolution, stereo speakers, 512MB of internal memory, embedded Wi-Fi 802.11 b/g, USB connectivity, and multiple card support. Also new is the 10.4" df1000, which lacks Wi-Fi capability, but is made of solid mahogany.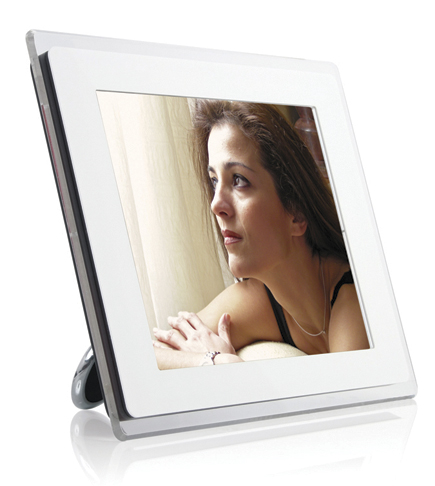 JOBO added to their line-up with the new limited edition PDJ120 digital picture frame. This device features a stylishly modern, sleek snow-white frame surrounding a 12" TFT display and comes with a remote control (which supports copy, delete, rotate, and zoom functions). The PDJ120 boasts an 800x600 pixel resolution with a contrast ratio of 350:1 and user-adjustable brightness. It supports all popular memory cards, as well as USB sources. The 128MB of internal memory lets you store up to 800 photos, with slide shows using various transition effects and at user-set intervals. The frame also supports folders for more organized presentations. Priced at $259, this frame also features a calendar and clock display, and weighs just 16 oz. JOBO also debuted additions to their Mirage line, the Mirage M (8.4" display with remote) and Mirage S (7"). Mirage digiframes don't just sit there when not displaying photos: they transform into a fully functioning mirror at the touch of a button, which means you're not just staring at a blank screen when not in use.
Pandigital PanTouch Clear 10.4" Frame
Pandigital has introduced the new PanTouch Clear 10.4" digital photo frame ($229 MSRP). Measuring only 1⁄3" in thickness, this frame hangs practically flush on a wall. Equally impressive are this digiframe's "floating" LCD and touch screen interface embedded into a fingerprint-resistant, clear glass. It uses a high-definition 1024x768-resolution display with a 4:3 aspect ratio and includes 2GB of memory, which will hold about 4000 JPEG images using Pandigital's Memory Optimization mode (also plays video and music). What's more, it is Wi-Fi enabled, and with an add-on USB dongle it becomes Bluetooth compatible, giving you ultimate connectivity. The frame comes with a 6-in-1 digital media card reader and USB port. In addition, it has programmable on/off times as well as clock and calendar functions. The device comes with a dark espresso wood frame, as well as interchangeable mattes. Pandigital was also the first company to my knowledge to offer a digiframe that also functions as a 15.6" HDTV set, wireless Internet device, and digital cookbook—the TV picture may not be optimal, but it's great in the kitchen for watching daytime programming. This Windows-compatible Kitchen Technology Center has an MSRP of $399.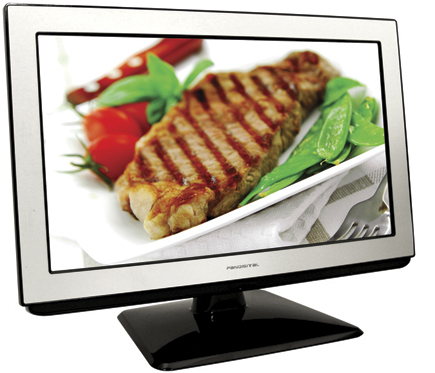 Pandigital Kitchen Technology Center
Sony unveiled key improvements to its digital photo frame line, as exemplified in the new 10" DPF-X1000 ($300), the first Sony frame to offer a super-clear LCD and TruBlack technology to minimize reflections and considerably enhance contrast. Also new, and sharing this technology, is the 10" DPF-V1000 ($250). Both frames feature an alarm clock, auto dimmer, auto on/off, and various slide show features. The auto dimmer feature automatically adjusts the display's brightness based on ambient lighting. Other features include an auto orientation sensor. Additionally, these frames automatically correct the white balance in digital photos to provide best picture quality. With internal memory of 2 and 1GB, respectively, there's plenty of room to store pictures. You can search by date, folder, and other criteria. The DPF-X1000 frame comes in black with wood trim; the DPF-V1000 in black with silver trim. Both frames also connect to Sony BRAVIA HDTVs and other compatible HDTV sets to display your photos in high definition via an HDMI cable (sold separately). The new photo frames are Bluetooth ready (requiring adapter—sold separately). What's more, raw files are supported and the device sports a card reader and USB port.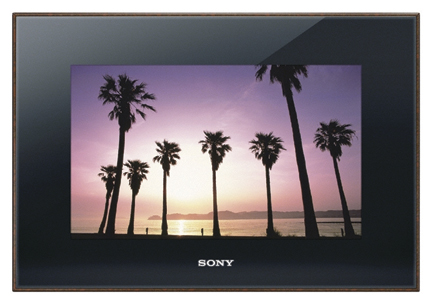 ToCAD America is showcasing several new frames this year, among them two Sunpak digi-albums (7" and pocket-size) and a more conventional 15" digital frame. The fairly hefty 2.3 lb, 7" Digital Photo Album (aspect ratio 16:9 or 4:3) is black leatherette and offers slide shows with programmable or random transitions at user-defined intervals. It features 2GB of internal memory and on-screen calendar, clock, and alarm. Powered by a lithium-ion battery, it supports numerous popular memory cards plus USB, and plays back JPEG images and MPEG movies with sound. The MSRP is $199. Weighing just over 4 oz and also lithium-ion battery-powered, the 3.5" PocketPix Album ($99) supports SD/SDHC/MMC and USB, and comes with 128MB of memory. The 15" frame ($369) comes with 1GB of internal memory, supporting a 4:3 aspect ratio, with a 300:1 contrast ratio. Weighing just a bit more than the 7" album, this frame accepts popular cards and supports both USB and Bluetooth, and is AC-operated.
Sunpak 7" Digital Photo Album

LATEST VIDEO

SPONSORED VIDEO
Testing Tamron's SP 150-60mm G2 lens while capturing birds and alligators in Apalachicola, Florida.