Digital Photo Frames; The Modern Display Option
Over the years, digiframes as a display medium have mushroomed, and in the process gained some very entertaining and useful capabilities. And prices have come down enough to ensure they will be around for a long time. They are no longer a fad, something indicated by the proliferation of products that came out this year.

The latest digiframes bring a host of novel features to the display table or wall, and to the pocket or purse, with numerous mini-frames, but most especially, digi-albums. Some are simply novelty items that make great gifts. But the most profound innovations are in the digital frames we might buy for our own households and photo studios. In fact, a digital photo frame is perhaps the most salient selling and marketing tool any professional photographer could ask for these days, aside from a well designed website and actual print displays. Either way, just think of all your pictures being shown in a continuously looping slide show for all to enjoy or marvel at. And then take it to the next level, with the ability to share pictures "through the ether"—wirelessly, that is. All in all, this burgeoning category has something for everyone.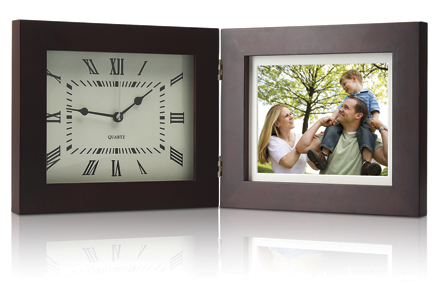 Coby expanded its already extensive product line with several new frames. This year the focus at Coby is multimedia digiframes, some of which are widescreen, although the largest of the new frames, with a display area of 14", sports more traditional rectangular proportions (for example, the DP1412-1G). The "1G" designation means the frame comes with 1GB of internal memory, enough to hold quite a few pictures. Two of the more captivating designs are the clock frames and contemporary styles. Model DP8088-1G is a wooden 8" two-panel frame with classic, Roman numeral-style clock occupying one panel, supporting JPEG photo files. More than that, it comes with Windows software for creating custom multimedia slide shows, complete with soundtrack. Or use the frame as an MP3 player or to watch MPEG-4 and motion JPEG videos—stereo speakers are built-in. This frame also sports a calendar and alarm function. Support for SD, MMC, MS, xD, and CF, plus USB flash drive. Model DP854-1G shares all these features (the clock is digital, however, and not a separate panel), but is wall-mountable, with detachable stand (common to other Coby frames).
Digital Foci has a truly portable concept in the Photo Book ($189 MSRP), an 8" digi-album sporting an 800x600 digital LCD color display. This digiframe comes with a massive 4GB of internal memory. This device accepts images from numerous popular memory cards, as well as a flash drive and computer (via USB). You can organize photos into different albums for presentations tailored to specific situations. Options include slide show intervals and effects, as well as a music soundtrack. And if you're shooting raw and haven't had time to edit the images, this device supports raw files from a wide selection of D-SLRs, along with TIFFs and the more conventional JPEGs (4:3 aspect ratio). The frame senses orientation based on EXIF data. The leatherette Photo Book also plays back videos in various popular formats. It runs on a rechargeable lithium-ion battery for 2.5 hours, with an auto-off feature. Windows and Mac compatible, it weighs 2.2 lbs.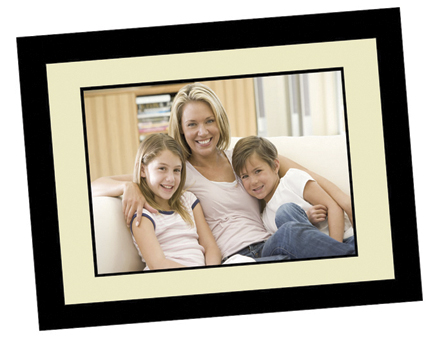 Digital Spectrum Solutions MemoryFRAME Ultra Frame
Digital Spectrum Solutions has the MemoryFRAME Ultra family of ultra-thin digital picture frames. What helps these frames stand apart from the crowd is that the frame portion can be interchanged with ready-made frames, with the addition of a user-changeable bezel/matte, letting you design the device to the home décor. The original product comes with a desktop stand that extends to meet the requirements of the new frame. The display features a 4:3 aspect ratio, which avoids the need to stretch or seriously crop images (as with 16:9 displays). A joystick menu control replaces a push button panel. Slide shows benefit from music. The frame also provides a clock and calendar, USB, and multi-card reader, and comes in 7, 8.4, 10.4, 12.1, and 15" sizes. Also new is the ALBUM family.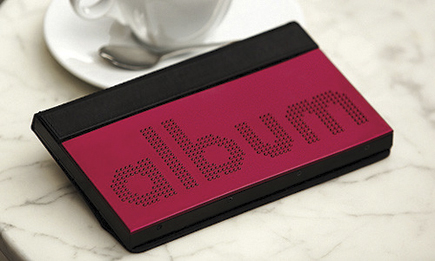 Digital Spectrum Solutions ALBUM
With a massive 4GB of internal memory, each ALBUM will hold up to 40,000 photographs (at optimized resolution), and the battery lasts for 3 hours. It has an SD slot and USB connectivity. The cover/stand is crafted from reinforced genuine leather, which adds a refreshing touch and a distinctive contrast to other leatherette albums, and the album sports a scratch-resistant finish.
Emerald Innovations Digital Photo Snowglobe
Emerald Innovations appears to place a strong emphasis on novelty gift items when it comes to digital picture frames. Take, for example, their Digital Photo Snowglobe ($29). It's a digiframe with a difference—encased inside a 4" glass globe is a full-color 1.5" LCD frame. It holds up to 50 JPEG or BMP images and supports slide shows from 5-120 seconds. It automatically sizes photos obtained from a PC, comes with its own plug-and-play software, and is Windows compatible.
FaceCake Frame with FrameWizard
FaceCake Marketing Technologies has brought something new and different to the digital frame world. FrameWizard is a proprietary software-driven frame that endows pictures with motion effects for a quasi-3D experience. You can have a head turning or eyes blinking, or add falling snow or leaves or waves crashing onshore, or simply add a custom matte. The frame itself is wood and comes in three display sizes (7, 8, and 15", at 480x234, 800x600, and 1024x768 pixel resolutions) and displays in 16:9 or 4:3. Slide shows support JPEG; movie support: MPEG and AVI. The frame also features USB connectivity and SD/MMC/xD/MS support, and is controlled via remote or on-board panel.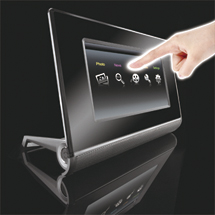 Giant International Intouch IT7150
Giant International's Intouch Wi-Fi enabled, wireless digital Internet frames are available in various sizes. Intouch combines a touch screen interface with Internet radio, Web TV, RSS news feeds, and access to digital content from popular photo-sharing websites. The 7" IT7150 ($229 MSRP) features a 16:9 aspect ratio, 800x480 pixel resolution, on-screen QWERTY keyboard, video/audio/photo playback, stereo speakers, multi-card support, 128MB of internal memory, clock, calendar, and alarm, plus USB to PC, operating off a rechargeable battery (1.5 hours). The IT7300 and IT7350 series will feature an infrared hand-motion control sensor, additional frame sizes, and partnership with Microsoft's Windows Live FrameIt, enhancing the ease of use and depth of digital content.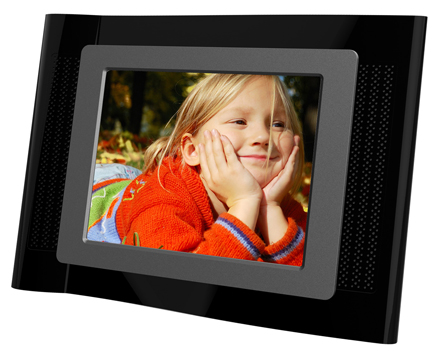 HP 8" Smart Wi-Fi Display

LATEST VIDEO