Digital Innovations
The Big Picture
A big monitor, such as CTX's Ultra Screen 21" model that the author is currently testing, increases imaging productivity by allowing users of image-editing software to work with large on-screen images while keeping all of the needed palettes and toolboxes handy--without overlapping that image.
"To have a camera is to open your world, to take a bite out of a moment"
--Sharon J. Wohlmuth
In Shutterbug's Photography Buyer's Guide 2000, you'll find information on computer monitors that has not appeared in any previous edition. For example, many pixographers believe that all monitors are the same, but nothing could be further from the truth. Some inexpensive monitors are best suited to word processing and business applications, but their on-screen images quickly fall apart when called upon to reproduce photographs. That's why it's a good idea to purchase a monitor that is rated specifically for graphics use. You will end up paying more, but will be much happier with the on-screen display.
I've recently tested the CTX's Ultra Screen PR1400F monitor. This is a 21" (19.8" diagonal) flat screen model that is the biggest and best monitor I've ever used. The PR1400F has a .24 dot pitch and while dot pitch specifications vary from monitor to monitor, the smaller this number is, the sharper the on-screen picture will be. The CTX Ultra Screen PR1400F uses a Trinitron cathode ray tube and aperture grilles instead of a shadow mask (see section, "Who Was That Masked Man?"). Besides image quality, one of the easiest ways to spot a Trinitron monitor is the two thin, soft gray horizontal lines that appear 1/3 from the top and bottom of the screen. These are really shadows of wire supports that hold the aperture grille in place. It took me only a short while to see the topmost line, but I didn't see the bottom one until after using the CTX Ultra Screen for more than a week--that's how noticeable these shadows are. Instead of dots, the Trinitron cathode ray tube has vertical stripes, so while dot pitch ratings are similar to conventional monitors, they're not exactly the same as non-Trinitron tubes. The monitor has a built-in Universal Serial Bus (USB) hub, with one upstream connection (coming from the computer) and two downstream (out to peripherals) jacks which are useful for attaching all of the devices that end up connected to your computer.
Unity Digital announced the industry's first FireWire (IEEE 1394) based digital film readers for reading CompactFlash and SmartMedia memory cards. The FireWire connection provides speeds up to three to eight times faster than a USB connection.
Image quality counts and having a large, high quality monitor has enhanced my ability to manipulate photographs. Using Adobe Photoshop and PageMaker I can create desktop publishing projects --you can actually view two full letter-sized pages at the same time. The monitor works with either Mac OS (up to 1152x870) or Windows (up to 2048x 1536) computers, and when I connected it to my Power Macintosh G3 it was love at first sight. While I was prepared for the increased productivity of working with large images and having all the needed tool bars and palettes handy, I was surprised about how much it enhanced web surfing, especially when used with Microsoft's Internet Explorer Macintosh edition. The retail price of the Ultra Screen PR1400F is $999, which might seem high, until you realize it's the same price you would pay for a 15" LCD flat panel display. For more information about CTX monitors, visit their web site at: www.ctxintl.com.
Plug-In Of The Month. Digital filters are a lot like camera filters: people either love 'em or hate 'em. I like using digital filters for the same reason I enjoy camera filters--they're fun. Special effects plug-ins can also be used to turn a mediocre photograph into a good one, such as the image of the ruins in Tulum, Mexico, that appeared in my August column. The filter package I used to convert that image from dull to (at least) interesting was nik Color Efex. The company has recently introduced its new Color Efex Pro package that offers even more filters and capabilities allowing you to produce fun digital images.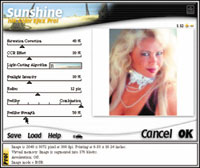 The Sunshine filter, in nik's Color Efex Pro package, can bring a natural, but enhanced daylight effect to digital images, especially those created with Kodak's Photo CD process, such as this available light portrait of model Dawn Clifford. Unlike the control panels in the non-Pro version, you can enlarge and move the image in the Preview window to see close up what the effect will look like before applying it. Joe Farace, 2000
The new package includes 46 different plug-ins including the Classical Blur filter. This is the first plug-in I've found that produces an effect with portraits that's similar to placing a Zeiss Software filter on your camera's lens. Like a Softar, the image is still sharp, but is softened, especially when compared to the six different Blur effects built into Photoshop. A surprising side effect was this filter's ability to obliterate a fine scratch that my camera was randomly inflicting to my negatives. While scanners using Applied Science Fiction's ICE scratch technology will remove these fine lines, I don't have access to one, plus I like the Softar look. And yes, the dealer replaced my camera back with a new one.
I also liked the Sunshine filter. It can be used to bring natural-looking but enhanced daylight effects to digital images, especially those produced with Kodak's Photo CD process, that may lack the sparkle that was in your mind's eye. The Sunshine Quick plug-in is a simplified version of the filter, but with fewer sliders than the full version. Some filters in the package are similar to those found in the non-Pro version of Color Efex and I was glad to see two of my favorites here such as the oddly named, but wonderful to use Monday Morning and the Color Stylizer. Did I mention that nik Color Efex Pro has a set of graduated density filters in 12 colors including Gray and User Defined?
In addition to offering more sliders in the control panels than the non-Pro versions, many controls have yellow "caution stripes" representing optimal settings. That doesn't mean you can't slide them all the way to Timbuktu, but this is what the company advises for a more conservative approach. My feelings on this are that they were designed to slide, so go for it. I typically begin working with special effects filters by making the largest possible adjustment to see what the effect looks like with the volume control set at "11." You can always use Photoshop's Fade command to temper the effect later, or just use the program's Undo or History menu to erase the effect altogether and try again.
QBeo's PhotoGenetics 2.0 displays two large images: the original and a modified one that's created based on your reactions to the changes it makes. The original image of the author's wife, Mary, preparing the family Jaguar XJ-6 for a Concours d'Elegance was shot on film then digitized using PhotoWorks.com's Pictures on Disk process, then enhanced using PhotoGenetics 2.0. Joe Farace, 2000
Other interface improvements in the Pro version are controls that let images in the preview window be enlarged and dragged. This allows you to see critical portions of an image, such as a portrait subject's eye or shadow details in your image. Another nice feature is that clicking the mouse button on the preview window, shows what the "before" image looks like.
Technik bundles nine other plug-ins called Abstract Efex Pro that lets you create less realistic, even Peter Max-like effects using your photographs. Nik Color Efex Pro is available for Windows and Macintosh computers, with both versions on the same disc, and has a list price of $299.95 (or less than $6 a plug-in). For more information about the other filters in the package or other nik plug-ins, visit their web site at: www.tech-nik.com.
Real Vs. Digital Darkroom. When trying to enhance digital images, knowledge of traditional darkroom techniques can be a decided advantage. That may be why some legendary darkroom gurus like Ctein and Darryl C. Nicholas found it easy to translate their talents into digital formats. But what if you're new to photography and never even mixed up a batch of fixer? That's why QBeo's (they used to be called Q-Research) introduced their PhotoGenetics software program: it does all the work for you.
I've been testing a beta version of PhotoGenetics 2.0 and have been impressed with the results. If you didn't read my original introduction to Photo-Genetics 1.0 in this column last year, here's how it works. The software displays two large images: the original and a modified one that's created based on your reactions to the changes it makes. You can indicate how much of a change you want without specifying color correction numbers--or even which colors--as well as contrast or brightness. PhotoGenetics does all this with what could be called (but may not pass the Touring Test) artificial intelligence. You use your mouse to communicate how well the second image is better (or worse) than the original and the program makes the necessary digital correction and responds with further enhancements until it is the way you want. This new version includes faster, real-time previewing of enhancements and automatic color shift corrections. This means that you will not only be able to enhance your photographs more quickly but can see what those enhancements look like before they're applied. The new version also simplifies printing by letting you size and print photographs permitting the best use of your printer as well as its ink and paper. More information about PhotoGenetics can be found at QBeo's web site, www.qbeo.com.
High-Performance Card Reader. Unity Digital has announced the industry's first FireWire (IEEE 1394) based memory card readers for CompactFlash and SmartMedia memory cards. The two Unity card readers can transfer images at speeds three to eight times faster than USB or Parallel port transfer rates, which is an important consideration as memory cards reach higher capacities and cameras start capturing larger uncompressed files. The SmartMedia card reader has a transfer rate of 2920 KB/sec and is compatible with 3.3 and 5v SmartMedia cards in capacities up to 128MB. The CompactFlash version has a transfer rate of 2470 KB/sec and supports Type I and Type II cards, including IBM's Microdrive (see last month's Digital Innovations). Both models are compatible with Apple Macintosh iMac DV, G-series, and PowerBook computers that have FireWire ports and are running OS 8.6 or later. The card readers are also compatible with Windows computers with IEEE 1394 ports that are running Windows 98 SE or Windows 2000. The suggested list price of each model is $149. For more information, visit Unity's web site at: www.unitydigital.com.
Fine Art Ink Jet Paper. Somerset Photo Enhanced Digital Art Paper is an ink jet sized version of Legion Papers that have been used in professional large format digital printing for the past five years. With an expanded, usable color gamut, the 100 percent cotton fiber absorbs heavy ink loads, has little or no sheen, and is aimed at fine art applications. The paper also has the ability to produce a wide gray scale with linear and smooth gradations. It is available in boxes of 25 sheets in four different sizes: 81/2x11, 11x17, 13x19, and 22x17" as well as in its original roll form. While testing the paper with an Epson Stylus Photo 1270, the results obtained using the driver's "Plain Paper" setting was identical to what I saw on screen, and when I tried other settings, both color and density setting were off a bit. The paper, while hefty, easily feeds through the Epson Stylus Photo 1270 printer when other papers--no matter what kind--are present, but not at all when it's the only sheet. The paper's soft, fine art texture and slightly creamy white color, combined with lush color from the inks produced excellent results with both scenic and portrait subjects. When I compared the output from a file that was printed on what appeared to be a similar fine arts paper, I was astonished by the depth, color, contrast, and even sharpness of the image on the Somerset paper. Photo Enhanced Digital Art Paper may be purchased at photographic supply houses and professional service bureaus. For more information, visit Legion paper's web site at: www.legionpaper.com.
Big Discs Keep On Rolling. Sony has revolutionized digital image storage with its new Mavica MVC-CD1000. As you might guess by the name, this new camera uses 31/2" CD-R media to store up to 160 1600x1200 images. Images captured by the Mavica can be recorded in several modes, including JPEG compression and TIFF in four different image sizes. Image ratio is 3:2, the same as a standard 4x6" color print made from traditional film. The long end of the camera's 10:1 zoom has the (35mm) equivalent of 400mm, and uses Sony's optical image stabilization feature from their camcorders to minimize the possibility of any blurred images from camera shake at these longer focal lengths. Other camcorder-like features include a through the lens viewfinder using a color LCD. The cost of the Mavica MVC-CD1000, along with five CD-R discs is $1300. More information can be found on their web site at: www.sony.com.
Lock Those Images Up! Lockimage has released the latest version of its image encryption software program Lockimage Pro V1.03. If you're wondering why you might need this software, image encryption protects them from theft, thereby protecting your copyright. What sets this product apart is that no password or keys are required. Once images are encrypted, they are secure and can be viewed safely by anyone using the Lockimage Pro Viewer. This allows distribution of images to potential purchasers for evaluation, without worrying that they will be used without your permission. The images cannot be altered, screen grabbed, or even manipulated--they can only be viewed--allowing anyone who needs to share their images to do so safely. You can download an evaluation copy from www.lockimage.com.
Who Was That Masked Man?
Most computer monitors use a shadow mask, which is a thin screen that's attached to the inside of a color monitor's front glass. The mask has small holes in it, through which an electron beam is aimed onto the phosphor dots to form images on the screen. The idea behind the mask is to make sure that each pixel is hit by a single color, so the images are fully saturated and not diluted by having colors produced by the signals from the "guns" in the cathode ray tube overlapping one another.