Digital Innovations
Stocking Stuffers For Imagers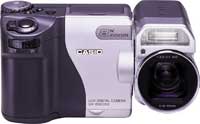 Casio's QV-8000SX digital camera has a swiveling zoom lens along with bundled Photo Loader software that transfers images from the camera as soon as it is connected to a computer or the 8MB CompactFlash card is inserted into a reader.
This year, more and more people will be doing shopping for that perfect holiday gift by using the Internet. Why not? It's the best place available to find a state of the art gift for your favorite digital imager--or maybe even yourself. A web search using the Infoseek search engine and the keyword "Christmas" netted me 410,536 possible holiday related web sites. This shopping expedition could turn into a big job, so you might need some help. That's why it's time again for my annual roundup of digital imaging gift ideas for the holidays. Included in this year's offerings are new hardware and software products that will make your digital photography easier as well as more fun.

Pix Into Pixels: Digital Cameras On Parade. Casio recently introduced three new digital cameras. The QV-8000SX has an 8x optical zoom lens with a 35mm focal length equivalence of 40-320mm. The camera's Night Scene mode uses an image processing algorithm that eliminates the noise that occurs when making images under low-light conditions. When you connect the camera with a special USB cable or load a CompactFlash card into a card reader, Casio's Photo Loader software transfers images to a Windows or Mac OS computer. Images are automatically stored in folders by the date of download and may be viewed as a list or individually using any web browser. The camera can capture 1280x960 or 640x480 images using three compression modes as well as 10 sec video clips at a resolution of 320x240. The QV-8000SX has a built-in flash with auto, on, redeye reduction, and off modes. A 2.5" TFT (Thin Film Transistor) LCD screen is standard along with a "video out" jack allowing you to preview images on your TV set. Their QV-5500SX digital camera captures 1280x960 images on an 8MB Compact Flash card. The camera has the equivalent of a 36mm lens (on 35mm format) and a four-mode flash. To assist in the creation of panoramic images, a grid can be displayed on its 1.8" preview screen. The QV-5500SX has an auto bracketing feature and three metering modes, including matrix, center-weighted, and spot. Casio's QV-2000UX has a 3x zoom lens with a 35mm equivalency of 36-108mm. The camera captures still images at 1600x1200 and 800x600 resolution and 30 sec video clips at 320x240. For previewing images, you'll find a 1.8" preview screen and NTSC and PAL outputs allowing the camera to display images on a TV. For more information on Casio digital cameras, visit www.casio.com on the web.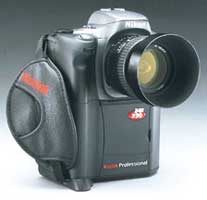 Kodak's new DCS 330 digital field camera is a major update to the company's DCS315 model, which is now being sold at an attractive price.
Kodak announced their new DCS330 digital field camera, which is built around the Nikon Pronea 6i Advanced Photo System body. The 330 replaces the 315 which uses the same Nikon body and accepts almost all Nikon's F-mount lenses, including those developed for the APS format. Using an Indium Tin Oxide (ITO) CCD imager with an ISO equivalency range of 125 to 400, the new camera delivers a 30-bit 3Mp image and produces a 9MB file. The ITO sensor is more transmissive than the polysilicon sensors found in many digital cameras and increases the spectral response of the DCS330, allowing 21/2 times for blue light to reach it for improved color accuracy and reduced noise. Image resolution is 2009x1504 and the camera uses a proprietary anti-aliasing filter to eliminate artifacts that often plague digital cameras. The filter has an infrared coating to eliminate IR contamination that, in the past, many digital photographers eliminated with a separate screw-on filter. The DCS330 is priced at $5995 and, coincident with its introduction, the price of the DCS315, which has a resolution of 1520x1008, has been reduced to $4995. For more information about Kodak's DCS series of digital cameras, call (800) 235-6325 or visit their web site at: www.kodak.com/go/professional.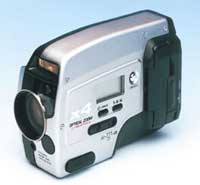 Yashica's new Samurai 2100DG digital camera offers 2.4Mp image quality in a form factor that allows you to shoot photographs one-handed.
The Yashica Samurai 2100DG is a new 2.4Mp digital camera that features a vertical orientation similar to the company's APS cameras. One of the big advantages of this shape is that it allows you to shoot one-handed to take advantage of the 4x optical zoom controls, shutter release, and image mode selectors. The lens is the equivalence of a 34-140mm on the 35mm format and 4x digital zoom capability is also offered. The Samurai 2100DG includes an 8MB CompactFlash card that lets you store up to 84 images in 800x600 (Normal) mode. Other modes include Fine and Super Fine, which can capture images at a resolution of 1632x1232 using different compression ratios. The camera has a 1.8" LCD preview panel along with an optical viewfinder. The built-in flash has four modes: automatic, redeye reduction, fill flash, and off. With a $899 price tag, the Samurai 2100DG includes a free one-year account on PhotoLoft, a photo-sharing web site that lets you to view, share, and print photographs. Retail locations and additional information can be found by calling (800) 526-0266 or through the Yashica web site at: www.yashica.com.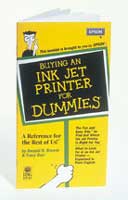 While obviously biased toward Epson's ink jet technology, "Buying an Ink Jet Printer for Dummies" is a useful booklet for anyone considering purchasing or upgrading their photo quality printer.
Ink Jet Printers For Dummies. The ideal stocking stuffer is small, will actually fit in a stocking, and doesn't cost much. If your favorite digital imager has been agonizing over what kind of photo quality ink jet printer to buy, stick a copy of Buying an Ink Jet Printer for Dummies into their stocking. Epson America along with IDG Books Worldwide, publishers of the For Dummies book, have produced a booklet that's designed to help you make a decision about purchasing an ink jet printer. The booklet explores a variety of topics, including the differences between the two popular methodologies of ink jet technology (micro piezo and thermal), print speed, color technologies, droplet size, and the ability to produce photo quality output. Buying an Ink Jet Printer for Dummies provides information about various papers (two samples are bound in) and describes a variety of projects that can be used with each kind of paper. The book includes 10 important questions that you should ask before purchasing an ink jet printer and, not surprisingly, 10 reasons to purchase an Epson printer. There's a brief glossary that defines important ink jet printer terms along with coupons for a free copy of PrintMaster Publishing Suite Software with the purchase of any Epson Stylus Color ink jet printer. Buying an Ink Jet Printer for Dummies is available only though the Internet. Visit Epson's web site at: www.epson.com/whatsnew/promotions/dummies.html and click the "order" button. The offer is valid for US residents only and orders require a credit card charge of $2.99 for shipping and handling.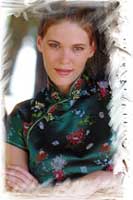 Auto F/X's "Over the Edge" collection has 2500 different edge files, stored alphabetically in separate folders. While browsing the "P" folder, the author found this "palette" edge and added it to a portrait of Nikole Haiar using Auto F/X's Photo/Graphic Edges 4.0 plug-in.
Scan Me. Imacon announced their FlexTight Progression scanner, a film and reflective CCD-drum device based on the company's FlexTight Technology but designed to be as easy to use as a flat-bed. The new scanner uses a magnetic holder that automatically feed wraps an original around a "virtual drum." By bending the original, the FlexTight Progression scanner holds the line of sight to the scanner's lens straight, flat and in focus, eliminating any inaccuracies that might cause registration errors or color flaring. The FlexTight Progression has an optical resolution of 5760dpi, magnification up to 2400 percent, and a Dmax of 4.1. The scanner can capture 42-bit color and up to 16,000 levels of gray allowing highlight, shadow, and gradation settings to be accurately represented in the software preview. This large format CCD scanner lets you batch scan prints or use a built-in light box to mount and batch scan film originals. The scanner weighs 77 lbs and, with a footprint that is 19.7x31.1", occupies approximately the same space as some flat-beds. The FlexTight Progression has a list price of $19,995 and is bundled with ColorFlex, Vivid Details' Test Strip, and Canto Cumulus Desktop image management software. For additional information, call (888) 462-2668 or visit the company's web site at: www.imacon-usa.com.

Plug-In Of The Month. This month's selection is from Auto F/X, the company who invented the concept of photographic "edges." Its new "Over the Edge" collection includes 2500 new edges for their existing Photo/Graphic Edges 4.0 Photoshop compatible plug-in. "Over the Edge" gives digital imagers 2500 files of never-before-seen content that goes beyond the fades, painted edges, or Polaroid-style transfers typically used for edge effects. Instead, Auto F/X provides many new and different kinds of edges that include blurs, bubbles, scratches, fades, fractals, and mosaics. The files are stored on the disc alphabetically in separate folders, so the best technique for finding an edge that works for a specific image is to imagine what kind of effect you want and look for a file with a similar name. Don't be afraid to explore and uncover some unlikely edge files. There are so many different files that you'll be able to find many different ones to compliment a particular image. In addition to 2500 edges, the "Over the Edge" collection includes 250 new textures and 150 sepia and mezzotint tiles. Like the new edges, these tiles and textures provide a fresh take on traditional textures and tiles. For users of Photo/Graphic Edges 4.0, "Over the Edge" costs $149 and is available for Macintosh and Windows 95/98/NT systems. For more information about Auto F/X plug-ins, visit their web site at: www.autofx.com.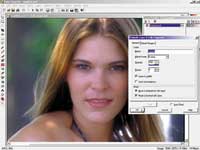 JASC's latest version of Paint Shop Pro bundles a copy of the company's Animation Shop and includes many new features for working with photographs including this portrait of model Nikole Haiar.
An Even Better Digital Imaging Bargain. JASC Software makers of the Windows-based Paint Shop Pro image-editing program announced the release of Version 6 which now includes a copy of their Animation Shop 2.0 program. At $109, the price is up slightly from previous versions but still represents a bargain for cost conscious digital imagers. Unlike other image manipulation programs, Paint Shop Pro offers editable text, vector-based graphics, multiple image printing capabilities (on the same sheet), and provides direct support for over 120 digital cameras. Some of Version 6's new features include digital watermarking of copyright information, adjustment layers for applying color corrections to multiple layers, and a multicolor gradient tool for creating and saving custom gradients. Image management capabilities are provided by an enhanced Browser that lets you drag-and-drop files onto other folders while working within the Browser interface. Paint Shop Pro supports Photoshop compatible plug-ins and includes some of its own special effects filters, such as Bevel, Weave, Blinds, and a bunch of others. An OLE (Object Linking and Embedding) Screen Capture module lets you grab screen shots directly from any host application. If you want to see for yourself, a demo copy can be downloaded from the company's web site at: www.jasc.com.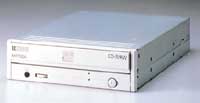 Ricoh's new CD-RW drives combine CD-R recording at 6x, CD-RW "burning" at 4x, and reading at 24x speeds.
A Battle Is Over. The battle between magnetic and optical technologies for dominance of digital imaging removable media is over and optical has won. The reason is simple: low cost and content portability. Optical media, in the form of CD-R and CD-RW, won the battle by providing lots of capacity at low prices for a disc that will run on practically every computer that's been built in the past few years. If optical media has had any drawbacks at all, it's recording speed. The drives and the recording process can be slow, but now that's changing. Ricoh announced their new speedy CD-RW drives combining CD-R recording at 6x, CD-RW "burning" at 4x, and reading at 24x speeds. Tests conducted by the XXCAL Testing Laboratories in Japan showed that, when recording data onto CD-R discs, Ricoh's 6x recording drives were faster than other manufacturer's 8x drives. The price of the internally mounted MediaMaster MP7060A (ATAPI) and MP7060S (SCSI) drivers are $349 and $299 respectively. An external SCSI version priced at $499 is expected to be available by the time you read this. More information about the drives can be obtained by calling Ricoh at (877) 742-6479 or by visiting their web site at: www.ricohdms.com.

A Computer In Your Camera Bag. If you have a palmtop computer or one of those tiny Windows CE computers, one of the best reasons I've found to stick it inside your camera bag is The Photographer's Data Guide 3.0. This is the kind of data often found in printed guides and is now being delivered as software. The Photographer's Data Guide consists of three modules which may be purchased individually: Camera, Cinematography, and Almanac. The Camera module contains data on angle of view for different focal length lenses, hyperfocal distance, and infrared focusing information. You'll also find some darkroom-related facts including how to calculate print size for any combination of enlarger height, magnification, and film format. The Cinematography module contains similar information and how it relates to film and video. The Almanac section contains sunrise, moon rise, and twilight information that feature a database of towns by longitude, latitude, summertime data, and time zones. Currently data is available for the U.S.A., UK, Canada, Australia, and New Zealand. Prices for the modules (in Pounds Sterling) are Camera £80, Cinematography £140, and Almanac £50. You can learn more about The Photographer's Data Guide and all of its other features by visiting Douglas Software's web site at: www.dougsoft.demon.co.uk.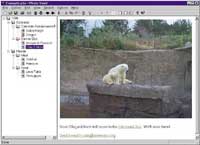 Photo Vault organizes your digital photographs and captions in a convenient hierarchy that you define.
Put Your Pictures In A Vault. Photo Vault is a shareware program that lets you organize your digital photographs, along with captions, in a convenient user-definable format. Like many imagebase programs, Photo Vault has a search feature that lets you locate specific images on a photographic collection that can be stored on disk, CD ROM, or the Internet. Photo Vault can display your images individually or as slide shows, and lets you e-mail pictures to friends and family members. If you have a CD or DVD writer, you can use Photo Vault's AutoPlay feature to automatically load an album when that CD or DVD disc is placed in the drive. The program requires a Pentium powered computer running Windows 95, Windows 98, or NT 4 and Microsoft Internet Explorer 4 or later. Photo Vault's registration price is $20 and you can download a copy from: www.personalmicrocosms.com. For more information about the product, visit their web site at: www.personalmicrocosms.com/html/ss_pv.html.

Y2K And File Translation, Too. One of the best stocking stuffers available for Macintosh users is DataViz's MacLink Plus Deluxe 11.0. With the year 2000 just around the corner, you'll be glad to know that this new version, like the previous one, is Y2K compliant. More importantly is the utility's ability to open, view, decode, decompress, and translate all kinds of files back and forth between Windows and Mac OS platforms. In addition to translating graphics file formats, the package converts Microsoft Word and Excel 2000, AppleWorks/ ClarisWorks 5 word processing and spreadsheets, Microsoft Works 4.5, and WordPerfect 3.5e files. The ability to make these translations can be especially important when you receive a file as an attachment to an e-mail message and can't open it. Along with these new translators, DataViz has added updated decoding and decompression technology for StuffIt 5.0. With a street price of $99, I consider MacLink Plus Deluxe 11.0 to be an indispensable software tool for every Macintosh user. For more information about MacLink Plus Deluxe 11.0 and DataViz's other useful file translation products, which includes MacOpener for Windows computers, visit their web site at: www.dataviz.com.

FEATURED VIDEO