Digital Infrared Photography With The Fuji S20 Pro
There's More To Life Than Color Image Files! Page 4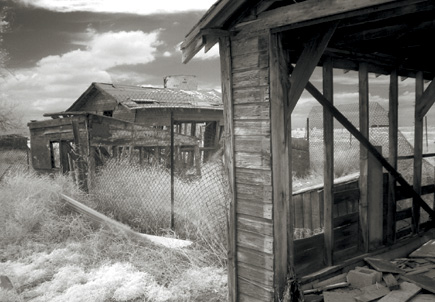 People always ask me what my influences are and are surprised when I say it's movies, not still photographers. This IR image is from a series of photographs of abandoned farm buildings that were directly inspired by the film "Northfork."
When focused manually, the FinePix S20 Pro's lag time is 100ms. In autofocus mode, that time drops to between 400-500ms, depending on whether the subject is moving or standing still. You better hope the bride is taking her time coming down the aisle, as I sometimes found it a challenge to get sharp images of active subjects. The FinePix S20 Pro has ISO settings from 200-1600, but the 1600 setting is only available at a very non-pro 1 megapixel, so the most I could get from IR JPEGs was 800. When shooting raw files, only ISO 200 and 400 are available. What's the answer to the musical question of how many raw files can you fit on a 16MB xD-Picture Card? That roundest of numbers--zero. How about a 64MB xD-Picture Card? It's one. Slip in Hitachi's 2GB Microdrive and that number increases by 150.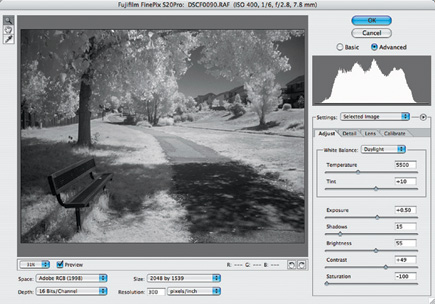 Adobe's Photoshop CS contains Camera Raw that easily opens, converts, and lets you tweak Fuji's RAF files allowing you to create 16-bit image files by moving a few sliders and clicking OK.
Fuji bundles Hyper-Utility 2 raw software with the camera and it'll open their RAF files and let you move 'em around, view, and convert to TIFF. The real deal is that the FinePix S20 Pro lets you capture raw files that will produce 16-bit IR files. In Adobe's Camera Raw (www.adobe.com) that's part of Photoshop CS, you can slide the saturation slider to zero, tweak brightness and contrast and viola! If you don't own Photoshop CS, you can always save the RAF file as a TIFF in Hyper-Utility and do the tweaking in a program such as Jasc's Paint Shop Pro (www.jasc.com).

The FinePix S20 Pro's ability to use a studio flash connected to the camera's PC terminal (it has a hot shoe, too) and high-speed image transfer via FireWire or USB 2.0 will endear it to pros, but the camera's excellent image quality, extensive creative capabilities, and the ability to capture raw files make it useful no
matter what your photographic persuasion might be.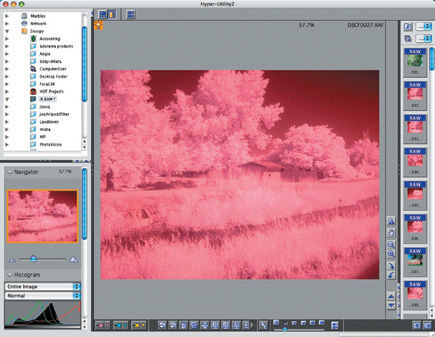 You can open, view, sort, and convert RAF files in Fuji's Hyper-Utility (a.k.a. FinePix View Professional) software similar in functionality to Canon's Digital Photo Professional program, but not as pretty. At least it's free.
Fuji's FinePix S20 Pro Facts
· CCD Sensor: 1/1.7" Super CCD SR. Number of total pixels: 6.7 million (S-Pixel: 3.35 million, R-Pixel: 3.35 million).
· File Format: Still image: CCD-RAW, JPEG (EXIF V. 2.2) Movie: AVI (Motion JPEG). The number of images and recording time will vary depending on type of subject.
· Lens: Super EBC Fujinon 6x zoom lens, f/2.8-f/3.1
· Lens Focal Length, 35mm Equivalent: 35-210mm
· Focus Distance Normal: 1.6 ft to infinity; Telephoto: 2.9 ft to infinity
· Macro: Approx. 3.9" to 2.6 ft
· Super Macro: Approx. 0.4-7.9"
· Aperture: f/2.8-f/11
· Sensitivity Auto: Equivalent to ISO 160-800; 1600 (resolution set at 1M for shots taken at ISO 1600)
· Flash: Auto flash using flash control sensor
· Effective Range: Wide angle (0.3-8.5m/1.0-27.9 ft); Telephoto (0.9-7.9m/3.0-25.9 ft)
· Digital Interface: USB 2.0, IEEE1394
· Accessory Shoe: Hot shoe, Synchro terminal
· Power Source: Four AA alkaline batteries (included), four AA-type Ni-MH batteries or AC power adapter AC-5VH/AC-5VHS (optional)
· Dimensions: 4.8x3.2x3.8"
· Weight: 17.6 oz (excluding battery and media)
· Street Price: $799
Contacts
Fuji Photo Film USA, Inc.
(800) 755-3854
www.fujifilm.com