The Digital Darkroom
Using Photoshop To Correct For Color Casts
The CanoScan LiDE 80 is sleek, compact, light, and portable.
Photos © 2003, David B. Brooks, All Rights Reserved
When I read this press release headline, "Canon launches world's first film scanning capable, bus-powered 2400x4800dpi CIS scanner," I was intrigued. Then learning that the CanoScan LiDE 80 also features 48-bit color depth, only requires power from a USB connection, is only 1.5" high, and weighs just 4 lbs, I twisted our editor's arm to get one for review. I am glad I did because this new Canon scanner combines portability with competitive performance in a scanner with a list price of just $179. Some Shutterbug readers, who have been in contact with me by e-mail, use laptop computers for at least some of their digital activities. Others have expressed the fact that they have only limited space for their digital darkroom and still need to do some photo scanning. And there are always budgetary considerations. If you're among the above groups the CanoScan LiDE 80 may be just your ticket.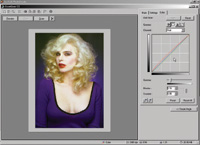 Film scans with the CanoScan LiDE 80 were just as easy as print scans, even with color negatives. Some subjects, like this portrait, did require some manual adjustment to the automated interpretation of the LiDE 80 driver software, but the majority of more typical subjects did not, making this one of the most effective and easy to use scanners I've tested.
Contact Image Sensor
This new Canon flat-bed scanner with 35mm film scanning abilities is unusual because it is based on a different kind of light source and integrated optical and sensor array referred to as a Contact Image Sensor (CIS). This small, low-power, tricolor LED light source lowers the scanner's power requirements and within the range supplied through a USB bus. The power requirement can also handle the accessory film scanning attachment, which plugs into the back of the scanner.

The CanoScan LiDE 80 has a full letter-size flat-bed scan area and provides a full complement of print and document scanning capabilities in addition to 35mm film scanning. This is supported by a generous and effective software bundle for both PC Windows and Apple Macintosh computers, including Canon's ScanGear, CanoScan Toolbox, ArcSoft's PhotoStudio and PhotoBase, and ScanSoft's OmniPage SE OCR, not to mention Adobe's Photoshop Elements 2.0. The scanner driver from Canon includes automated dirt and scratch removal, grain reduction, and color restoration option capabilities as well. All of these features are designed to support easy to use operation with automated image adjustments.
Canon's ScanGear CanoScan LiDE 80 user interface is clean and straightforward providing easy, automated adjustments. This portrait of your author in my "rock-and-roll" days reproduced superbly without any manual adjustment to the image values. (Photo by Frank Bez).
Working With The Canon CanoScan LiDE 80
Rather than use one of my Mac G4s, which was being used for a concurrent test, I used a PC with Windows XP Pro for this report. The 35mm film scanning setup of the CanoScan only works with unmounted film in strips, and many of my best images are cut and in professional slide mounts, even negatives. So I ended up digging pretty deep into boxes to gather a selection of photographs. I also scanned documents to make copies and run the OCR to turn pages into text files to get a feel for using the LiDE for the many non-photographic uses it may be put to.

I scanned quite a few good quality black and white photographic prints, and was gratified how easy it was to get very good results. Then I got into film and color, both transparency and negatives. I found that although the preview of the image in ScanGear is not very big on a large high-resolution monitor, it was sufficient. Canon software's auto adjustment abilities are as good as I have seen in consumer products. In addition, the ScanGear Fare Level 2 retouching and enhancement option cleans images and smooths out grain surprisingly well while preserving good detail sharpness.

The only exception I should note is that when scanning film with less usual subject content, like a close-up portrait against a white or deeply colored background, that some manual adjustment for brightness and color fidelity in complexion tones is required. Unfortunately, the manual adjustment tools in ScanGear are not user friendly enough for most users and lack an effective graphically intuitive interface. Something like Variations in Photoshop or the equivalent in Adobe Elements would be an advantage for most users.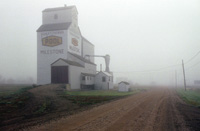 This color negative of a scene typical of the Canadian prairie where I grew up was dramatized by a very foggy atmosphere. Even with this difficult image, the CanoScan LiDE 80 performed well. The Fare retouching and restoration software options in the driver also produced a very clean and accurate reproduction of the scene.
Evaluation And Recommendation
Any photographer needing an inexpensive but good quality multipurpose scanner that also scans film quite well, will see advantages in the Canon CanoScan LiDE 80. For on-the-go laptop users, the CanoScan LiDE 80 is an ideal solution. Even if you just want the latest, coolest technology gadget, this scanner will not disappoint.

For more information, visit Canon's website, www.usa.canon.com.
Technical Specifications
Scanner Type: Flat-bed, aluminum with spin-carved finish
Scanning Element: Contact Image Sensor (CIS)
Light Source: Three-color RGB LEDs
Maximum (Optical) Resolution: 2400dpi
Maximum (Hardware) Resolution: 2400x4800dpi
Maximum (Interpolated) Resolution: 9600x9600dpi
Scanning Mode: Color--48-bit internal/48-bit external; Gray scale--16-bit internal/16-bit external
Document Size: 8.5x11.7" maximum
Film Size: 35mm x 1 frame (negative)
Interface: USB 2.0 Hi-Speed
Power Requirements: Powered through USB port; no AC adapter required
Dimensions: 10.1x14.7x1.5"
Weight: 4.0 lbs
Software: CanoScan Setup CD-ROM including: ScanGear CS (Windows/Mac), CanoScan Toolbox (Windows/Mac), ArcSoft PhotoStudio (Windows/Mac), ArcSoft PhotoBase (Windows/Mac), ScanSoft OmniPage SE OCR (Windows/Mac), Adobe Photoshop Elements 2.0 (Windows/Mac), and NewSoft Presto! PageManager (Windows)
List Price: $179

LATEST VIDEO

SPONSORED VIDEO
Testing Tamron's SP 150-60mm G2 lens while capturing birds and alligators in Apalachicola, Florida.