Digital Cameras And Imaging Software; The Raw Facts Page 2
For The Photo Artist In You
BenVista's PhotoArtist 2 is Mac OS and Windows software for creating artwork from digital photos and includes sketches, watercolors, and oil paintings on canvas backgrounds. Unlike artistic plug-ins, PhotoArtist is a stand-alone application that allows the user to fine-tune effects and manually paint them onto the on-screen canvas using fine brush strokes. You can also apply and combine effects on the entire canvas with a single mouse click, allowing you to create handmade art with a strong personal touch. Since stylus support is provided, it's an ideal application for using a graphic tablet instead of a mouse. The software is a Universal application, ensuring optimum performance on PowerPC and Intel-based Mac OS systems. PhotoArtist costs $79, with an upgrade from the previous version only $29. A free demo version can be downloaded directly from www.benvista.com.
© 2006, Joe Farace, All Rights Reserved
Going On Safari
I like to keep specific kinds of gear in different camera bags. Lately my two EOS Digital Rebels XTs that were converted to digital infrared and accompanying EF-S lenses have been crowding my other gear so I decided to put them in their own bag. The bag I'm using is Adorama's (www.adorama.com) Slinger Safari Midi Shoulder Bag. It's a functional bag that can hold your personal gear along with a camera and features designated protective zones for safeguarding your gear. Its removable insert provides protection for smaller D-SLRs and separates photographic gear from personal items. It's made of all natural fibers and costs less than $60. Its big brother, the Slinger Safari Medium Backpack, has a lower padded compartment to hold a camera or camcorder and accessories such as lenses, a flash unit, batteries, cables, or a charger. This compartment features a set of modular dividers that allows you to fit the bag to your gear, which can then be easily accessed via the front zipper opening. It costs less than $90.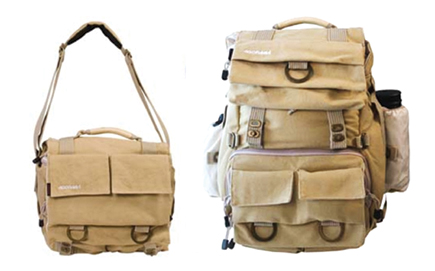 Inkjet Paper Of The Month
ILFORD's black and white photographic heritage dates back to 1879 and they used that history as a benchmark for producing the equivalent of a classic air-dried, glossy black and white fiber-based silver print. Galerie Gold Fibre Silk is a 310 gsm (grams per square meter) inkjet media featuring a barium sulfate base that enhances the surface to produce the creamy whites and velvety blacks of a traditional fiber-based print. Just as silver-halide photographs can be produced using warm or cold tones, ILFORD created recommendations on using filter factors to create digital toning effects, including warm tone, cool tone, as well as sepia, gold, selenium, and blue. These filters together with custom ICC profiles are available for free from www.ilford.com. ILFORD's Galerie Gold Fibre Silk will be available in 10 and 50 sheet packs of 8.5x11, 13x19, and 17x22, or 17, 24, and 44" wide (40-foot long) rolls.