DigiLabs Pro's Client Creations
DigiLabs Pro (
www.digilabspro.com
) introduced "Client Creations" — a variety of client created wedding album packages that photographers can easily market to clients. A complete keepsake that is ideal for savvy wedding couples, the ready-to-sell kit includes a fine-quality leather storage box, software and instructions for couples to quickly create high-quality albums using their digital photographs. Professional wedding photographers will find these comprehensive kits to be a popular and unique client offering that should enable them to bring in supplementary revenue without significant additional labor.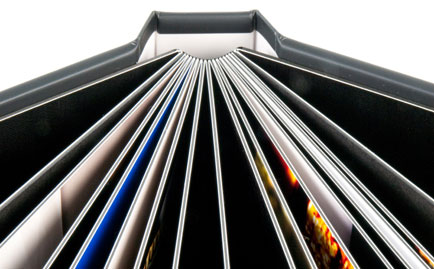 While professional photographers can, and should, continue to market premium albums and other products to clients, Client Creations add another distinctive set of products to a photographer's sales arsenal. These products can easily appeal to cost-savvy couples as well as be positioned as gift ideas for parents, members of the wedding party or other guests. Client Creations provides access to high-quality products featuring superior materials and craftsmanship, and software that puts all design elements within the client's control. The packages allow photographers to profit from album sales with customers who might have never purchased an album and thus become part of the growing market of DIY brides. Using Client Creations, photographers are also able to generate revenue without sinking time and resources into album creation. All images in the album are individually manually color corrected to ensure the photographer's images look their absolute best.
Each package includes everything needed to produce a quality memento:
* Heirloom-quality storage box
* Free design software , including wedding-specific templates
* Prepaid album voucher
* Helpful guide explaining how to create and redeem their album
* Finished albums are standard professional photography quality photographic albums
"Professional photographers need to stay ahead of consumer trends if they are going to market their services to their most profitable end," said Chanan Steinhart, CEO and a co-founder of DigiLabs. "We believe that our new Client Creations packages will open a new and highly unique sales channel for photographers to compliment their offering and enable them to better market their services, as many couples believe they can create their own album using traditional online services. By enabling couples and family members to design and order high-quality, cost-effective albums for themselves, photographers can profit by taking advantage of technology that puts more personalized creativity into their clients' hands."
Client Creations turnkey packages include DigiLabs proprietary technology and workflow and are available in the following packages:
* Anza Classic Client Creations –The Anza album is the perfect balance between high quality and affordability. This black leather-covered album has one-piece construction, square-cut corners and measures 10x10 with 20 sides
* Anza Elite Client Creations – Similar to the Anza Classic Client Creations, this album is a 10x10 book with 30 sides

* Marina Classic Client Creations – This luxurious and fully customizable album has a custom photographic cover (matte or glossy) and comes in a 10x10 with 20 sides. You have the ability to add up to 80 sides when designing (for an additional charge when redeeming the album).

* Sunset Peel & Stick Client Creations – A beautiful fully customizable peel & stick album, at a cost effective price. This leather-bound, 10x10 book with 20 sides has black gilding and a lay-flat design. It includes professional quality archival prints needed to create the album. Average assembly time is 15-20 minutes.
Availability and Pricing
The Client Design packages are available immediately, to professional photographers. There are several package and pricing options for professional photographers, including the ability to buy in bulk for a significant discount. A complete list of options is available at http://www.digilabspro.com/client-creations.shtml.

LATEST VIDEO

SPONSORED VIDEO