Delkin 420X CompactFlash Line
Delkin Devices, Inc. expanded their lineup of CompactFlash card storage by announcing four new blazing fast 420X PRO cards capable of transfer speeds up to 63MB/s. The new UDMA enabled flash memory comes with a remarkable San Diego based customer service team as well as a lifetime warranty, and is available in capacities of 8GB, 16GB, 32GB and 64GB.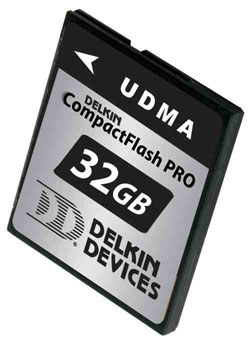 Delkin's PRO memory card line combines blazing fast speeds and increased capacity with unmatched reliability. Every card is manufactured with high grade NAND flash, advanced controller design, and quality control guidelines based on ISO:9001 standards. Additionally, built-in ECC (Error Correction Code) automatically detects and corrects any errors that might occur during data transfer. Delkin's 420X CF cards are fully compliant with current CompactFlash specifications with support for Ultra DMA (UDMA) mode 6. These high-speed cards are able to instantaneously store highresolution images and HD video, making recording faster and easier than ever.
Delkin has supported Lifetime warranties on its memory products for over 20 years and maintains a U.S. based support center where genuine human assistance is consistently available Monday through Friday between 8am and 5pm PST. Delkin's 420X PRO line of CompactFlash memory cards and other innovative digital camera accessories may be found in camera stores and distributors worldwide, as well as the company's website at www.delkin.com.