Cuba
Frozen In Time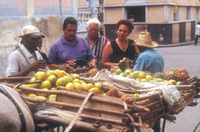 Photos © 2001, Elliot Kornberg, All Rights Reserved
To travel to Cuba is to step back in time. The streets of Havana and Santiago de Cuba are a living transportation museum: '55 Chevys and '49 Pontiacs share the road with "newer" Russian Latas from the '70s and '80s. Horse-drawn carts and bicycle taxis weave in and out of traffic. Pedestrians dodge across streets between waves of cars, trucks, buses, and motorcycles with sidecars.
A visit to the island, one hour south and 40 years away from Miami, is a sobering experience. At the same time it is a photographic paradise. Just step outside your hotel and a plethora of images dance in front of your lens. Most Cubans enjoy having their photo taken. A friendly smile spontaneously stimulates a pose for a captivating image. Some ask you to send them a print, a small price to pay for capturing a memorable moment. For others, a small gift is appreciated. For most, a nod and a muchas gracias is all you need. Images are everywhere: an old woman or man smoking a cigar; a university professor in his best tattered suit; crumbling spectacular architecture contrasted with new five-star hotels; or a rainy street scene in Old Havana.
Do not limit your trip to only exploring the old European charm of Havana. Experience the beauty of the countryside and the Caribbean flavor of other parts of Cuba. A word of caution--Santiago de Cuba is a two-hour flight from Havana. To fly on an old questionably maintained Russian airplane is a very interesting event, to say the least. If you have the time and want to immerse yourself in Cuban life, rent a car and explore the island.
Legal travel to Cuba has become easier for Americans under US license from the Treasury Department. Individuals can apply and go through the bureaucracy or join a group that is going for educational, professional, or humanitarian reasons. Some photo tours are available and more are on the way. (Check out www.nationalgeographic.com and www.mentorseries.com.) I have been there on a continuing medical education trip with AIMS and a humanitarian mission with B'Nai B'rith. With a little research you can get there legally with several charter flights leaving from Miami, New York, and L.A. daily. You can even bring back Cuban cigars and rum, if you're so inclined, for your personal use. All you need to do is show your license to US customs and obey the legal limits.
One word of advice: do not go in the summer. Not only is the heat oppressive, but this island is the last place you want to be if a hurricane approaches.

FEATURED VIDEO