Covering ThePhoto Beat; A Rechargeable Battery, Camera Brace, And Lenses Page 2
LensPen's SensorKlear Loupe Kit
The SensorKlear Loupe Kit is an easy and practical solution to removing dust from your camera's sensor. Used on the International Space Station, this kit has proven to be effective and reliable under the most extreme conditions. Simply position the device on the camera body as you would a lens and it provides a directed beam of light to pinpoint the problem. Once dust is detected, the blower can be used to remove it. However, if the dust particles are "sticky," use the access window located on the side of the Loupe and insert the tip of the new SensorKlear II pen to safely remove the particles. The suggested retail price is $99.95.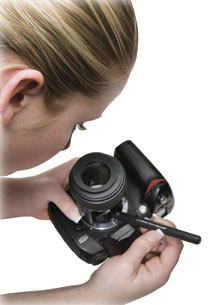 Contact: LensPen, 650-375 Water St., Vancouver, BC, Canada V6B 5C6; (877) 608-0868; www.lenspen.com.

Habbycam's SD Camera Brace
Designed for use by both photographers and videographers, the Habbycam SD camera brace is crafted from durable stainless steel with aluminum components and is fully adjustable for comfortable shooting. Weighing 3 lbs, it measures 24x5x7", collapses for easy storage, supports up to 20 lbs, and can be used with any camera that features a 1⁄4"-20 tripod mount. The suggested retail price is $249.
Contact: Habbycam, LLC, 827 Hollywood Way #192, Burbank, CA 91505; (818) 679-3074; www.habbycam.com.