Covering ThePhoto Beat; A Rechargeable Battery, Camera Brace, And Lenses
Nikon's AF-S Nikkor 200-400mm f/4G ED VR II Lens
The AF-S Nikkor 200-400mm f/4G ED VR II lens is constructed from die-cast magnesium and sealed to resist dust and moisture. It features meniscus glass to protect the front element, VR II image stabilization, Extra-low Dispersion (ED) glass elements, Silent Wave Motor technology, and three Focusing modes. The suggested retail price is $6999.95.
Contact: Nikon Inc., 1300 Walt Whitman Rd., Melville, NY 11747; (800) 645-6689; www.nikonusa.com.

Bower's 14mm f/2.8 Ultra-Wide-Angle Lens
Bower has introduced a 14mm ultra-wide-angle lens that is compatible with Canon, Nikon, Pentax, and Sony D-SLR cameras and features a fixed petal-type hood. Constructed of 14 elements in 10 groups (one glass aspherical and one hybrid aspherical), this lens has one of the shortest focal lengths in the Bower series. Its elements have been designed to correct the distortion in this aspherical lens. Other aberrations such as astigmatism have also been corrected, resulting in ideal image quality.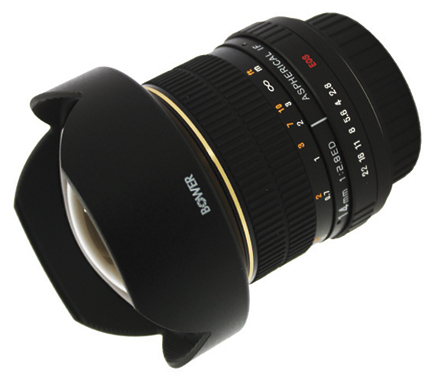 Contact: S. Bower Inc., 46-24 28th St., Long Island City, NY 11101; (800) 446-7244; www.bowerusa.com.

M-ROCK's Mount Rainier Lens Case
The Mount Rainier 660 lens case can safely accommodate a lens that measures up to 10x4.6". It includes two padded shoulder straps and six attachment points so it can be worn as a backpack, shoulder or tummy bag, or fanny pack. The Mount Rainier can also be used with M-ROCK's modular bag system. It comes with a lifetime warranty and has a suggested retail price of $66.
Contact: M-ROCK, 21055 NE 37th Ave., Ste. 2002, Aventura, FL 33180; (800) 773-7067; www.m-rock.com.

Quantum's Turbo 3
This smaller, lighter version of the original high-capacity rechargeable battery offers three times the power and can deliver 600 to 1600 flashes with a recycling time from 1⁄10 sec to 1.5 seconds. The Quantum Turbo 3 provides dual power for two flashes or for a flash and a D-SLR, or up to five hours of video with a D-SLR. It can be belt mounted and requires no AC power. A "gas gauge" shows the remaining power and charge status. It uses a Ni-MH battery with no "memory" effect and the lockable sockets work with new locking cables. The Quantum Turbo 3 is compatible with a variety of professional flash units, including those from Canon, Nikon, and Metz, plus Quantum's Qflash T series. The suggested retail price is $801.
Contact: Quantum Instruments, Inc., 10 Commerce Dr., Hauppauge, NY 11788; (631) 656-7400; www.qtm.com.

Hoodman's Cinema Kit Pro
A durable hot shoe mount, the new HoodCrane allows you to easily use the HoodLoupe 3.0 during D-SLR video capture. You can swing the HoodCrane up out of the way so you can use the camera's LCD screen for still shooting. The Cinema Kit Pro includes the HoodCrane, the HoodLoupe 3.0, and the HoodMAG, a magnifying video eyecup. The suggested retail price is $209.99.
Contact: Hoodman Corporation, 20445 Gramercy Pl., Ste. #201, Torrance, CA 90501; (800) 818-3946; www.hoodmanusa.com.

FEATURED VIDEO