Covering The Photo Beat
Camera Raincoat, Print Tacking Iron, Online Photo Lessons, And More Page 2
Easy Archive Album System
The John Porter Easy Archive Album System is a full line of print and negative storage products designed specifically to preserve and protect everyday photos for future generations. Particular attention is paid to the bindings, as albums filled with photos and family memorabilia can weigh almost 6 lbs and the binding must be able to withstand this weight, whether stored standing as a book on a shelf, or stacked flat. These albums are acid-free and lignin-free from cover to cover. Exclusive paper never turns yellow or chemically reacts with photos. The covers are made of colorfast and solvent-free Italian bookbinder's cloth. They meet, or exceed, the Library of Congress preservation standards. Contact: Celine Countryman, LLC, 701 North 3rd St., Ste. 102, Minneapolis, MN 55401; (612) 455-2274; www.celinecountryman.com.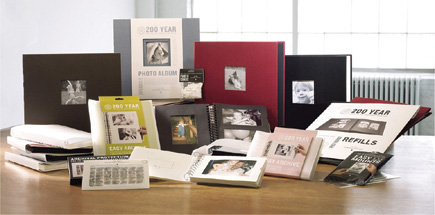 Versatile Raincoat For Cameras
Here's an overdue new product that any avid outdoor photographer will appreciate. The camera Rain Cover from FotoSharp is a tough, durable plastic bag with drawstring closures at each end to completely cover your camera, lens, and flash to protect them from inclement weather. It's suitable for use both with the camera carried on a neck strap or when it's on a tripod. It measures 14" long and is 13" wide at the widest end so it should easily fit over most any size camera, no matter what lens is attached. It's made of silicon impregnated ripstop nylon, which is said to be very durable. A TTL flash can be used through the translucent white material and camera controls can be read through it when the fabric is held tight against the camera. It weighs a mere ounce so it's both pocketable and easily carried in a gadget bag. The MSRP is $28. Contact: FotoSharp, 17837 1st Ave. S #1, Seattle, WA 98148; (800) 361-8341; www.fotosharp.com.


Small, Lightweight Print Tacking Iron
Precise positioning of a photograph or artwork prior to placing into a dry mounting heat press is easier if you use a small tacking iron to hold the print exactly where desired. A new pencil-thin lightweight photo tacking iron features a Teflon-coated spatula tip and is similar in size to an artist's brush. It's only 63/4" long and weighs less than 1 oz. The wooden handle stays cool since the heating element is directly under the slide-on tip. The nonstick tip heats up to 200Þ F in just 45 seconds. The MSRP is $39. Contact: Hot Tools, Division of M. M. Newman Corporation, 24 Tioga Way, PO Box 615, Marblehead, MA 01945; (800) 777-6309, (781) 631-7100; fax: (781) 631-8887; www.mmnewman.com.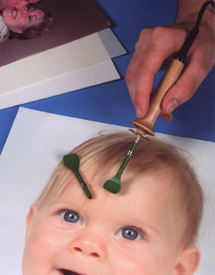 New Military Series Of Bags
Naneu Pro manufactures high-quality camera, video, laptop, and portable audio bags and cases. Their new Military Series incorporates military-like features for quick access to contents and equipment security. Made of 900 denier nylon, the series consists of five models, each of which is available in black or olive drab. The Alpha is a photo backpack having a top compartment for personal gear and a padded, customizable bottom compartment; the MSRP is $90. The Bravo has similar features, but is more compact; the MSRP is $75. The Echo is a messenger-style backpack with a single over-the-shoulder strap so it can be worn on the back then easily rotated to the front for quick access to the contents; the MSRP is $57. The Lima is a briefcase-style backpack with an adjustable, padded shoulder strap and two detachable inserts for an SLR camera; the MSRP is $45. The smallest model is the Delta, a handbag-style case with a padded removable insert that's suitable for most digital, 35mm, and point-and-shoot cameras. With a detachable shoulder strap, it has an MSRP of $25.
Contact: Naneu Pro, 9647 Tradeport Dr., Orlando, FL 32827; (866) 806-2638, (407) 859-9571; fax: (407) 859-9289;
www.naneupro.com.


Stainless Steel Reels For JOBO Processors
Users of the JOBO 1500 series of tanks typically prefer either plastic or stainless steel reels for loading the exposed film. Prior stainless steel reels required a special center core for use with plastic tanks. The new Uni-Reel from Hewes has a large center opening so it can be used with existing plastic cores provided with any 1500 series tank. In addition, hand inversion processing in plastic leakproof tanks is possible now using these new stainless steel reels. The 35mm size reel has an MSRP of $24; the 120 reel has an MSRP of $30. Contact: JOBO Fototechnic, Inc., PO Box 3721, Ann Arbor, MI 48106; (734) 677-6989; fax: (734) 677-6963; www.jobo-usa.com.

To submit information for Photo Gear please contact Robert E. Mayer by e-mail at: rmayer@kconline.com or regular mail at: Shutterbug Magazine, 1419 Chaffee Dr., Suite #1, Titusville, FL 32780.

LATEST VIDEO