Covering The Photo Beat
Camera Raincoat, Print Tacking Iron, Online Photo Lessons, And More
Small Camera Case Plus
An interesting new idea in multipurpose cases comes from Norazza, called the Ape Case Tri-Fold Traveler. At first glance, it looks like a case suitable for a small compact 35mm or digital camera, but when a hook-and-loop fastener is opened it expands to a 15.5" length having a protector organizer function with no less than 20 different pockets in three sections. Each section has various size pockets to safely hold your camera plus cash, map, digital media cards, and other small, flat accessories typically carried. This day wallet can be hung from the neck with the included strap, or clipped onto a belt, strap, or bicycle. It's heavy-duty and padded for protection with a black exterior and yellow interior for easier locating of the contents. The MSRP is $30. Contact: OmegaSatter, 1041 S. Carroll St., Hampstead, MD 21074; (410) 374-3250; fax: (410) 374-3184; www.omegasatter.com.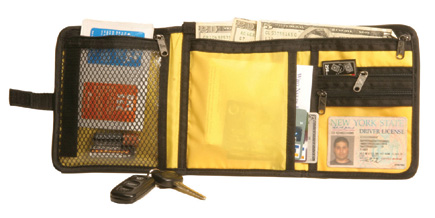 Simple Underwater Compact Camera
The Polaroid Splash II 2-in-1 camera from Concord Camera Corporation is a fully automatic 35mm camera housed in a waterproof housing suitable for use in depths down to 65 ft. The clear waterproof housing can be easily removed for land use as a normal simple point-and-shoot 35mm camera. The housing has a large external viewfinder for easier use when wearing a snorkeling mask or other underwater gear. It features auto flash, auto film loading, auto advance and rewind, and auto power off to conserve battery life. It has a 27mm fixed-focus optical lens and carries an MSRP of $25. Contact: Concord Camera Corp., 4000 Hollywood Blvd., Suite 650N, Hollywood, FL 33021; (954) 331-4200; fax; (954) 981-3055; www.concordcamera.com.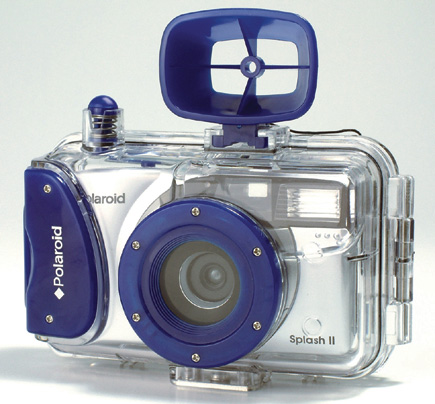 Easy To Use Photo Print Organizer
The Power Sort Organization System appears to be a simple box, but it's said to make organizing prints both easy and approachable, the first step toward creating a meaningful photo album. Constructed entirely from photo-safe materials, it will keep up to 2400 photo prints safe from becoming accidentally bent, creased, or folded and free from harmful dust, dirt, and light. It's said to make it simple to set up and maintain a personalized method for organizing and retrieving your personal photos. There is a storage pocket in the box cover large enough for holding panoramic prints and related memorabilia related to the photos inside. You can easily sort by theme, year, friends, or family members and it helps you organize the photos for eventual placing into a Creative Memories album for easy sharing with others. The MSRP is $35 and a smaller Power Sort Mini Organizing System has a MSRP of just $11. You can learn more about these products by logging onto their website (www.creativememories.com) where they have a "Consultant Locator," which will give the address of somebody in your area that works with these products. You can also write or call them at: Creative Memories, 3001 Clearwater Rd., PO Box 1839, St. Cloud, MN 56302; (800) 341-5275.
New Panoramic Tripod Head
Kaidan first introduced a VR/OTVR panoramic photography tripod head eight years ago. They are offering a new and improved KiWi model with a built-in click-stop mechanism (10, 12, 14, 16, 18, 20 stops are standard), a detent disk storage pouch, number-of-shots chart, built-in bubble level, and improved adjustable camera bracket. It can be upgraded with optional brackets for use with fisheye lenses. The MSRP starts at $200. Contact: Kaidan Inc., 703 East Pennsylvania Blvd.,Feasterville, PA 19035; (215) 364-1778; www.kaidan.com.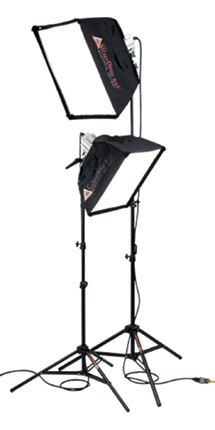 Photoflex: Small Product Lighting Kit & On line Photography Lessons
Photoflex now offers a Small Product Photography Lighting Kit that includes assembly instructions and lessons on an included CD-ROM for taking properly lighted photographs of many types of small products. Typical subjects might include ceramics, crystal, arts and crafts items, coins, stamps, models, paintings, gems and jewelry. Although intended primarily for digital applications, it can of course be used with film cameras as well. The kit includes two Starlite 3200 tungsten 500w lights, SilverDome nxt softbox, and four-section LiteStand. The extra-small softbox produces soft, diffused light for creating soft highlights and even, natural lighting without hot spots. A removable diffusion face converts the lighting output from soft to high contrast. Although designed for use with hot lights, it can be used with electronic flash when optional connectors are purchased. Carry bags for transporting and storage are included. The MSRP is $775. Contact: Photoflex Products Inc., 97 Hangar Way, Watsonville, CA 95076; (800) 486-2674, (831) 786-1370; fax: (831) 786-1371; www.photoflex.com.

In addition, Photoflex has relaunched their Web Photo School website with new free and paid photography lessons. The lessons are slanted toward digital photography but include useful information on many aspects of photography. Their current library includes more than 200 lessons in nine general categories including: basic camera, basic lighting, portraits, products/still life, business, outdoor photography/travel, Internet/auction photos, and digital manipulation/Photoshop. There are also subcategories. First-time visitors can take a tour to help decide the level of lessons they want to review. Fifteen free lessons range from shooting portraits to photographing jewelry for print and website, to using electronic flash and soft lights. Pay-per-view lessons on simple techniques cost just 99 cents each, more extensive lessons cost $1.99 each, and advanced lessons taught by known pros cost $2.99 each. You can take as many of the 200 different lessons you want in one month for $8 a month or $60 for a full year. Visitors can preview lessons, which include thumbnail images, plus obtain a summary explaining the contents. Check this out at: www.webphotoschool.com.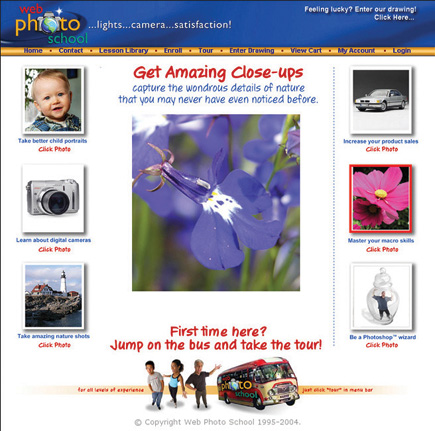 LATEST VIDEO

SPONSORED VIDEO