Covering The Photo Beat; Cameras, Bags, And PhotoFrames Page 2
Kirk Enterprises' Mark4
Kirk Enterprises, Inc. has introduced the BL-Mark4, a right-angle quick-release L-bracket designed to fit the base of the Canon EOS-1D Mark IV camera. It is adjustable and slides to accommodate your wireless transmitter. You can also access the battery pack and I/O ports, and still use your camera strap. The BL-Mark4 must be used in conjunction with Arca-style quick-release platforms. The one-piece BL-Mark4 is custom-machined from Alcoa 6061 T6, an aluminum alloy containing magnesium and silicon, elements that make the BL-Mark4 both rugged and lightweight.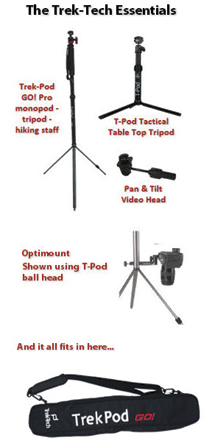 Contact: Kirk Enterprises, 333 Hoosier Dr., Angola, IN 46703; (800) 626-5074; www.kirkphoto.com.

The Essentials From Trek-Tech
These days traveling with a wide variety of photographic equipment isn't easy. The Essentials kit features a collection of lightweight multipurpose photographic and video stabilization tools to make this task easier. The kit features a TrekPod GO! PRO, which functions as a monopod, tripod, or hiking staff; a Pan & Tilt video head; a Trek-Tech T-Pod tabletop tripod, which comes complete with ball head, quick-release system, and travel pouch; a MagMount PRO ball head; and an Optimount clamping arm. All items are contained in one compact carryon-style bag. The suggested retail price is $199.99.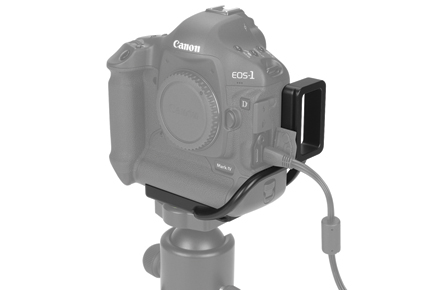 Contact: Trek Technologies LLC, 10170 SW Nimbus Ave., Portland, OR 97223; (503) 459-0030; www.trek-tech.com.

Jill-E's Sailcloth Family Electronics Bag
This durable yet fashionable messenger-style bag is highly functional and large enough to safely accommodate an SLR camera or digital camcorder. It features a padded shoulder strap, water bottle pocket, wallet pocket, cell phone pocket, and padded dividers. Crafted from weather-resistant sailcloth, it measures 13x5.5x9.75" and has a retail value of $79.99.
Contact: Jill-E Designs LLC, 1216 Wellington Dr., Victor, NY 14564; (888) 445-4553; www.jill-e.com.

Digital Foci's Picture Porter 35
The Picture Porter 35 is a compact device that allows you to store, view, share, and manage your digital image files on the go. Simply insert the memory card from your camera into the device and download the images directly onto its built-in high-capacity hard drive. The Picture Porter 35 is compatible with all of today's most popular memory cards and features a 3.5" LCD screen, allowing you to view the images in various formats or even as a slide show. It also supports music and video files and can be connected to a TV to share your images or video clips with family and friends.

The suggested retail price is $399 for the 250GB version and $499 for the 500GB version.
Contact: Digital Foci, Inc., 3111 E. Via Mondo, E. Rancho Dominguez, CA 90221; (888) 669-3624; www.digitalfoci.com.
To submit information for "Roundup," please contact our New Products Editor by e-mail at: Cynthia.Boylan@sorc.com or regular mail at: Shutterbug Magazine, 1415 Chaffee Dr., Ste. #10, Titusville, FL 32780.

LATEST VIDEO