Covering The Photo Beat; Camera Support Gear, And A Waterproof Camera Housing Page 2
Cullmann's Magnesit Ball Heads
The Magnesit line of three ball heads are ergonomically shaped and made of anodized aluminum. Designed to be fast and flexible, they feature a rubberized mounting plate for cameras with a connecting thread of 1/4 or 3/8". Ball resistance can be set for the weight of your camera and friction-free damping provides smooth movement. The Magnesit heads offer various setting options and can be retrofitted with a fast coupling system to accommodate camcorders, SLRs, and D-SLRs. The 40190 Magnesit (30Nm/44 lbs) has a retail value of $199. The 40180 model (25Nm/27 lbs) is $169 and the 40170 model (10Nm/9 lbs) is $129. Contact: R.T.S. Inc., 40-11 Burt Dr., Deer Park, NY 11729; (631) 242-6801; www.rtsphoto.com.
The ewa-marine Waterproof Camera Housing
The ewa-marine Model U-BXP is a flexible waterproof camera housing constructed from double-laminated PVC. It features an optically neutral flat glass port and a pair of non-corrosive clamping rails that tighten to create a waterproof seal. An external flash unit fits into the specially-designed section on top of the housing. The U-BXP model can accommodate bulky professional D-SLRs; the U-AXP version is for use with smaller SLRs. The design allows users to operate the camera's touchpad controls. The housing comes in a yellow case that features a waterproof interior and zippered side pocket. Purchase includes a supply of silica gel packets to control moisture. Contact: R.T.S. Inc., 40-11 Burt Dr., Deer Park, NY 11729; (631) 242-6801; www.rtsphoto.com.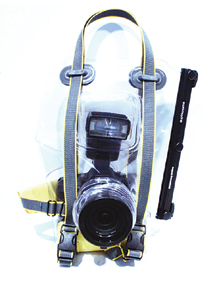 Induro Camera Support Gear
The MAC Group has introduced the Induro line of tripods, monopods, and ball heads. Constructed of carbon fiber or aluminum alloy, Induro tripods and monopods are 40 percent stronger in load pressure and 80 percent stronger laterally. The tripods offer leg angle adjustments, a reversible center column with spring-loaded weight hooks, foam leg grips, rubber leg lock grips, and a bubble level. They also come with a bag, shoulder strap, and removable rubber spikes. The C, CX, and AX series also offer stainless steel spikes. Induro products have a five-year warranty from the MAC Group. Contact: MAC Group, 8 Westchester Plaza, Elmsford, NY 10523; (914) 347-3300; www.InduroGear.com.