Covering The Photo Beat; Camera Support Gear, And A Waterproof Camera Housing
The Stuff-It Lens Cloth From Carson
This microfiber lens cleaning cloth is housed in a 2" cone to prevent it from picking up dust and dirt that may harm the delicate surface of the lens. The Stuff-It lens cloth can be easily attached to your belt loop, gear bag, or backpack with the aid of its key clip. Contact: Carson Optical, 35 Gilpin Ave., Hauppauge, NY 11788; (800) 967-8427; www. carson-optical.com.
2007 Prop Numerals From American Rotational Molding
This set of numerals measures 191/2x111/2x71/2" and rests on a base that is 513/4" long. The 2007 numerals were designed for parties, weddings, school photos, and other celebrations. They are molded in one piece and made from lightweight polyethylene to make them weather- and scratch-resistant. Other numerals, such as eight and nine, are also available separately to document 2008 and 2009. Contact: Meese Orbitron Dunne Co. American Rotational Molding, 16404 Knott Ave., La Mirada, CA 90638; (888) 724-1228; www.americanrotational.com.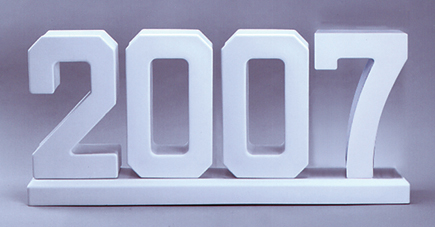 Camera Armor
Camera Armor is a silicone rubber jacket that fits snugly over the body of your D-SLR camera. It provides protection from impact, abrasion, dust, and fingerprints but does not obstruct the controls and access ports. Camera Armor also includes Lens Armor, a lens cap lanyard, and a clear polycarbonate LCD screen cover. It is available in black or smoke and fits the Canon EOS 30D and EOS Digital Rebel XTi plus the Nikon D70 and D80. The retail price is $49.95. Camera Armor is distributed by OmegaSatter. Contact: Made Products Inc. (534 Westlake Ave. N, Ste. 210, Seattle, WA 98109; (206) 839-0200; www.cameraarmor.com) or OmegaSatter (1041 S. Carroll St., Hampstead, MD 21074; (410) 374-3250; www.omegasatter.com).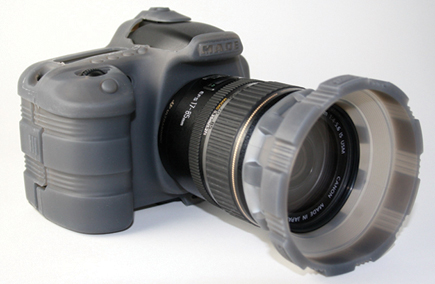 Powerex MH-C800S Battery Charger
The MH-C800S can charge from one to eight AA or AAA rechargeable batteries. It features a large LCD screen that displays the status of each battery and you can select either Soft or Rapid Charge modes. Soft mode allows you to recharge older low capacity batteries and Rapid Charge mode fully charges newer batteries in about two hours. Contact: Maha Energy Corporation, 1647 Yeager Ave., La Verne, CA 91750; (800) 376-9992; www.mahaenergy.com.

LATEST VIDEO

SPONSORED VIDEO