Covering The Photo Beat; Camera Straps, Rechargeable Batteries, And A Cleaning Cloth
Delkin's FireWire 400/800 UDMA CompactFlash Reader
This Ultra Direct Memory Access reader is a one-slot external device that offers a data transfer speed of over 45MB/s, is PC and Mac compatible, and doesn't require a driver. It supports CompactFlash cards Types I and II, Microdrive, and UDMA-enabled cards. The reader comes with a FireWire 400 to 800 adapter, manual, and a two-year limited warranty. The MSRP is $89.99. Contact: Delkin Devices, Inc., 13350 Kirkham Way, Poway, CA 92064; (800) 637-8087; www.delkin.com.
PocketPal Camera Straps From Epic Photo Gear
PocketPal Camera Straps feature two pockets; one accommodates your cell phone and the other holds extra batteries or memory cards. The straps are ergonomically designed, fully adjustable, and offer soft velour padding for comfort. The quick-release buckles allow you to easily disconnect the strap from your camera. PocketPal straps measure 2" wide and up to 50" long and are available in black faux leather and red or blue ballistic fabric. Contact: Epic Software Group, Inc., 701 Sawdust Rd., The Woodlands, TX 77380; (281) 363-3742; www.epicsoftware.com.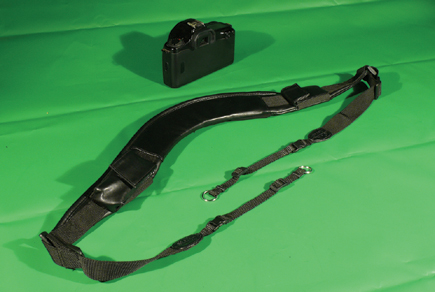 Interfit's SXT3200 Lighting Kit
The Interfit SXT3200 lighting kit comes in two configurations. The two-head version features a carry case for storage and transportation, two air-cushioned lighting stands, two SXT3200 heads, two umbrellas, and power cables for $269.99 (street price). The three-head kit includes those items plus a 9x23-foot cloth backdrop and hook support system for $497.99 (street price). Contact: Interfit Photographic Ltd., 420 Industrial Court West, Villa Rica, GA 30180; (866) 947-9796; www.interfitphotographic.com.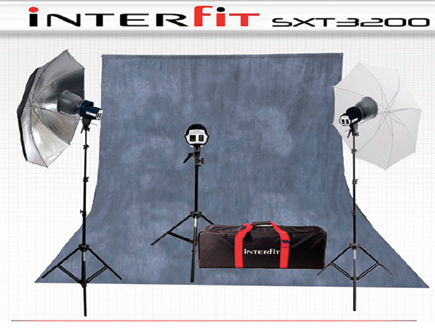 Petite Fountain From Backyard Pool Products
Petite tabletop fountains weigh 10 lbs and measure just 27" tall. Crafted from durable polyethylene they are scuff- and scratch-resistant and come in granite, terra cotta, and classic white finish. They are fully functional and make interesting decorations for both indoor and outdoor wedding portraits. Retail value is $214.35. Contact: Backyard Pool Products.com, 236 Turkey Hill Rd., Bloomsbury, NJ 08804; (440) 998-5635; www.BackyardPoolProducts.com.
Spudz Lens Cloth From Jill-E Designs
This fun microfiber cleaning cloth neatly tucks into a convenient storage pouch that hooks on to anything. Available in colorful designs and suitable for use on all cameras, cell phones, sunglasses, CDs, and DVDs, Spudz retail for $7.99. Contact: Jill-E Designs LLC, 1216 Wellington Dr., Victor, NY 14564; (888) 445-4553; www.jill-e.com.

LATEST VIDEO

SPONSORED VIDEO