Covering The Photo Beat; Camera Straps, Rechargeable Batteries, And A Cleaning Cloth Page 2
Induro's New Support Gear
The new 3D-Series 3-Way Pan Heads from Induro feature secure-locking, ergonomic rubber handles and a dual quick-release locking system. The heads offer smooth vertical tilt, horizontal tilt, and panning movements and are constructed from durable aluminum alloy. There are three models available, the 3D-S (for series 0-1 tripods), the 3D-M (for series 1-2 tripods), and the 3D-L (for series 3-4 tripods). Induro also offers the TH-S Monopod Head which also features quick-release mounting. Contact: MAC Group Induro Division, 8 Westchester Plaza, Elmsford, NY 10523; (914) 347-3300; www.indurogear.com.
IMEDION Rechargeable Batteries
Maha Energy is introducing a new line of rechargeable batteries: IMEDION. Ready to use right out of the package, these batteries can be stored for long periods of time without suffering a substantial power loss. This line is compatible with all Powerex chargers and is available in AA and AAA sizes. The suggested retail prices are $13.95 for a four AA pack and $12.95 for a four AAA pack. Contact: Maha Energy Corp., 18567 E. Gale Ave., City of Industry, CA 91748; (800) 376-9992; www.mahaenergy.com.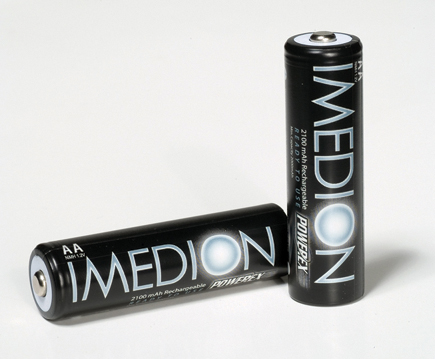 Carbon-Fiber Tripods From Adorama
Flashpoint carbon-fiber tripods offer classic styling and are available in three different versions. Capable of supporting almost 10 lbs, the 1128 model ($169.95) extends from 18.5 to 55" and weighs 2.64 lbs. With a load-bearing capacity of 17.6 lbs, the 1228 model ($199.95) extends from 20 to 60" and weighs 3.3 lbs. Supporting a load up to 24.2 lbs, the 1328 model ($299.95) extends from 21 to 63" and weighs less than 4 lbs. Contact: Adorama Camera, Inc., 42 West 18th St., New York, NY 10011; (800) 223-2500; www.adorama.com.
The LumiQuest Bounce Kit
This three-piece kit includes a Pocket Bouncer, gold and silver metallic inserts, and a storage envelope. The Pocket Bouncer redirects light at a 90Þ angle to spread light over a wide area. The gold insert is great for late afternoon fill and the silver insert provides crisp highlights. The retail price is $28.95 (limited time offer). Contact: LumiQuest, 28540 Durango Dr., New Braunfels, TX 78132; (830) 438-4646; www.lumiquest.com.
To submit information for "Roundup" please contact our New Products Editor by e-mail at: Cynthia_Boylan@primediamags.com or regular mail at: Shutterbug Magazine, 1419 Chaffee Dr., Ste. #1, Titusville, FL 32780.

LATEST VIDEO

SPONSORED VIDEO