Covering The Photo Beat; Battery Flash Generators, Ink Flow Systems, Wet & Dry Swabs, And A Telescoping Tripod Page 2
The Qnexus, Qflash 5d-R, And The Turbo SC From Quantum
Quantum Instruments Inc. has announced three new products. The Qnexus is a receiver/decoder that can be mounted to the Qflash 5d-R unit. It reads the TTL signals from Canon and Nikon shoe-mount flash units and allows control from the camera's flash menu. The Qnexus supports Manual, Automatic, TTL, and TTL-Ratio wireless flash functions. The Qflash 5d-R supports wireless control of dedicated flash functions that include Manual, TTL, Auto, Auto-Fill, and TTL-Ratio from nearly 500 ft away. The lightweight and compact Turbo SC (Slim Compact) offers all-day flash shooting. It features Ni-MH batteries to provide nearly 225 full-power flashes when used with Qflash units or 400 with shoe-mount flashes. It only requires 1.5 hours to charge the Turbo SC and it has a computerized gauge that lets you know how much power is left in the unit. Contact: Quantum Instruments Inc., 10 Commerce Dr., Hauppauge, NY 11788; (631) 656-7400; www.qtm.com.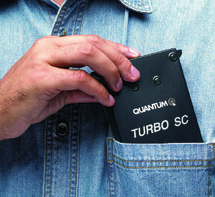 The Freedom Ballhead
The innovative FB-12 Freedom Ballhead offers a rotary-actuated axial lock rather than the common screw and knob type used for radial locking ball heads. The Madsen Lock is built into the ball head's base and only requires a small rotary motion to fully lock or unlock the positions. It also features the ability to operate the locking ring from any direction and does not have protuding knobs or handles. The Freedom Ballhead securely holds items in various positions, covering 360Þ rotation around the vertical axis and 90Þ in lateral tilt. The retail price for the FB-12 model is $249.99. Contact: Freedom Ballhead, 1120 Elkton Dr., Unit H, Colorado Springs, CO 80907; (719) 548-8995; www.freedomballhead.com.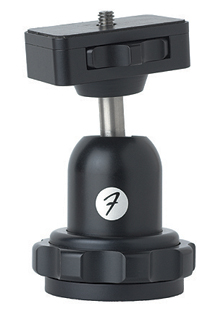 Wet And Dry Swabs From Green Clean USA
Green Clean USA is now offering two non-full frame size swabs, measuring 15mm (0.59"), designed to safely remove dirt and oil from digital camera sensors. The Wet Swab is pre-saturated with an alcohol-free solution that is nontoxic and the Dry Swab is pre-treated, lint free, and highly absorbent. Contact: Green Clean USA (PO Box 188, 20875 N. Pima Rd., C4, Scottsdale, AZ 85255; (480) 513-7474; www.green-cleanusa.com) or Brandess-Kalt-Aetna Group, Inc. (701 Corporate Woods Parkway, Vernon Hills, IL 60061; (847) 821-0450; www.bkaphoto.com).

LATEST VIDEO

SPONSORED VIDEO
Testing Tamron's SP 150-60mm G2 lens while capturing birds and alligators in Apalachicola, Florida.