Covering The Photo Beat; "Rock" Tripods, Tilt Heads, Background Panels, And A Moon Unit Page 2
Sekonic's L-758Cine DIGITALMASTER Light Meter
The L-758Cine DIGITALMASTER was designed to meet the needs of both digital video and still photographers. This multifunctional light meter is perfect for highlight, mid tone, and shadow measurements; it can also memorize and calculate simultaneously with reflected spot measurements. The L-758Cine offers all the popular features of the L-558Cine: a 1Þ
parallax-free spot viewfinder, a retractable Lumisphere, and a large illuminated digital display. Contact: Sekonic, 8 Westchester Plaza, Elmsford, NY 10523; (914) 347-3300; www.sekonic.com.
DUST-AID D-SLR Camera Sensor Cleaner
Developed by a photographer, DUST-AID is an adhesive-based sensor cleaner designed for use with digital cameras. It is FTIR tested for contamination and is safe and simple to use with D-SLR sensors of all sizes. The MSRP is $39.95. Contact: DUST-AID, 523 NW Flagline, Bend, OR 97701; (541) 389-7032; www.DUST-AID.com.
4GB JetFlash T2K Flash Drive From Transcend
Transcend Information, Inc. has announced the JetFlash T2K USB 2.0 Flash Drive. This slim, lightweight unit offers a memory capacity of up to 4GB and can be used with the JetFlash elite software package available for download from the Transcend website. The software includes AutoLogin, PC-Lock, Favorites, Secret-Zip, E-mail, DataBackup, Online Update, and My JetFlash. The JetFlash T2K is Windows 98SE/2000/Me/XP/Vista compatible but also works with Mac OS 9.0 and Linux Kernel 2.4.2 or later. Contact: Transcend Information, Inc., 1645 N. Brian St., Orange, CA 92867; (714) 921-2000; www.transcendusa.com.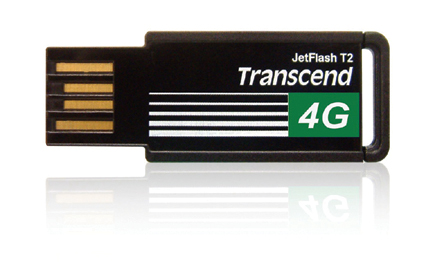 Muslin-Look Background Panels From Savage
Savage Universal Corporation is now offering a line of 40x60" backgrounds. These non-reflective panels are made from sturdy, rigid paperboard that has been silkscreened to duplicate the rich look of old world muslin. They are available in a wide variety of colors and store easily, making them ideal for studio use. Contact: Savage Universal Corporation, 550 E. Elliot Rd., Chandler, AZ 85225; (800) 624-8891; www.savagepaper.com.
To submit information for Roundup please contact our New Products Editor by e-mail at: Cynthia_Boylan@primediamags.com or regular mail at: Shutterbug Magazine, 1419 Chaffee Dr., Ste. #1, Titusville, FL 32780.