Covering The Photo Beat; "Rock" Tripods, Tilt Heads, Background Panels, And A Moon Unit
The Rock Tripod Series From Carson Optical
The new "Rock" series of tripods includes four models: The Rock Professional, which can be adjusted from 26" to 65"; The Rock Deluxe, from 25" to 61"; The Rock Original, from 21" to 54"; and The Rock Junior, from 11" to 181¼2". The Rock Professional and Deluxe models feature nonslip, retractable spiked feet while the Original and Rock Junior offer nonslip feet. They all offer durable, three-section aluminum legs with quick-release locks, a three-part center brace, a quick-release shoe, a bubble level, and a hook to hang your camera bag or other steadying object. Contact: Carson Optical, 35 Gilpin Ave., Hauppauge, NY 11788; (800) 967-8427; www.carson-optical.com.
The Moon Unit Accessory From AlienBees
The Moon Unit was made for use with the ABR800 Studio Ringflash to produce an evenly illuminated circle of light. It features an octagonal-shaped reversible gold/silver reflector with a removable front diffusion panel and a hole in the center to accommodate the ABR800. When the black fabric mask is removed the Moon Unit transforms into a 31" octabox and when the diffuser is removed it becomes a silver or gold umbrella. The MSRP is $59.95. Contact: AlienBees, a Division of Paul C. Buff, Inc., 2723 Bransford Ave., Nashville, TN 37204; (877) 714-3381; www.alienbees.com.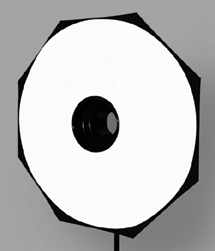 Cullmann's Magnesit Three-Way Tilt Heads
These tilt heads are created for use with video, portrait, and nature photography. The Cullmann Magnesit 40300 offers stability and precise control. It features ergonomically-designed, nonslip handles for the swivel levers so they can be positioned for 360Þ panorama and +90Þ/-30Þ forward, backward, and side tilt. All of the heads are equipped with a reversible 1¼4" or 3¼8" mounting stud and a round mounting platform. Quick-release platforms are available for all models. The Magnesit 40300 has an MSRP of $199, and the 40290 three-way photo video head has an MSRP of $99. Contact: R.T.S. Inc., 40-11 Burt Dr., Deer Park, NY 11729; (631) 242-6801; www.rtsphoto.com.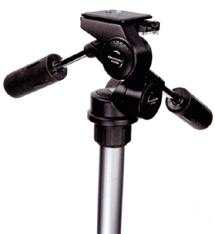 Faux Brick Pedestals
Backyard Pool Products.com has unveiled a new line of faux brick pedestals and columns in white and sandstone. They are available in five different sizes: 27, 34, 41, and 48" tall pedestals as well as an 8-foot column. Crafted from lightweight and durable polyethylene, they are weatherproof, easy to clean, and scratch-resistant. Pricing starts at $135.50 plus shipping. Contact: Backyard Pool Products.com, 236 Turkey Hill Rd., Bloomsbury, NJ 08804; (440) 998-5635; www.PropDecorDirect.com.