Corel's Painter X; Photo Transformation
Compatible with both Mac and Windows, Corel's new Painter X can transform your portrait, landscape, and still life photos into images that emulate oil paint on canvas, charcoal on textured art paper, woodcut, silkscreen, watercolor, pastel, pencil drawing, mosaic tile, and scores of other natural art media. You can start by enlisting Version X's enhanced automatic commands to create specific art effects, or, with a bit of practice, you can trace and paint over your original photos with "digital natural media."
You can use your photo as a background and trace over it with digital pen, pencil, brush, watercolor, crayon, chalk--any of scores of different media. Then you can remove the original photo entirely, or blend it with the effects. Painter X offers a combination of some 900 brushes with 30 different media, plus a huge library of 600 paper and canvas surfaces, all of which offer tremendous depth and versatility.

Space precludes me from delving further into the thousands of combinations of natural media that Painter X emulates so well. Go to the Corel website to download a free trial, a wealth of information, and tutorials. At press time, the full version was $394 from Corel, but the upgrade price of $199 is available if you own Painter, Painter Classic, Photoshop Elements, Photoshop CS, or some other programs. If you want to digitally draw or paint from your photos to create images that really look like they were made with traditional art media, Painter X offers you the widest range of options with the greatest depth and versatility.
Painter X can use many file formats, including JPEG, TIFF, and PSD. I began with this still life of a rose and hosta leaves, 5x7" at 300 ppi in the Adobe Photoshop PSD file format. Flower arrangement by Sybille Millard.
All Photos © 2007, Howard Millard, All Rights Reserved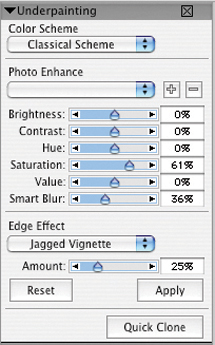 After selecting Window>Show Underpainting palette, try different Color Schemes from the pop-up menu of that name.
From the Photo Enhance menu, I adjusted the sliders manually to increase saturation and contrast. Then I selected Jagged Vignette from the Edge Effect menu.
Use the Auto-Painting palette to create a painting based on the colors and shapes in your photo. With the clone of your photo open, click the Smart Stroke Painting and Smart Setting check boxes. With these tools, Painter X will transform your photo into a painting by applying random brush strokes that follow the forms of your original.

(Below): To try different brushes, go to this Brush Category icon in the top menu bar and choose Smart Stroke Brushes. Then click on the Brush variant icon to the right and choose the specific type of brush you want to use. Here I chose "Acrylics Captured Bristle."
With this Restoration palette you can bring back, or "restore," detail in areas that you choose. Click the Soft Edge Cloner brush to restore detail gradually. Adjust the Brush Size slider to the appropriate diameter for the area you're working on, then paint over the places where you want to bring back detail.
Here I "restored" most of the rose and a good part of the leaves while keeping brush strokes clearly visible in the background, for my finished acrylic painting.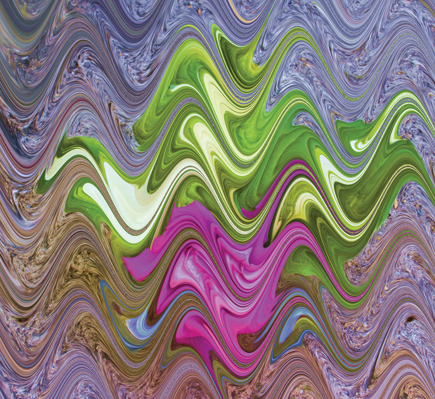 Painter X's Marbling effect is a great tool for creating backgrounds. Here I chose Effects>Esoterica>Apply marbling on the rose still life to achieve this abstract effect.
Effects>Esoterica>Auto Van Gogh rendered this painting on the rose still life.
Consider A Pen Tablet
If you're serious about working with Painter, or you often make selections or do a lot of retouching in Photoshop, you should consider getting a graphic tablet. This is a plastic slate with a work area from 4x5" up and a cordless lightweight pen. You connect the tablet to your Mac or PC via a USB cable and draw on the tablet with the pen. Most professional artists and photo retouchers work with one of these tablets. Why? Because doing fine work with a mouse is about as precise as drawing with a bar of soap.
When you use a Wacom Intuos3 professional graphic tablet with programs like Painter and Photoshop, the tablet is sensitive to the pressure and angle of the pen, just like drawing or painting with real art media.
Furthermore, in programs like Painter and Photoshop, the tablet is sensitive to the pressure and angle of the pen, just like drawing or painting with real art media. If you press harder, you see a broader stroke, and the appearance of the brush stroke changes with the angle of the pen. With a pen and tablet, brush effects are more realistic, it's easier to draw a selection, retouch small areas, and trace a photo or other artwork that you can lay on top of the tablet. Moreover, using a pen instead of a mouse helps prevent repetitive stress problems.

LATEST VIDEO