Corel's Painter X; Photo Transformation Page 3
To get up to speed quickly with the new features, Corel provides a comprehensive printed 334-page wirebound color User Guide with an art gallery. Once you register, training videos by Painter expert Jeremy Sutton are available for download. A new "Painter on the Net" tab provides links to resources online, including Tips and Tricks, tutorials, brush and color management settings, and portfolios of artwork by Painter masters.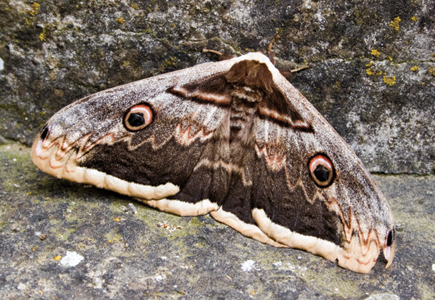 To try Painter X's Woodcut effect, I started with this shot of a moth in Tuscany, Italy.
After about 20 seconds, Painter X's Woodcut tool rendered this strong graphic with lines that look like they were carved by hand.
I chose Effects>Surface Control>Woodcut to bring up this dialog box. Note the range of slider controls which allow you to vary the effects, such as the width of the line. You can let Painter choose colors for the woodcut based on the original photo, as I did here, by choosing the Auto Color radio button, or you can select another color scheme.
Resources
Videos:
Learning Corel Painter X with Jeremy Sutton, DVD, $65; How to Paint from Photographs Using Corel Painter X: Creative Techniques with Jeremy Sutton, DVD set, $325; www.PainterCreativity.com.
A Celebration of Art: Paint Like a Master by Fay Sirkis, DVD, $134.99, www.photoshopvideos.com.
The Painted Portrait for Photographers: Watercolor in Painter and Photoshop by Jane Conner-ziser, DVD, $125; Expanded Portrait Techniques with Painter by Jane Conner-ziser, DVD, $125; www.software-cinema.com.
Since our review of Painter X appeared, Corel has notified us that the MSRP of Painter X in the US is now $429 for the full version. The upgrade is $199, as we indicated. However, upgrade pricing is available only if you have purchased certain earlier versions of Painter or CorelDRAW® Graphics Suite X3, but not Photoshop or Elements as stated in the article. We apologize for any inconvenience. Check www.corel.com for details.

Websites:
www.PainterCreativity.com from Jeremy Sutton includes articles and tutorials, extensive links, a gallery, shop, course listings, and downloads.
www.pendarvis-studios.com features examples of several artists' work and other resources.
www.wacom.com/tips/painter.cfm offers Painter tips from Wacom, the graphic tablet company.
http://apps.corel.com/painterx/us/index.html is the Corel Painter X site with a gallery, detailed info, training links, and reviews.
www.janesdigitalart.com contains Jane Conner-ziser's portfolio and more.

Books:
Painter X Creativity: Digital Artist's Handbook by Jeremy Sutton, w/CD, $50, www.PainterCreativity.com.
Painter X for Photographers by Martin Addison, 360 pages w/CD, $44.95, www.focalpress.com.
The Painter X Wow! Book by Cher Threinen-Pendarvis, 432 pages w/CD, $59.99, www.peachpit.com.
The Photoshop and Painter Artist Tablet Book: Creative Techniques in Digital Painting by Cher Threinen-Pendarvis, 238 pages, $54.99, www.peachpit.com.
Digital Photo Art by Theresa Airey, 208 pages, $29.95, www.larkbooks.com.
Artistic Techniques with Adobe Photoshop and Corel Painter: A Guide for Photographers by Deborah Lynn Ferro, 128 pages, $34.95, www.amherstmedia.com.
Digital Photo Artist by Tony Worobiec and Ray Spence, 128 pages, $19.95, Collins & Brown, distributed in the US by www.sterlingpub.com.

Corel's Painter X is compatible with Windows 2000, XP, or Vista, and Mac OS X, 10.3.9 or higher.

For more information, contact Corel Corporation, 1600 Carling Ave., Ottawa, Ontario, Canada K1Z 8R7; (800) 772-6735; www.corel.com.

Howard Millard will be offering two weekend workshops this November at Horizon Workshops in Chesapeake City, Maryland. From Nov. 30th-Dec. 2nd, he'll present Digital Photo Art, showing you how to digitally transform your photos into works of art. Nov. 16th-18th, Millard shares his favorite Photoshop Tools and Techniques. For details, go to www.horizonworkshops.com or call (410) 885-2433.

LATEST VIDEO