Connections: Collage And The Family Album
A few years ago I was reorganizing a closet and discovered cardboard boxes tucked into a dark corner. Much to my surprise, I found dress boxes and shoeboxes filled with photographs from the 1940s and early '50s. I had forgotten that when my father died I inherited his personal photographs. That afternoon and long into the night, I sat on the hallway floor looking at the pictures and reliving some of those moments. It was like discovering buried treasure, a forgotten family heirloom.
Many people have had similar experiences; however, my experience did not end there. I began to see my father's pictures as much more than a set of personal memories. He was a photojournalist for a Detroit daily newspaper and had an eye for capturing singular moments in time. In my view, his pictures were well composed and told a story of a unique era in American history; a time of hope, optimism, and prosperity after the years of the Great Depression.
My dad used a Graflex camera and developed his own prints. My treasure included negatives carefully preserved, each in its own folder. I was so taken with these pictures that I selected 10 of them (all 4x5") and matted, framed, and arranged them on a wall in my home office. That was nine years ago and I still look at them for inspiration for my own photography work.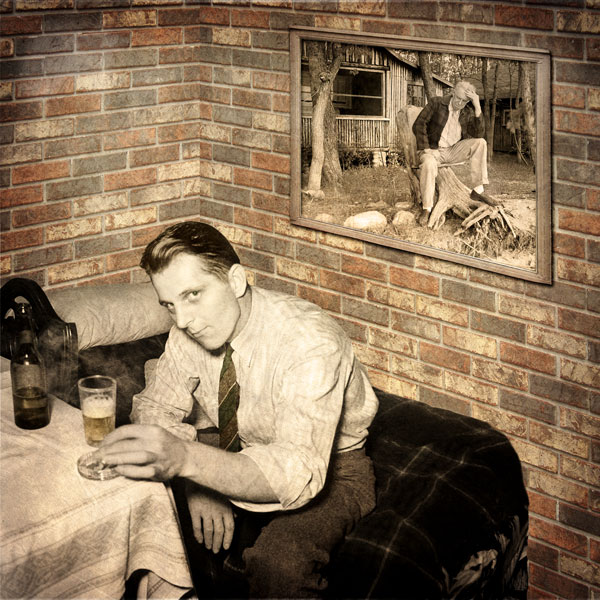 But I began to feel that there was more I should and could do with his pictures. I started thinking about incorporating his pictures into my own images. I began a lengthy project of scanning a hundred of my favorite prints (in some cases using the 4x5 negative) to create digital versions of his pictures.
I began looking for recurring themes. For example, I was struck with how many of the pictures depicted relationships among friends and family and, of course, many pictures from World War II. I then took a handful of pictures related to a particular theme and began creating a composite image using Photoshop. I used between four and eight images and layered them together. I arranged them on the page and set each one at a slightly different opacity level. Sometimes I incorporated handwritten text to complement the story I was building. Often I added portions of my own photographs to complete the image.
To date, I have created a portfolio of 20 images that I have titled "Connections." The images combine elements from a period more than 60 years ago but contain universal observations about human nature. I recently had an opportunity to exhibit the collection and was amazed at the feedback I received. The viewers discovered the stories I told with my work or interposed their own stories in place of mine.
I liked the idea of relying on my dad's images to create the foundation for my stories. Using Photoshop to create the composite image gave me artistic control over the process and allowed me to transform the photos into a unique image of my own. The "Connections" series is not complete. This year I am continuing to digitize my father's negatives, looking for more opportunities to create new stories.
Susan K. Johnston resides in southwest Michigan near the shores of Lake Michigan. She retired from General Motors in 2000 and has been a full-time fine art photographer ever since. Johnston's website, www.susankjohnston.com, contains more information and examples of her photography.