A Compassionate Eye With An Educational Intent; The Photography Of Ron Haviv
Ron Haviv has created some of the most moving images of our time, his photographs commanding the highest accolades in the field of photojournalism, including awards from World Press Photo, Overseas Press Club, and Pictures of the Year. Haviv has portrayed the ravages of war, creating the pages of history as the world is being transformed. He has covered conflicts in Panama, Africa, the Balkans, the Middle East, and the desolate country of Afghanistan. The psychological impact of his images is driven by the places and the people he is photographing and his sense of compassion often adds a strange and timeless quality to his photographs, even in these war-torn areas.
Darfur
Boys relax at the end of a day at a camp for internally displaced persons (IDP) on June 14, 2005, in Morni, Darfur, Sudan.
© 2005, Ron Haviv / VII, All Rights Reserved
I spoke recently with Haviv while he was in Spain. He was to leave the next day for the southern coast of India to document an ongoing civil war in Sri Lanka, and as always, carrying the hope of being in a position to help the many innocent victims caught in the tragedy of war.

"I know that my photographs have made an impact in various ways in the process of helping people; that has kept me going over the years," he says.

Haviv decided on his future work when in his senior year at New York University he took a course in photography. He felt he could tell his stories in pictures as well as words and began to think about becoming a full-time photojournalist.
Darfur
Young girls leave a camp for Internally Displaced Persons (IDP) to gather firewood. For some the work will take more than seven hours and lead them past governmental checkpoints and leave them exposed to attacks. All the people express fear and wish there were a more secure way to gather wood, essential for cooking in the camp. Girls as young as 8 have been raped, attacked, and killed trying to get wood.
© 2005, Ron Haviv / VII, All Rights Reserved
"Basically, I didn't know how to go about it," he recalls, "so I opened the yellow pages and started with the letter A--Associated Press--Daily News--New York Times...For the most part everyone hung up on me."

He finally landed a job with the New York City Tribune, a paper, no longer published, owned by the Unification Church. The director hired him to work in the darkroom doing the cleanup. "I was never sure if I was being called in to become a convert or if they were trying to help me out."

When a staff photographer became ill, Haviv had his chance to hit the streets of New York with his camera. Working for free, he began to meet other working photographers and was getting published daily. During that time he started to realize that there were photographers working outside of New York. He finally got a job with the New York Post and was driving an ice cream truck to support himself. In New York he met photographer Chris Morris who accompanied him to Panama to cover the elections and Haviv's pictures wound up on the covers of TIME and Newsweek.
Afghanistan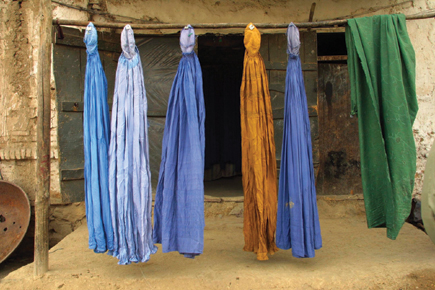 Burqas dry outside on a street in Kabul.
© 2001, Ron Haviv / VII, All Rights Reserved
As he continued to work he saw the way his photography could be used to help the needy, a motivation that has kept him going over the years. "I have seen my photographs impact in serious ways with individuals and with governmental matters," he says. "And this has kept me motivated to return to the same kind of situations."

Haviv covered the war in Bosnia, Kosovo, Macedonia, and Yugoslavia, where he photographed for five years. This became the basis for his book Blood and Honey: A Balkan War Journal.

"Yugoslavia was an amazing experience," Haviv recalls. "It was in the heart of Europe, a place where you were witnessing the same sort of atrocities--executions of civilians, indiscriminate acts, and concentration camps. Basically the reports were on live television, in magazines and newspapers every day. People kept talking about it but the world was not reacting to the seriousness of the situation."
Blood And Honey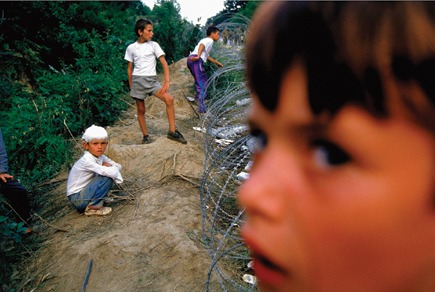 The Flight of Refugees--Children survivors of the attack on the United Nations (UN) Safe Haven in Srebrenica, Yugoslavia, wait in a refugee camp in Tuzla, Bosnia, on July 16, 1995. Over 7000 men were executed as the UN Safe Haven was overrun by Serb forces, and thousands of bodies were found in mass graves around Srebrenica that still have not been identified.
© 1995, Ron Haviv / VII, All Rights Reserved
Haviv speaks of the practice of ethnic cleansing and the part he played working with the defense forces made up of people from the villages. Millions died or became refugees. Photographers were not crucial as far as being protected and Haviv was taken prisoner, tortured and beaten for three days, then allowed to escape.


FEATURED VIDEO