Compact Ultra-Telephoto Zoom Lens From Sigma
The new APO 135-400mm F4.5-5.6 DG lens from Sigma Corporation is a compact, ultra-telephoto zoom lens optimized for use with digital SLR cameras. Sigma's says that their multi-layer lens coating and advanced lens design reduces flare and ghosting and also creates an optimum color balance and better picture quality through the entire zoom range.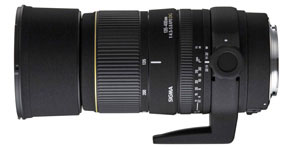 This lens uses one aspherical element and three SLD (Special Low Dispersion) elements for optimum correction of various chromatic aberrations. It provides excellent image quality for digital and film SLR cameras, and features a rear focus system for stability and ease of use.
Since the front of the lens does not rotate during focusing, a circular polarizing filter can be easily attached and used. A removable tripod collar is included as a standard component. For more details, contact www.sigma-photo.com.

FEATURED VIDEO