Classic Cameras; Minolta's XD-11; Wait 'Til You See How Good You Can Be With Minolta
Long before the Mind of Minolta popularized autofocus SLRs with the introduction of the Maxxum 7000 there was the XD.

The year was 1977 and Minolta Camera Company, Ltd. was riding high. Fueled by the success of the SR-T series and the inimitable XE-7, Minolta launched the XD family, beginning with the XD-11 (labeled simply XD in Japan and XD-7 in Europe). The XD-11 was the first "Dual Mode" autoexposure camera in the world. It offered both Shutter-Priority and Aperture-Priority Exposure modes, plus metered Manual.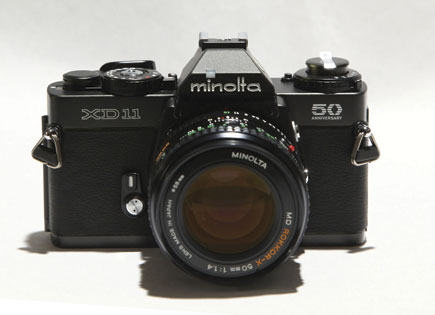 All Photos © 2010, Jon Sienkiewicz, All Rights Reserved
One year later, in '78, Minolta produced a limited number of specially marked cameras to commemorate their 50th anniversary. The company had been founded by Kazuo Tashima in '28 and was still family run. My 50th Anniversary XD-11 is still brand new and in the box. It has never been loaded with a roll of film and is being unpacked exclusively for this article—more than 30 years after I purchased it.

The 50th Anniversary model came complete with a 50mm f/1.4 MD Rokkor-X lens and a chocolate brown leather case (embossed "XD Japan" on the bottom) with a matching strap. A simple "50 Anniversary" (not "50th") is painted on the right side (as viewed from the front) counterbalancing the model name which is engraved on the left side of the top cover. There is no other indication that this camera is any more special than any other XD-11. It is not known exactly how many commemorative models were distributed worldwide, but it can be assumed that there were many.
Like all XD cameras, this one wears the old logo ("minolta" spelled all in lowercase letters). To be sure, this baby was born years before Saul Bass designed the Minolta logo that was later deconstructed into the Konica Minolta logo that still exists today on copy machines. The camera body is lustrous black chrome and it's wrapped with a synthetic material that feels as soft as glove leather. And sadly, like nearly every other Minolta XD camera, the imitation leather has pulled away slightly—perhaps 1 millimeter—to expose a glue line near the seam below the shutter speed dial and elsewhere.

A gold foil JCII (Japan Camera Inspection Institute) sticker is pasted on the right slope of the penta-prism—just below the hot shoe. I reminisce about how people thought that sticker meant that each and every camera had been inspected by an independent agency, and the memories start flowing. I spent a long time working at Minolta. The XD-11 became part of the line-up a couple of years after I did.

Like a slowly recovering amnesiac or a patient coming back from a coma, opening this time capsule of a camera box triggers memories of buzzwords and sales pitches. I sold Minolta cameras first as a salesman, then sales manager, and finally vice president of marketing. Along the way I oversaw technical support, camera repair, and digital camera product strategy. I was there for 30 years—SR-T 101 through Maxxum 7D—e.g., until Konica purchased Minolta and scuttled the camera division.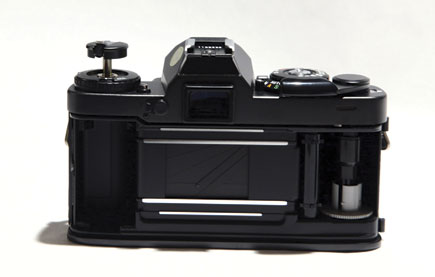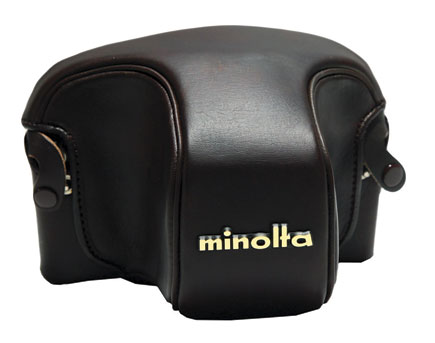 Wait 'til you see how good you can be with Minolta. That's what the XD-11 print ad said in '78. But it should have said, "We've introduced the world's first programmed camera but we haven't realized it yet."

The Owners Manual flirts with the feature and gets right up to the edge of revealing it by stating, on page 1, "If you wish, you can leave exposure control entirely to the camera's program for perfect results over a wide range." But that's it—that's the only reference to "program" in the entire 61-page book.

LATEST VIDEO