Chris Ameruoso: Photography Gone to the Dogs
All photos by Chris Ameruoso unless otherwise indicated
By the end of 1998, Chris Ameruoso found himself at a major crossroad. As someone who had spent most of his youth performing in a family rock band, he had moved to Los Angeles about 10 years previously "with a dream of music." Then suddenly he switched gears, and found his calling shooting portraits of celebrities and their pets.
| | |
| --- | --- |
| | |
| Chris Ameruoso and his Chinese Crested, Stella Blue. Photo by Sam Britt | Weird Al Yankovic with his Poodle Bella. |
Ironically enough, Ameruoso says that a photographer friend asked him, "So when did you become a professional photographer?" This gave Ameruoso pause. He responded, "What is professional, anyway?" After all, he hadn't been in the photo industry for years, paid his dues, or "knew the lingo." But this didn't stop him. So, armed with access to some of Hollywood's most sought-after stars, an artistic eye, and a great "just do it" attitude, Ameruoso has become a self-made professional.

Since 1998, he's done much work with Olympus, which has sponsored several of Ameruoso's photo exhibits. He has two celebrity/pet photo books on the market, including Bark at the Moon: The Official Osbourne Pet Book (for which the Osbournes hired him). He regularly shoots covers for Animal Wellness magazine, and photographs and writes a weekly column on celebrities and pets for In Touch magazine.
Dalene Kurtis with her Yorkshire Terrier.
Unique Portrayals
Each Ameruoso celebrity/pet photo is truly unique--each expresses the personalities of his subjects and the bond between pet and human. He's photographed Jillian Barberie celebrating her birthday with her dog, and cake and candles, DeDee Pfeiffer with her iguana on her head, and Charlotte Ross flanked by her two rescue dogs. Ameruoso has taken pictures of notable people and animals that range from Bernie Taupin posing with a barnyard pig to Tippi Hedren with a tiger. He's worked extensively with the Osbournes (who reportedly have a gallery wall of Ameruoso images going up their staircase), and Pamela Anderson, whose horse rescue he plans to document.
| | |
| --- | --- |
| | |
| | Jillian Barberie with her dog Teddy. |
When asked what came first, a love for animals or for photography, Ameruoso professes to always having a fondness for both: "I've always had a love of animals, but always admired photography as well." He says it was from his father, Vito--who was an artist and studied photography--that he first heard about about f-stops and shutter speeds. "My dad did a lot of black-and-white and superimposed work. He has a great eye," says Ameruoso.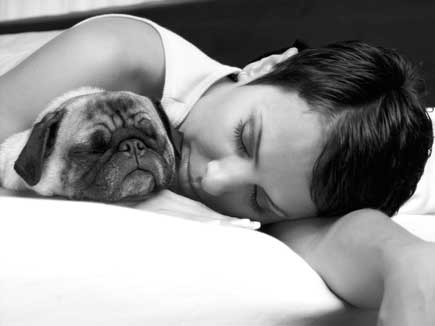 Natalie Raitano with her Pug, Foo.
Born in Brooklyn, New York, and raised in Long Island, Ameruoso was in a rock band (who bore the family name) with his three brothers. He says that although this commercial rock band had some success in the late '80s, the music industry changed, and grunge took over in popularity.
Then, while working on Sunset Boulevard about five years ago, Ameruoso noticed numerous celebrities "wandering around with their pets." He thought, "It would be nice to take pictures of them, but just not all `done up'--more like a step above home pictures." He wanted to photograph these stars looking very comfortable and relaxed. So he made it a goal to shoot pictures of celebrities in their own environment, wearing little or no makeup. He also decided to use only black-and-white film.
A.J. McLean (of the Backstreet Boys) with his Bulldog, Tank.
His first subject was Janeane Garofalo, who was very approachable. He photographed her with her dog, Dew, at a park near Sunset Boulevard. "The pictures came out the way I had envisioned them," says Ameruoso, "and I knew I was onto something." From this first contact, opportunities seemed to snowball. He approached some stars, but others came knocking on his door once his work became known. All in all, his first efforts encompassed about 90 stars with their pets--and all were photographed with nothing more than a Olympus IS-20 point-and-shoot camera and natural light. The resulting pictures were very appealing, and showed a real side of celebrities that we don't often see. The culmination of this project resulted in Ameruoso's first book, Pets and Their Celebrities. (To see more of Chris Ameruoso's work, log onto www.starpetsonline.com.)

FEATURED VIDEO